Louise Leonard: A Body of Water
Thursday 5 September – Saturday 28 September 2019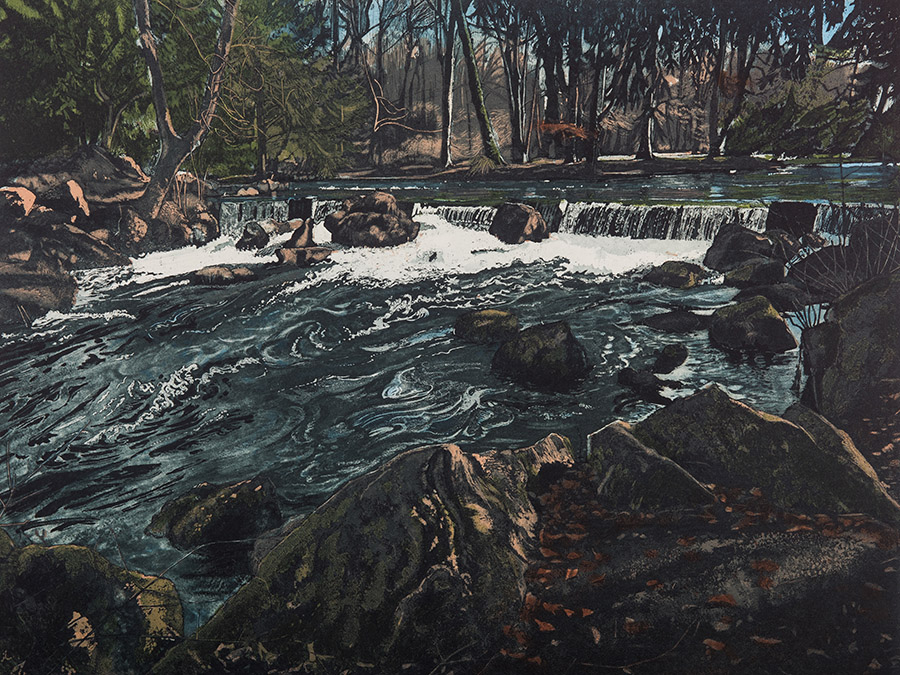 'O commemorate me where there is water'
–Patrick Kavanagh, Lines Written on a Seat on the Grand Canal, Dublin, 1950s
Water is essential to human life. Yet while it has a vital biological function, water also appeals to us psychologically. Depicted in art from ancient times- spanning from abstracted linear stylisations to painterly expressions to representations in sound and film – water metaphorically vitalises, cleanses, soothes, transports.
Architects, engineers, landscape artists, town planners, and artists, across time and regions have sought to understand and exploit the properties of water to serve the needs of citizens. While bodies of water can be immense, forceful and seemingly boundless, humans have persisted in curtailing and controlling its power, in restraining its physical properties. Canals, ponds, diverted rivers and fountains serve both utilitarian and artistic functions. And the function of these constructions may evolve over time. Sites of water in man-made environments have become oases in our modern lives. Canals that were once supply-arteries of raw materials and processed goods from rural areas to industrialised centres are now places of leisure.
This new collection of masterfully made colour etchings by Louise Leonard explores these spaces. Leonard seeks, and finds, beauty and meaning in the landscape, in urban parks and along canal banks. A number of scenes will be familiar to Dubliners, including representations of the artist's local Royal Canal, the Phoenix Park and the Botanical Gardens. Other images are records of journeys abroad to Italy, Germany and Sweden. The artist is drawn to public parks as egalitarian shared environments, accessible and enjoyed by all in society. In Leonard's work human intervention has not detracted from the aesthetics of nature but rather they are presented in concert.
Orchestrated harmony is an overarching characteristic in all of Leonard's art and it remains a formative feature of this series. As in previous work, she is a master of composition, which the artist describes as 'everything'. Using a combination of on-site sketches, photography and the memory of her lived experience, the selection and construction of the image is a deeply considered part of Leonard's practice. As is her graphic sensibility – Leonard is a master draughtsperson. She is also known for her work in relief print media – namely the lino-cut – and this experience has honed her exceptional facilities in producing black and white compositions. All her work begins with a monochromatic study of her subject – and for this project once she was satisfied with the drawing it formed the basis of the etched plate. Once the etching process was completed, tone and colour were added using aquatint. The colours selected echo those found in nature but the artist has manipulated chromatic scales to create drama, energy and stillness in her images – from strident sunlight greens to soft cool violets in a twilight sky
Each print in this collection was produced using four plates and all were hand-printed by the artist. They are among the largest works produced by Leonard throughout her career, posing an artistic and physical challenge. The theme of water and the cosmopolitan environment, alongside the formal qualities of defining line, tonal and colour gradation and dynamic composition, as observed in the A Body of Water collection, bring to mind ukiyo-e prints in the manner of eighteenth/nineteenth century Japanese artists, in particular Hiroshige and Hokusai, who the artist admires. And while Leonard's current works are etchings, her respect for the art and traditions of the wood engraver continually informs her practice. Other artists of the past that have directed her include the English illustrators and printmakers Edward Badwen and Gwen Raverat, and the Cork-born artist Robert Gibbings. Among Gibbings most successful works are a series of wood engravings depicting the journey of individual rivers across Britain and Ireland. Leonard prizes her copy of Gibbings' illustrations for a descriptive account of his home-county waterway, the River Lee. But while these artists working in the first half of the last century sought to (re)create a bucolic idyll in their work, Leonard found inspiration in metropolitan spaces.
Leonard is a master of light and shade. Elements in her work are never ambiguous, they are purposefully described. The image bears witness to the artist's experience of seeing, and its adroit interplay of forms, light and colour convinces us of the scene's veracity. Through the artistry and the skill of Leonard we immerse ourselves in the details, patterns and rhythms of nature. We believe in the image before us and we find wonder in its beauty as an artform. Leonard is a contemporary artist who engages with the world around her, successfully balancing her assumed role as a custodian of the methods and traditions of printmaking with her task as a present-day interpreter.   These beautiful works achieve what all art seeks to do – they challenge us to see and to engage with the world around us, the natural and the man-made.
–Angela Griffith, September 2019
Image: Louise Leonard: A river runs through it, etching
Thursday 5 September – Saturday 28 September 2019
off Cope Street
Temple Bar, Dublin 2
Telephone: +353 1 679 8021
Opening hours / start times:
Monday 10:00 - 17:30
Tuesday 10:00 - 17:30
Wednesday 10:00 - 17:30
Thursday 10:00 - 17:30
Friday 10:00 - 17:30
Saturday 11:00 - 17:00
Admission / price: Free
Through the Arch off Cope Street (behind the Central Bank)