Looking for something special this Christmas?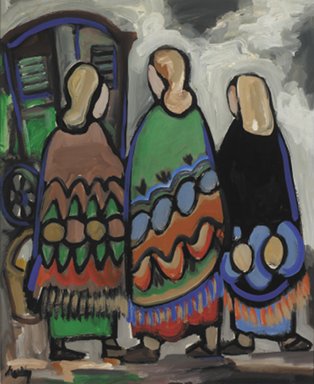 Whyte's have a wonderful selection of original artworks from just €100 including oils, watercolours, drawings and prints. We have also a select amount of limited edition books and exciting new art publications starting at just €50!
Why not drop in to our galleries, 38 Molesworth Street, to see what we have on offer. Don't delay as sales are very busy!
Open from 9.30am to 5.30pm up to and including Friday 23 December.
If you still can't decide what to give the art enthusiast in the family, why not consider a Whyte's Gift Certificate?
Elegantly presented in a hand-tied gift box, a Whyte's Gift Certificate can be bought for any value and does not expire. Also included is a complimentary year's subscription to Whyte's beautifully produced and expertly researched auction catalogues valued at €50
Call our offices today for further details or e.mail info@whytes.ie
Whyte's wish all their customers a very Happy Christmas!
Image: Markey Robinson: The Caravan
Fine Art & Collectibles Auctioneers & Valuers
38 Molesworth Street
Dublin 2
Telephone: +3531 676 2888

Monday 10:00 - 17:30
Tuesday 9:30 - 17:30
Wednesday 9:30 - 17:30
Thursday 9:30 - 17:30
Friday 9:30 - 17:30