Locale #1: A4 Members Show 2017
Thursday 30 November – Sunday 10 December 2017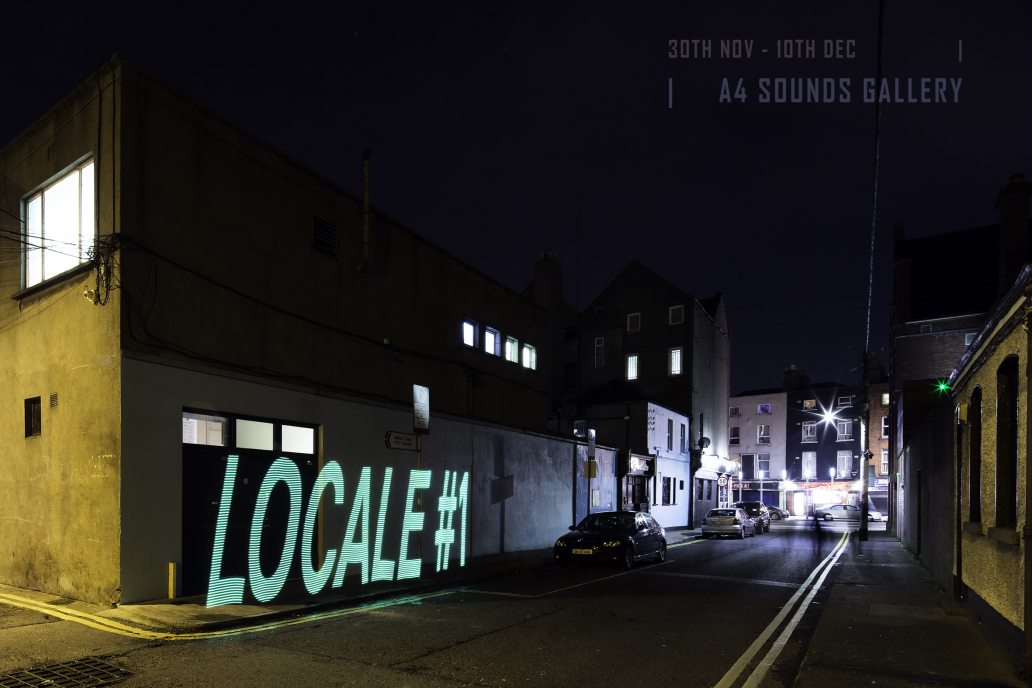 Locale #1 is the first in a series of exhibitions responding to the local area and home of the A4 Sounds Studios. A4's locale is North Inner-City Dublin, specifically Dorset Street and its surrounding streets. This exhibition marks the beginning of a conversation between our members and the local area. Over the coming years we hope to develop this project with follow-up exhibitions, talks and events and contribute to the developing social historical archive of our home.
Locale #1 started with a walking tour by local historian Terry Fagan, from there members were invited to go on their own 'walks', to find something which intrigues them and relates to their own practice. This exhibition, whilst showcasing the diverse range of artists in the A4 Family also gives us a glimpse into ways we can experience place, and some snippets of local history. We have divided Locale #1 into two sections; Experiencing Place, and People and the Politics of Place.
Experiencing Place
A4 invites you to experience the environment of our home through the eyes and ears of eight artists: Holly Pereira, Eoin Whelehan, Frank Prendergast, Lieselle McMahon, Claudine Chen, Danny Brennan, Matt Hedigan and Siobhan Clancy! From the iconic signs of Dorset Street, to real and fictitious storey-telling, glitched time and the sounds of community to hunting mechanical fossils or herding 'cats'; experiencing place will feature illustrations, paintings, photographs, maps and scavenger hunts!
People and the Politics of Place
Every place has its politics, from personal stories, community experiences, to histories only spoken about in the safety of present day. People and the Politics of Place gives us snippets of these experiences from five artists: Aoife Balfe, Yohan Walters, Christine Redmond, Deirdre Ronan and Andrea Clare Plunkett. This work includes a video game, photography and sculptural pieces exploring gender, politics, property, labour, family and personal stories.
Image: Robby Collins & Kate-Bowe O'Brien: Light Stick Project, 2017
Thursday 30 November – Sunday 10 December 2017
St Joseph's Parade
Off Upper Dorset Street
Dublin 7
Opening hours / start times:
Fri : 12pm – 6pm
Sat: 1pm – 6pm
Sun: 1pm – 4pm
Accessibility
Our gallery is wheelchair accessible.
Our toilets are gender neutral.
Our toilets are accessed via a flight of stairs which may provide difficulties for people with movement impairments.
If you are interested in attending an exhibition or event at A4 but may have some concerns, please get in touch and we can help facilitate your visit.
Admission / price: Free