Liz Ryan: Collective
Thursday 28 November 2013 – Wednesday 8 January 2014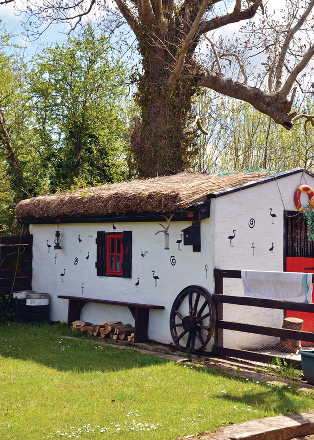 Opening Reception Wednesday 27 November, 6 – 8pm • Curated by Michele Horrigan
Liz Ryan's research into Limerick's folk and vernacular art traditions is presented in her first solo exhibition. Working closely with local sculptors and painters such as Bobby Duhig, Stephen Cowhey and Dan O'Neill, Ryan's exhibition points to a compelling and complex impulse of creativity in Limerick, one that until now has had little opportunity to be discussed and celebrated.
Within her practice Ryan has, for several years now, explored creativity in the everyday environment of the Mid-West, tracking down individuals, documenting sites of activity, mediating and developing exhibition platforms for a growing group of untrained individuals. She sees this work as a journey of investigation with a plethora of discovered and as yet undiscovered modes of visual art in our midst.
'Work for nothing and you will never be idle' – Bobby Duhig.
Exhibition events:
Walk with Liz Ryan: Friday 29 November, 2pm (meet @ 69 O'Connell St)
Visit the studio of Dan O'Neill: Friday December 13, 2pm (meet @ 69 O'Connell St)
Image: Dan O'Neill: Exterior decoration
Thursday 28 November 2013 – Wednesday 8 January 2014
69 O'Connell Street
Limerick
Opening hours / start times:
Tuesday 12:00 - 17:30
Wednesday 12:00 - 17:30
Thursday 12:00 - 17:30
Friday 12:00 - 17:30
Saturday 12:00 - 17:30
Admission / price: Free