Linda Shevlin: Supernature
Saturday 3 August – Saturday 31 August 2013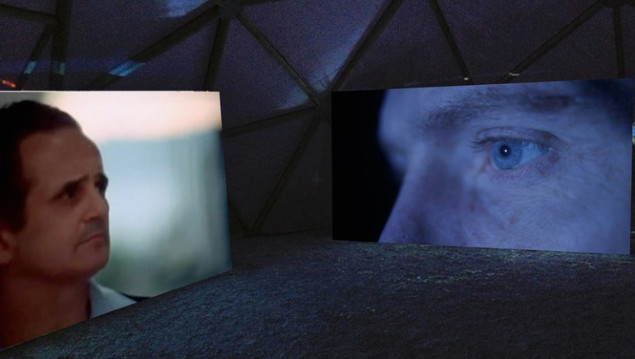 Opening Reception Friday 2 August at 6pm
The predominant concern in Linda's work is the relationship between the built and natural environment and the duality of interests this entails. It combines video, installation, drawing, painting and collaboration to unpack the complexities of modernity's and industrialisation's effects on land and socio-cultural practices.
The work presented in Galway Arts Centre is the result of a six month residency at the Organic Centre in Rossinver. Linda worked with the staff and students of the centre to research and recreate a series of experiments exploring the many and often astounding ways in which nature manifests itself and adapts to its environment.
Supernature is inspired by Lyall Watson's 1973 bestselling book of the same name. Shevlin became interested in a number of botany related experiments that were carried out over the latter half of the last century. Watson describes these experiments as being "an exploration of the space between those things that we understand as normal occurrences and those that are completely paranormal and defy explanation." The exhibition will explore this concept through the objects and representations of the experiment as well as a film installation that documents a fictional society that works with nature rather than against it.
Past projects have been concerned with the impact of industrialisation on the natural environment and how we historicise, monumentalise and engage with the spaces we inhabit. Most recently her work explores the potential of narrating these concerns through employing filmic processes. The construction of narrative as a device for (mis)interpretation has been of interest to Linda in all her moving image works. The art of filmmaking is built on a foundation of sequential actions being filmed in a non consecutive order. Constructing multi-screen installations and editing non-linear films allows her to expand the cinematic archetype of storytelling. She's interested in the blurring of the lines between fiction and reality, remembered and imagined. Often borrowing from the visual language of cinematic genres, her work deploys devices of installation to push the boundaries or replicate the cinematic experience.
Shevlin has participated in exhibitions and projects both nationally and internationally. In 2012 she was awarded one of two inaugural residencies under the Spark Project funded through Leitrim Arts Office & Enterprise Board in partnership with the Arts Council of Ireland. In 2011 Falling Awake, a collaborative film made with Padraig Cunningham, was selected for Tulca Festival, Galway. The piece has also been shown in Bodh Gaya, India; Philadelphia, USA (Centre for Emerging Artists) and Nottingham, UK (Surface Gallery). Other recent exhibitions include Circadian, Leitrim Sculpture Centre, Social Capital, The Dock, Carrick-on-Shannon, Co. Leitrim, Relics and Ruins, Hammond Gallery, Cork and Crave, Cross Gallery, Dublin.
In 2009 Shevlin completed an MA in Visual Arts Practices through IADT and in 2010, was appointed to the Board of Directors of Visual Artists Ireland.
Image: Linda Shevlin: Supernature, installation shot
Saturday 3 August – Saturday 31 August 2013
47 Dominick Street
Galway
Telephone: + 353 91 565 886
Opening hours / start times:
Monday 10:00 - 17:30
Tuesday 10:00 - 17:30
Wednesday 10:00 - 17:30
Thursday 10:00 - 17:30
Friday 10:00 - 17:00
Saturday 10:00 - 14:00
Admission / price: Free