Liliane Tomasko: Deeper Dark
Friday 20 April – Saturday 26 May 2012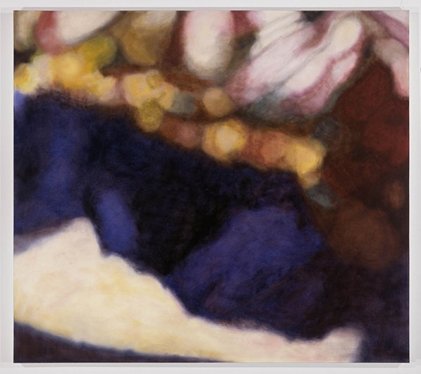 Opening Reception Thursday 19 April, 6 – 8 pm
Kerlin Gallery is pleased to announce an exhibition of new work by Liliane Tomasko, 'Deeper Dark'.
This will be the first solo show at Kerlin Gallery for the Swiss born painter Liliane Tomasko, who lives and works in New York and Barcelona.
The work of Liliane Tomasko is divided into themes that involve bags (aids to transportation); stacks (made of material organized into a pile); and window corner paintings (showing dark light in a relatively forgotten corner). However different these themes are: they are consistently bound by their origin in photography.
Liliane Tomasko organises groups of paper bags in still-life compositions and then photographs them with a Polaroid camera. She follows the same procedure with the stacks, which are in fact soft sculptures that are then photographed as an extreme close-up, so that physical, three-dimensional space is pushed to the edges and corners of the picture plane. Exactly the same procedure is followed when dark corners and fragments of windows are photographed.
The process of abstraction and mystification allows this painter to use a soft painting style, that gives to the subject a kind of mystery and luminosity that was entirely absent at the outset. So the paintings, through their emotionally invested surfaces, take the motif through cheap photography, back into romantic painting, with a new beauty and original edge.
There is a significant comment in these paintings on our contemporary world. In the way that images transform the meaning of objects that they are meant to represent. The issue of representation and misrepresentation is omnipresent. A journey through the transformative power of medium: and the power of painting as a medium made by hand in the absolute now.
Tomasko has exhibited widely in Europe and the USA since 2002, including solo exhibitions at Hotel des Arts, Toulon, France, 2008, New York Studio School, NYC and Zweigstelle, Berlin, 2010. Group exhibitions include from amongst others, 20 Jahre K20, Kunst des 20. Jahrhunderts, Kunstsammlung Nordrhein-Westfalen, Düsseldorf, Germany, 2006, 'Go between', 9 Positionen zwischen abstrakter und figurativer Malerei, Kunstverein Aichach, Germany 2006, which travelled to Maneggio Chiablese, Torino, Italy and Kunstverein Traunstein, Germany, 2007 and Oberösterreichischer Kunstverein, Linz, Austria, Centre Cultural La Mercè, Girona, Spain in 2008. 'Liliane Tomasko and Sean Scully: The shadow of the corner of the wall', Haus am Lützowplatz, Berlin, Germany, 2011
In 2011, Tomasko had a major solo exhibition at IVAM, Valencia ,Spain which travelled to Casal Solleric, Palma, Mallorca, Spain, and Herforder Kunstverein, Herford, Germany.
Friday 20 April – Saturday 26 May 2012
Anne's Lane
South Anne Street, Dublin 2
Telephone: +3531 670 9093
Opening hours / start times:
Monday 10:00 - 17:45
Tuesday 10:00 - 17:45
Wednesday 10:00 - 17:45
Thursday 10:00 - 17:45
Friday 10:00 - 17:45
Saturday 11:00 - 16:30
Admission / price: Free