Life above Everything
Friday 28 June 2019 – Sunday 19 January 2020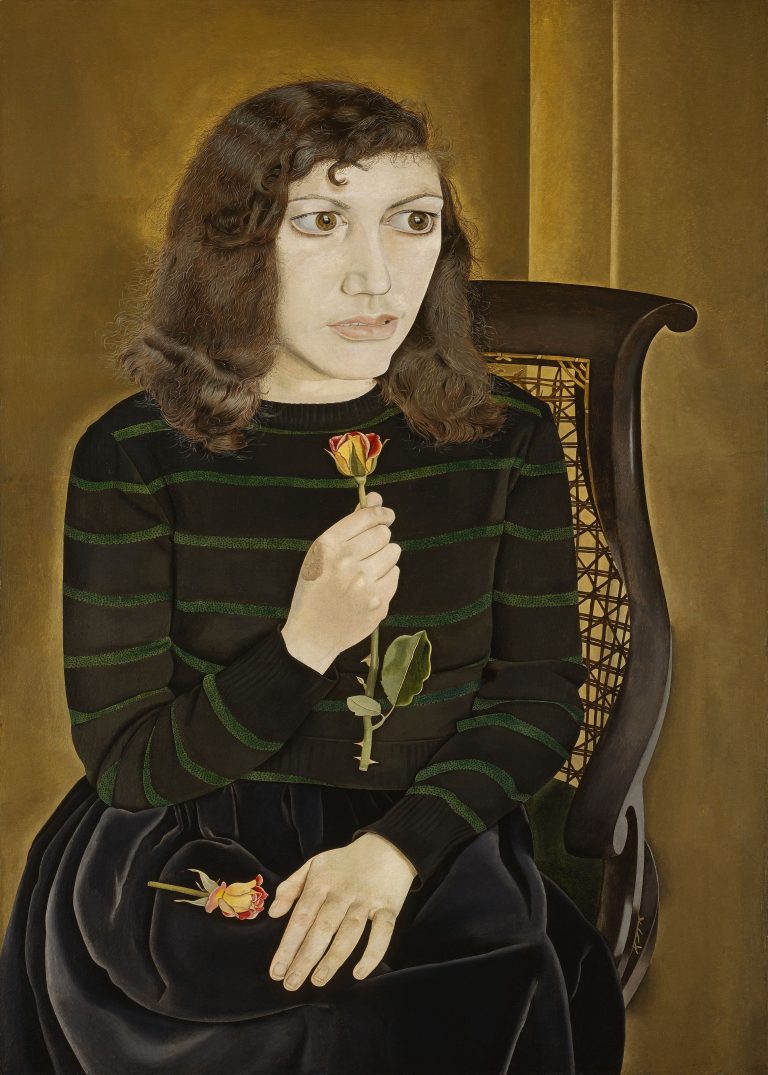 This landmark exhibition will, for the first time, examine the interconnections between renowned British artist Lucian Freud (1922-2011) and one of the most important figures in Irish art Jack B. Yeats (1871 – 1957). 
Life above Everything: Lucian Freud and Jack B. Yeats is a major exhibition that brings together the work of two acknowledged masters, Lucian Freud and Jack B. Yeats. Exploring the affinities and interconnections between these two artists, this exhibition draws the work of these two stubbornly individual painters into dialogue, placing them side-by-side for the first time in 70 years.
While Lucian Freud's work has been exhibited in the past in group exhibitions alongside other artists from the 'School of London', Life above Everything is the first occasion where Freud's work will be presented with that of a single other artist.
Freud's interest in Yeats is little discussed, but he had a lifelong interest in the Irish painter's work, holding a deep admiration for its force and energy. He did not cite Yeats as an 'influence' but instead seems to have felt a common purpose with his originality and independence, his continuous searching observation, and his sense of the connection between painting and life. A pen and ink drawing by Yeats, The Dancing Stevedores (c.1900), hung beside Freud's bed for over 20 years.
Unique to this exhibition is the inclusion of seven paintings by Jack B. Yeats which Freud selected for a close friend, advising him on works to acquire at auction or through the relevant gallery. We are delighted to be able to present these seven paintings, 'approved' by Freud, as a special grouping of Yeats's works within this exhibition.
The exhibition is made possible by the IMMA Collection: Freud Project 2016-2021, a five-year loan of 52 works by Lucian Freud to the IMMA Collection by private lenders. This is the fourth exhibition to be presented as part of the project.
Life Above Everything will include a substantial number of oil paintings by both artists, 33 by Freud and 24 by Yeats, as well as a range of works on paper, sourced from public and private collections internationally. There are five new loans of work by Freud to the IMMA Collection: Freud Project including important early works such as Girl with Roses(1947-48), Girl with Beret (1951) and Boat, Connemara (1951). Significant loans of works by Yeats include The Bus by the River (1927), People in a Street (c.1935), A Dancer (Rosses Point, Sligo) (1921), as well as From the Tram Top (c. 1925), which features one of Yeats's rare cameos in his own work.
David Dawson, artist and Freud's long-time studio assistant for almost 20 years, has assisted in the selection for this exhibition, bringing to the project a unique, intimate knowledge of Freud's interest in Yeats. Dawson brings a contemporary approach to the work of both Freud and Yeats, exploring thematic affinities and sequential arrangements across their work. It was Dawson who laid the first seeds of the exhibition at the beginning of the Freud Project. Dawson speaks of the sheer pleasure Freud took in Yeats's work, the 'pure enjoyment of painting'.
According to Dawson, 'Artists always look to other artists for help. Lucian Freud kept an early Jack B. Yeats ink drawing next to his bed. Yeats painted what was personal to him and what meant the most to him. There is a greatness to Yeats's work. He was continuously searching, observing in the most original way. He paints with such force and energy, all the brilliance is there to see. It was this sense of life that Lucian wanted to look at.'
The early ink drawing by Yeats, The Dancing Stevedores, can be seen in this exhibition. This drawing was produced as an illustration for an unpublished book Pastimes of the Londoners; it was later reproduced on the cover of the July 1912 issue of A Broadside, a monthly publication produced by the Cuala Press, combining poetry and song lyrics with illustrations. The inclusion of The Dancing Stevedores in Freud's personal collection demonstrates his longstanding appreciation of Yeats's work.
The two artists exhibited together only once in their lifetime. In 1948, Freud's work Man at Night (Self Portrait) (1947-48) and Yeats's (A) Farewell to Mayo (1929) were included in 40 Years of Modern Art, the inaugural exhibition of the ICA in London. Freud visited Ireland a few months later, staying with another painter Anne Dunn in Connemara and afterwards they spent some time in Dublin. Over the next few years, Freud became a familiar presence on the Irish art scene, visiting annually and mixing with the group of artists and writers centred upon what has since been dubbed 'Baggotonia'; during this time he mixed with figures like Brendan Behan, Patrick Kavanagh, Anthony Cronin and Patrick Swift. Freud later recalled his awareness of Yeats during that time; he spoke to his biographer, William Feaver, of seeing the older artist from time to time walking the canal bank (between Baggot Street and Portobello), or crossing St. Stephen's Green, but the two never spoke.
This exhibition takes its name from a description by the British painter Walter Sickert who, in the 1920s, memorably described Yeats's practice as pursuing 'life above everything'. The phrase came in an effusive letter addressed to Yeats following one of his rare lectures in London in 1924. Sickert praised Yeats's ability to paint the life of his country and noted his sense of affinity with the people and scenes he depicted, an observation that could equally apply, though in quite a different way, to the art of Lucian Freud, who once described his work as a 'continuous group portrait'.
Life above Everything: Lucian Freud and Jack B. Yeats presents the opportunity for new research on both painters allowing IMMA to investigate both artists' professional and intrapersonal networks, as well as mapping out a deeper exploration of Freud's connections to Ireland – particularly to Dublin in the '40s and '50s – as well as Yeats's connections to Britain. This research will be included in a dedicated catalogue for the exhibition, introduced by Christina Kennedy, Senior Curator: Head of Collections, IMMA and lead curator of the IMMA Collection: Freud Project. Contributors to the catalogue include curators, art historians and artists, with new texts commissioned from James Finch, Eithne Jordan, Róisín Kennedy, Nathan O'Donnell and Hilary Pyle, as well as a conversation between David Dawson, William Feaver and Christina Kennedy.
The exhibition is co-curated by David Dawson and Christina Kennedy, Senior Curator: Head of Collections, IMMA. Dr. Nathan O'Donnell (Irish Research Council Enterprise Postdoctoral Fellow, IMMA Collection: Freud Project) is lead researcher for this exhibition. 
Admission
Tuesday: Free • Wednesday – Sunday: €8/€5 • Always free for IMMA Members, full-time students and under 18s.
Tickets can be booked online
Lucian Freud (1922-2011) was born in Berlin to Ernst, the architect son of psychoanalyst Sigmund Freud and his wife Lucie Brasch. In 1933, age ten, Freud fled with his family to England, ahead of the rise of Nazism. The family settled in London where Freud lived for the rest of his life.
Freud studied briefly at the Central School of Arts and Crafts, London and later at Cedric Morris's East Anglian School of Painting and Drawing in Dedham. His first solo exhibition, at the Lefevre Gallery received critical acclaim in 1944, followed by a number of hallucinatory, finely-painted portraits that marked him as an artist to watch. Freud's adherence to realism and focus on the human figure, when abstraction and other progressive forms of practice were more prolific, moved him in and out of the spotlight until the 1980s when renewed international interest in painting and figuration gave his work a new significance. Since then Freud has become one of the best-known and most highly-regarded British artists of the 20th century. He was awarded the Companion of Honour and the Order of Merit. Major retrospectives of his work were held in Tate Britain, 2002, IMMA 2007, MOMA, 2008 and the National Portrait Gallery, London in 2012. Further exhibitions are planned in London for 2022 to celebrate the centenary of Freud's birth.
Freud visited Dublin and Connemara in Ireland in the late 1940s and returned regularly over the next decade. After his marriage to Caroline Blackwood of the Guinness family he was also a regular visitor at Luggala, Co Wicklow. During the late 1940s and early 1950s Freud connected with Irish artists such as Patrick Swift whose Dublin studio he used and Edward McGuire whose tutor he was at the Slade Art School, as well as the literary circle of Patrick Kavanagh, John Montague, Brendan Behan, Anthony Cronin and their Soho milieu. An in-depth account of Freud and Ireland will be explored through the Freud Project, including his close links with the other great figurative painter of the 20th century, Irish-born and London-based, Francis Bacon – his friend, mentor and great rival of thirty years, whose studio you can visit in Dublin City Gallery The Hugh Lane.
Jack Butler Yeats (1871–1957) was born in London and grew up in Sligo with his maternal grandparents before returning to London in 1887 to live with his parents. He briefly attended the Government School of Design and the Westminster School of Art and went on to work as an illustrator for sporting periodicals and newspapers. A visit to the west of Ireland in 1898 inspired his first solo exhibition Sketches of Life in the West of Ireland. It would remain his theme for much of his artistic career. He provided illustrations for John Millington Synge's book, The Aran Islands, in 1907.
By 1910 Yeats had moved permanently to Ireland, living in Greystones, Co. Wicklow and later Dublin. Yeats was elected a member of the Royal Hibernian Academy in 1916. His painting The Liffey Swimwon a silver medal at the 1924 Olympic Games in Paris. The broad fluid brushstrokes of that work mark the change in his technique during the 1920s; from that decade his work became more expressive and experimental. His work was exhibited regularly in London and Dublin including the National Gallery, London, the Tate, and the National Gallery of Ireland. Other significant exhibitions include his solo exhibition at the Galerie Beaux-Arts in Paris in 1954, as well as his inclusion in the First Armory Show in New York in 1913. A major exhibition of his work was exhibited posthumously at the Venice Biennale in 1962. Yeats's work is held in numerous national collections including IMMA, the National Gallery of Ireland, Dublin City Gallery The Hugh Lane, Crawford Art Gallery and The Model, Sligo. International collections include the Tate Gallery, London, Scottish National Gallery, Edinburgh, Musée d'Art Moderne, Paris, Boston Museum of Fine Arts, and the Smithsonian Institution, Washington D.C.
Associated Events
SYMPOSIUM
Lucian Freud, Networks, Contexts, Responses
Saturday 7 September 2019
Trinity Long Room Hub, Trinity College Dublin
A day-long symposium on the work of Lucian Freud will take place in the Trinity Long Room Hub, Trinity College Dublin. This symposium is part of an ongoing research partnership between the Department of the History of Art and Architecture in Trinity College Dublin and IMMA, in connection with the five-year project IMMA Collection: Freud Project 2016-2021.
The aim of the symposium is to explore and test out new ways to consider and critique Freud's work, examining it in terms of adjacent cultural categories, conceived within a number of frameworks – period, subject, approach or medium. This symposium will showcase a range of new theoretical and historical approaches to Freud's practice. The programme will comprise of keynote presentations by international speakers alongside responses from local art researchers in which to offer a variety of perspectives. There will also be a focus on the contexts and connections through which Freud worked, his networks and the galleries, publications and patrons through which his work was supported and disseminated.
This symposium is free, but ticketed. All are welcome to attend. Booking lines open in June 2019.
A full talks programme will accompany Life Above Everything, please check www.imma.ie for details.
IMMA Collection: Freud Project is made possible through the visionary support of the Freud Circle and donors.
Image: Girl with Roses / 1947-48 (oil on canvas) /  Freud, Lucian (1922-2011) / British Council, London, UK /  © The Lucian Freud Archive /  Bridgeman Images
Friday 28 June 2019 – Sunday 19 January 2020
Royal Hospital, Kilmainham
Dublin 8
Telephone: +353 1 612 9900
Opening hours / start times:
Tuesday 11:30 - 17:30
Wednesday 11:30 - 17:30
Thursday 11:30 - 17:30
Friday 11:30 - 17:30
Saturday 10:00 - 17:30
Sunday 12:00 - 17:30
Admission / price: Free
Tuesday: Free • Wednesday - Sunday: €8/€5 • Always free for IMMA Members, full-time students and under 18s.
Tickets can be
booked online
.
Bank Holidays open 12:00 – 17:30.