Liam O'Callaghan: If and then…
Saturday 26 April – Sunday 8 June 2014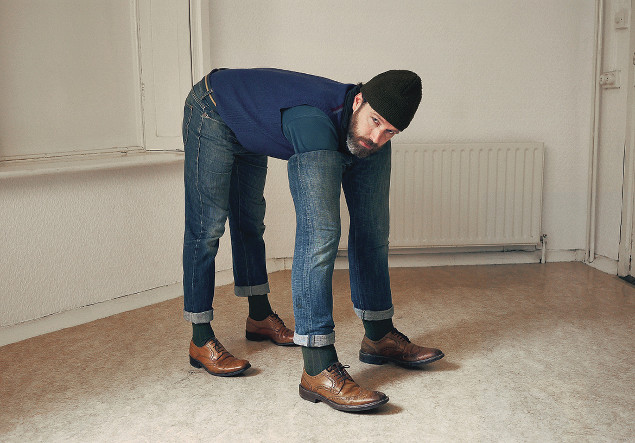 Opening Reception Saturday 26 April, 3 – 5pm
The Butler Gallery is delighted to present if and then…, a multi-media exhibition by Dublin based artist Liam O'Callaghan.
O'Callaghan is one of Ireland's most interesting younger artists at work today. His art expresses a willingness to engage with the absurdity of life and encourages us to look anew at ourselves and the world in which we live. He sees the value in the everyday and explores this through sculpture, photography, video and sound works that often expose the methods or mechanics of their own construction. His practice allows time and space for inventiveness, experimentation and play, a process with a makeshift, make-do aesthetic lead by the necessity that each new work presents.
O'Callaghan's body of work is smart and irreverent, transforming the ordinary into the extraordinary. An inherent sense of whimsy and an innate curiosity permeates with a good dollop of formalism and knowing inventiveness always at play. Here, beside you in this room is a work made up of long narrow strips of wood taped together and moulded and bent to inhabit one of the galleries. This low-tech, roughly hewn minimalist type sculpture is a good example of O'Callaghan's physical pleasure of making and inhabiting space.
There is a poetic and performative thrust to many of the works on view. Like the early documented performances of the American artist Charles Ray (Plank Piece I-II, 1973) who addressed sculpture as an activity rather than an object, O'Callaghan documents the use of his own body as a sculptural component that is at once humourous and unsettling. In the photographs entitled ordinary man series – the rise and fall of a man kind(a), we see the ingenuity of his practice robustly articulated. Attaching himself to a pair of prosthetic legs clad in identical denim and brogues to his own, O'Callaghan contorts himself into a four-legged unit providing multiple possibilities for articulation of his evolution. This eccentric persona also comes to life on screen in a frenetic dance in an anonymous white room. Object, sound and performance collide in another video work where a metal chair is spun on one of its legs and digitally mastered for repeated spinning into exhilarating choreography.
Through the various inventive media he employs, Liam O'Callaghan invites you to engage and ask questions, look beyond and behind the artifice of art making, and believe in life.
Liam O'Callaghan (b. 1968, Ireland) is based in Dublin. He has exhibited widely both nationally and internationally. Recent solo shows: Bit Symphony, Temple Bar Gallery Dublin 2011; Rasche Ripken Gallery Berlin, 2009; Made to Make do, Rubicon Gallery Dublin, 2008; Royal Hibernian Academy Dublin, 2006. Selected group shows include: O Brave New World, Rubicon Projects Brussels, 2013; Terrible Beauty, Dublin Contemporary 2011; Listen with your Eyes, Morano Kiang Gallery Los Angeles, 2011; Twenty, Irish Museum of Modern Art Dublin & Redefine: Readymade, Kunstverein Schwerin, 2011; Holding Together, Douglas Hyde Gallery Dublin & Reduxdelux-Small Sculptures, Parkhaus Project Space Berlin, 2010; Zombie Kunsthalle, The Talent Agency Berlin, 2009. His work appears in the collections of the Irish Museum of Modern Art, the Arts Council/An Chomhairle Ealaíon and private collections in Ireland and Europe. O'Callaghan's next solo exhibition is in July 2014 at the Galway Arts Centre. He is represented by the Rubicon Gallery www.rubicongallery.ie.
Anna O'Sullivan
Director
Saturday 26 April – Sunday 8 June 2014
Evans' Home
John's Quay, Kilkenny
Telephone: +353 56 7761106
Admission / price: Free
Closed 13:00 - 14:00 until March.