Lesley-Ann O'Connell: Yellow, Pink and Blue Horizon
Thursday 21 July – Saturday 13 August 2022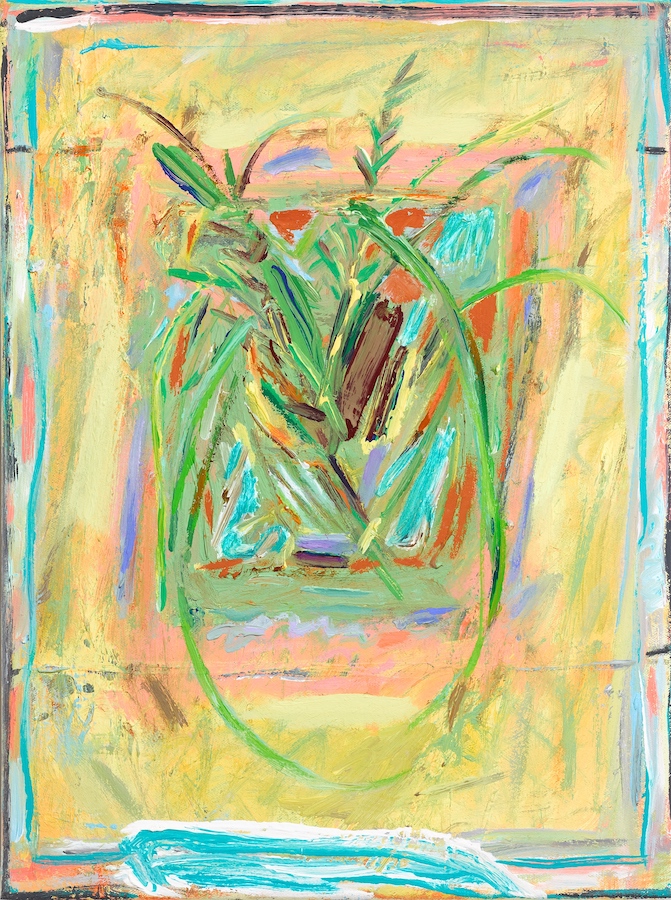 ――― In venue ―――
There are three colours that are ever present in the palette choice of Lesley-Ann O'Connell. Cerulean Blue, Magenta and Cadmium Yellow. Each colour has its own set of particular characteristics and in her work they form a triad of dramatic characters. They draw upon each other for strength and struggle against each other for dominance. In each painting these three colours are coaxed into an imbalanced harmony of space, light and form in which the viewer can wander freely becoming lost in an inner space of emotion and memory.
Cerulean Blue is the colour of the sea and the sky. It's a stable grounding tone. Magenta is the colour of votive sombre celebration, sunsets and sunrises. It can present a liminal moment of change. It can be a colour of transition and transformation. Cadmium Yellow is the colour of the noon day sun, intense energy and high emotion.
In O'Connell's work there is often the bass of a Cerulean Blue that anchors the eye. An application of Magenta like the melody in a song that can hold the centre while the high notes of bright Cadmium Yellow dance through the work. Often presented as a frame of paint inserted into the canvas these interacting movements of colour can jar, push and pull. They defy visual expectation, guided by the deliberate composition of the artist.
Extract from Dreamboat, an accompanying text by Barry Kehoe
Lesley-Ann O'Connell, b.1985, lives and works in Co. Meath. Recent solo exhibitions include Midnight Swim, Kevin Kavanagh Gallery, Dublin (2019), Surface in motion, Pallas Projects/Studios, Dublin (2015). Selected group exhibitions include Surveyor, Solstice Arts Centre, Co. Meath (2021), Silver, Kevin Kavanagh Gallery, Dublin (2019), Island Life, Kevin Kavanagh Gallery (2018).
Image: Lesley-Ann O'Connell, Grass, Wall, Window, 2021, oil on canvas, 40 x 30 cm
Thursday 21 July – Saturday 13 August 2022
Chancery Lane
Dublin 8
Telephone: +353 1 475 9514
Opening hours / start times:
Tuesday to Saturday 11am – 5pm
Admission / price: Free