Leah Hewson: New Work
Thursday 16 February – Sunday 12 March 2017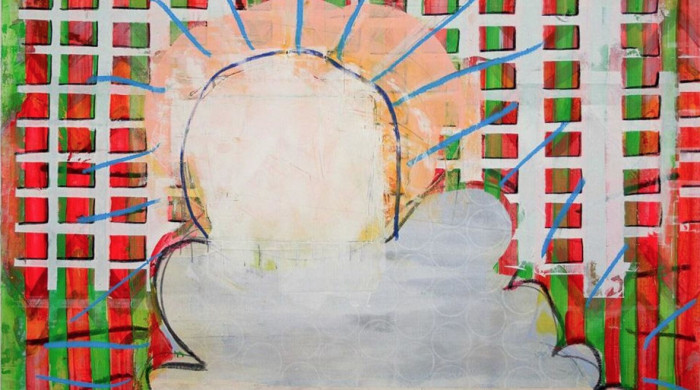 One's ability to stay in the unconscious mind is impossible. According to Carl Jung's theory of Individuation, certain ideas are brought from the unconscious through past experiences, memory, dreams, active imagination and Free Association (Freud) into the conscious mind.
As an area of self-investigation, Hewson attempts to tap into and explore the realm at this point of transformation. In order to achieve a comprehensive outcome an instinctual approach to making is applied. Impulsive reactions to mixed materials, surface and ideas are practiced with assurance, opening up the imagination to play and experimentation at the highest level. This, as Hewson refers to, is the 'Creative Active Three-way', which allows for an infinite amount of possibilities with the least amount of limitations.
The ego, which is the centre of consciousness, must be checked and disregarded as the ambition is to produce a body of work that is whole, not perfect or necessarily aesthetically pleasing. It is important that the entire process be cyclical as every mark made is a piece of a wider picture. Based on art therapy theory, emerging geometric patterns and ordered shapes reveal that Hewson's unconscious is on a quest for totality of the self, while more recognisable objects like the moon, clouds and planets are something of the conscious mind but still represent that of the intangible like that of our own unconscious.
Born Dublin, 1986, Leah Hewson achieved a First-Class BA (Hons) in Fine Art from Dún Laoghaire Institute of Art, Deign and Technology in 2010. Hewson's first solo show, What's behind the Magic door? 2011 gave way for her work to be included in the Microsoft Collection as well as being published as part of Goblin Market: New Irish Contemporary Art. Amongst a steady flow of portrait commissions for private collections, Hewson developed work for her second exhibition CUSP, held in 2013. During 2015 Hewson gained experience working in Sean Scully's studio in New York and this has seen a shift into abstraction for Hewson's practice. Hewson has made this body of work while being artist in residence at the RHA Studios, 2016.
Thursday 16 February – Sunday 12 March 2017
15 Ely Place, Dublin 2
Telephone: +353 1 661 2558
Opening hours / start times:
Monday 11:00 - 17:00
Tuesday 11:00 - 17:00
Wednesday 11:00 - 19:00
Thursday 11:00 - 19:00
Friday 11:00 - 19:00
Saturday 11:00 - 19:00
Sunday 14:00 - 17:00
Admission / price: Free