Lauren Gault: present cOmpany
Saturday 24 March – Saturday 12 May 2018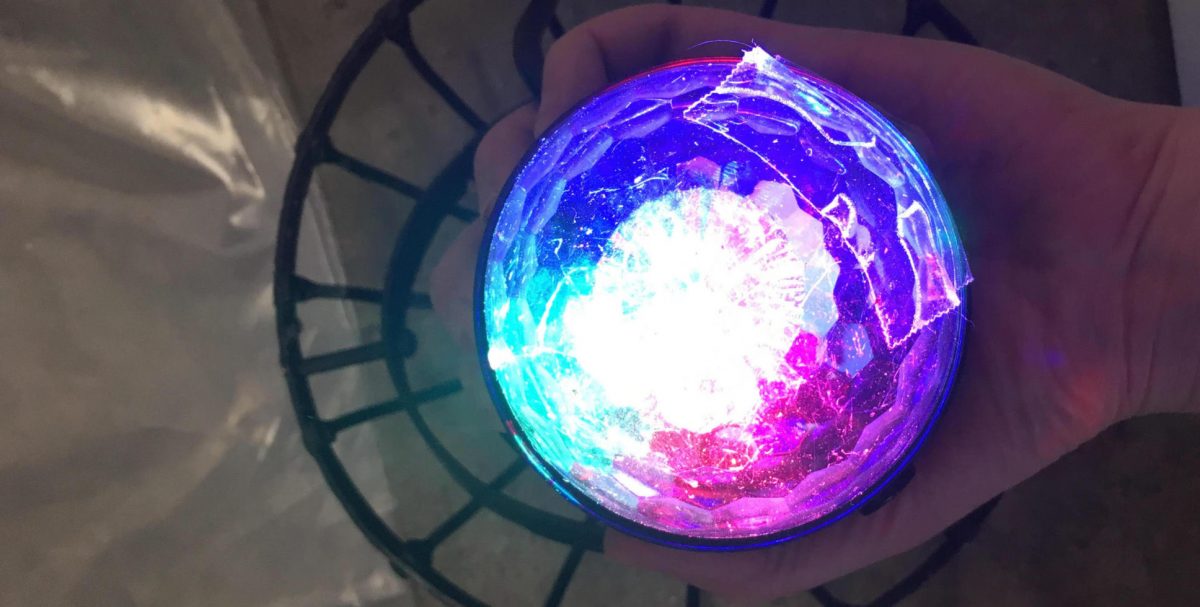 CCA is pleased to invite you to the opening of present cOmpany, an exhibition by Lauren Gault that consists of a newly commissioned sculptural installation and offsite works in the recessed spaces outside St. Columb's Hall in Derry city centre.
present cOmpany includes sculptures that suggest corporeal structures and activities – such as howling, the exposed throat; internal air pressure; the taut stomach – and explore relationships and tensions that exist between objects and their surroundings.
The exhibition considers how materials and language are connected and how moments of 'in-betweenness', and the essence of terms like 'freshness' and 'liveness' can be captured and understood.
Lauren Gault is interested in investigating where an object physically and figuratively ends and another begins. Using evocative materials such as silicone rubber, blown glass, pumped air, stitched suede, bent metal, and agricultural milk powder that have been sculpted through casting, pouring, pressure, tension and release, she has generated moments of movement and stillness where objects can communicate and resonate with, or resist, one another.
Lauren Gault is an artist working in installation, writing and performance who lives and works in Glasgow and Northern Ireland. She graduated from Duncan of Jordanstone College of Art and Design, Dundee and has had solo exhibitions at: Prairie Underground, Seattle (2017);  Rinomina, Paris,(with Zoe Claire Miller)(2016); Jupiter Artland, (2015); Centre for Contemporary Art, Glasgow (with Allison Gibbs), (2015); Modern Edinburgh Film School, GSS, Glasgow (2015); Hotel Maria Kapel, Netherlands (2015); Atelier Am Eck, Düsseldorf (2014); GENERATORprojects, Dundee (2013); Granular and Crumb, Edinburgh Modern Film School, Edinburgh Sculpture Workshop (2013); TRAMWAY, Glasgow (2013);
Her work has been included in group exhibitions at Foothold, Polignano a Mare, Italy, 2018; Baltic39 (2017); American Medium, New York (2016); TRAMWAY, Glasgow International (2016); Frutta, Rome, (2016);  SALTS, Basel (2014); Usher Gallery, Lincoln, (2014); Glasgow International 2014 (2014);  The Woodmill Press, Bristol, (2014);  ZK/U, Berlin, (2014); Mexico Project Space Leeds, (2013); Glasgow Project Room, Glasgow, (2013).
Gault will be exhibiting new outdoor works in sequins (with Sarah Rose) for Glasgow International 2018.
This exhibition is made possible through the generous support of the Arts Council of Northern Ireland and Creative Scotland.
CCA would like to thank the Garvan O'Doherty Group and Jameson Whiskey for their support.
Saturday 24 March – Saturday 12 May 2018
5-7 Artillery Street
Derry~Londonderry
Telephone: +44 28 7137 3538
Opening hours / start times:
During exhibitions the gallery is open Tuesday to Saturday, 12–6pm.
Admission / price: Free