Laura Gannon: Silver House
Saturday 18 July – Monday 10 August 2015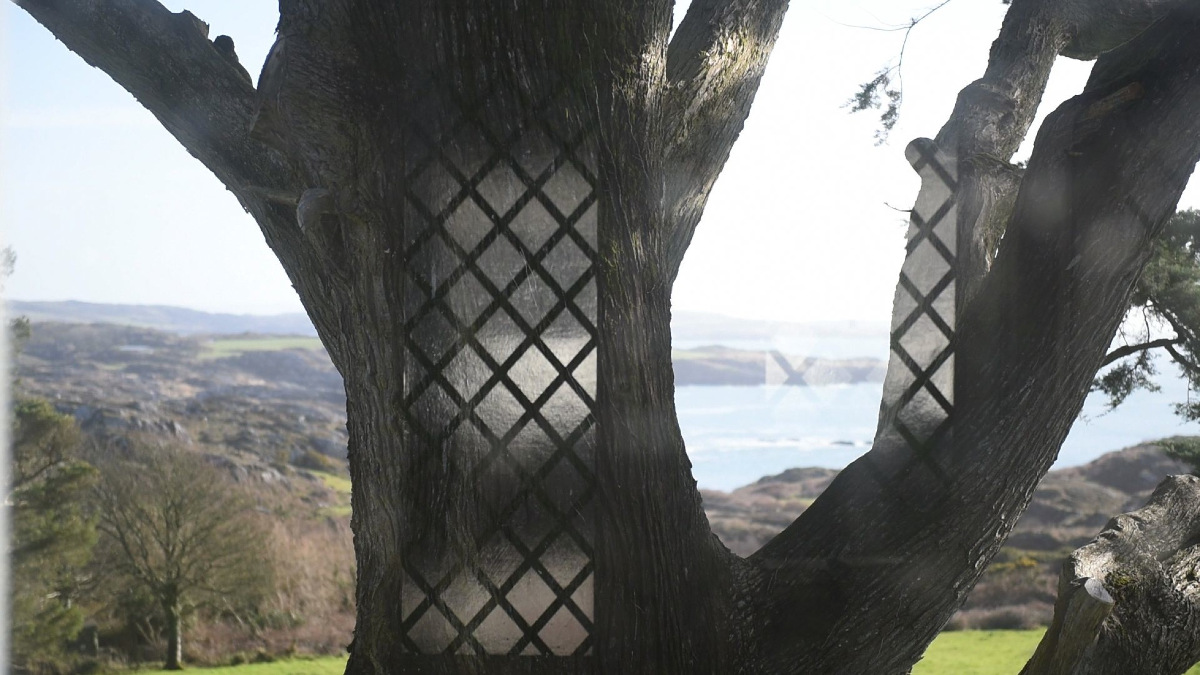 A series of new works especially made for Ulilinn including the premiere of significant new film work Silver House, which was made on location in Goleen, West Cork in Spring 2015. This work features a collaboration with composer Susan Stenger who has incorporated the sounds of the West Cork landscape and the house where the work was filmed to create a new audio composition. Silver House is set in the home of Eilish Lavelle who has created a unique environment, where she designed and modified her house and garden over a forty-year period. Modernist design references are transported to a rural, coastal environment to articulate a dialogue between nature and culture.
The house: a home, once a horse-stable, transformed in the 1970's into a dream of the future; floor to ceiling windows, glass and chrome furniture, bathroom walls cover in mirrored silver paper; a film set awaiting a narrative. 40 years on, its once clean minimalist lines have softened, yielding to the complexities time and life produce.
Exterior: a house, a courtyard, ancient trees, a field sweeping down to the Atlantic Ocean. Ships pass on the horizon, their bulk a counterpoint to Mizen Head the last land mass in Europe seen by seafarers. A Lighthouse – Fastnet Rock – pulses in the distance.
Gannon has responded to the changing natural light within the gallery to create three large sculptural drawings which occupy the double height gallery wall and interacts with the light and shadows of the space. The metallic finish of the drawings extends the use of reflections in the film into the gallery space.
A nine-paneled screen sculpture demarcates the space between the film and the drawings creating an architectural framework for navigating the gallery. The cut outs in each of the panels, which are oil on linen, allow for the light to be diffused into the film projection area, keeping the light present throughout the space.
A white fur bench to sit on for viewing recalls Irish born designer Eileen Gray's play with fur in minimalist settings and the white fur bedroom floor designed by modernist architect Adolf Loos. Surface and architecture surround us as we explore how art, design and taste intersect with nature and passing time.
Gannon has exhibited in spaces including The Glucksman Gallery, Cork (2014) David Roberts Art Foundation, London, (2013) Galerie Mor-Charpentier Paris, (2011) David Cunningham Projects, San Francisco (2011) Sketch Gallery, London (2009) Gasworks, London, (2007) and Dublin City Gallery, The Hugh Lane (2003).
Image: Laura Gannon: Silver House, film still, 2015
Saturday 18 July – Monday 10 August 2015
Skibbereen, Co Cork
Telephone: +353 28 22090
Opening hours / start times:
Monday to Saturday, 10am to 4:30pm
Admission / price: Free