Land Of Some Other Order
from 13 March 2020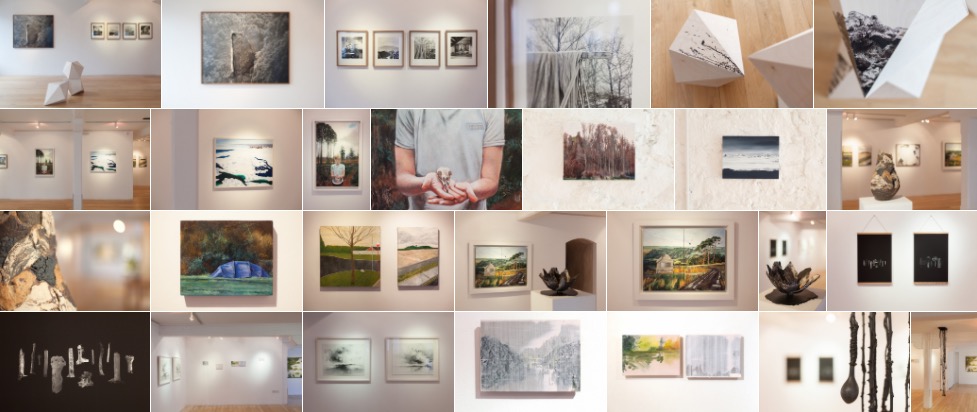 ――― Viewable online ―――
Ailbhe Ní Bhriain, Angela Gilmour, Angie Shanahan, Ben Reilly, Bernadette Tuite, Carol-Anne Connolly, Darn Thorn, Deirdre O'Brien, Elaine Coakley, Fiona Kelly, Helen O'Shea, Luke Hickey and Sarah Long • Curated by Paul McAree
View online here.
On the occasion of the 30th anniversary of the organisation, Backwater Artists Group are proud to present a group exhibition of Backwater studio members to be held in the Lavit Gallery, Wandesford Quay, Cork.
The exhibition focuses on the way the artists respond to changing definitions of landscape, climate, borders, and our human intervention in the world. The exhibition considers the various ways artists are concerned and engaging with some of the most pressing issues of our times, and suggests artists have always forged a deeper relationship with the shifting sense of the land around us.
With a diverse selection of artworks, Land of Some Other Order presents work ranging from contemporary pastoral landscapes, landscapes which are always in a state of flux, landscapes seeking to redefine our interpretation of what is truly 'natural' or native planting, and images which deal with the complexity of image making itself, leading to an exhibition which re-evaluates our relationship with nature and our attempts to redefine our sense of what it is.
The exhibition will feature artwork by Ailbhe Ní Bhriain, Angela Gilmour, Angie Shanahan, Ben Reilly, Bernadette Tuite, Carol-Anne Connolly, Darn Thorn, Deirdre O'Brien, Elaine Coakley, Fiona Kelly, Helen O'Shea, Luke Hickey and Sarah Long.
Paul McAree is Curator at Lismore Castle Arts in Co Waterford, which has hosted solo exhibitions by artists including Gerard Byrne, Dorothy Cross, Camille Henrot, Rashid Johnson and Wilhelm Sasnal. Previously McAree worked at Breaking Ground, Tate Modern and Ikon Gallery Birmingham, and also ran an independent commissioning project, FLOOD, from 2013-2014. He co-founded and directed Colony Gallery in Birmingham from 2007 – 2010. He has curated freelance projects, co-curating Traces at Kasteel Wijlre, The Netherlands in 2018, was curator in residence at Rua Red from 2014-2016, and curator in residence at Temple Bar Gallery, 2012-2013.
Kindly sponsored by Ronan Daly Jermyn.
from 13 March 2020
Backwater Artists Group
Wandesford Quay, Cork
Telephone: +353 21 4961002
Opening hours / start times:
During exhibitions: Tuesday to Friday 10am – 1pm, 2pm – 5pm
Admission / price: Free
intended venue:
Lavit Gallery
Wandesford Quay
Cork