Lana Shuks: Locations Contained
Thursday 15 March – Thursday 12 April 2012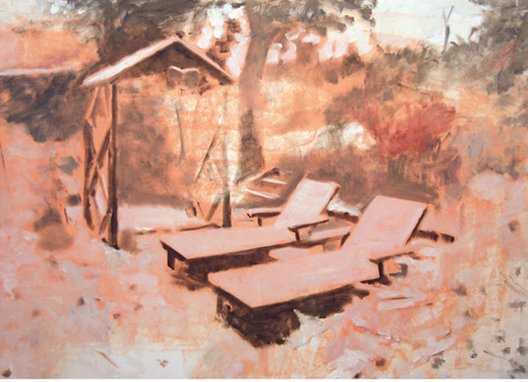 Opening Reception Wednesday 14 March at 7pm
CIT Registrar's and Arts Offices this week present the debut solo exhibition by artist Lana Shuks, at the James Barry Exhibition Centre, CIT Bishopstown Campus. Opening on Wednesday, 14th March, the exhibition will continue until 12th April, and will also be part of Cork's Lifelong Learning Festival. This debut solo exhibition of new works has been granted to Lana as a CIT Registrar's Prize Winner for 2011.
Lana was born in Latvia and studied music and choir conducting in Daugavpils School of Music. Later she developed a strong interest in visual art and, in 2000, when Lana moved to Ireland she started her own artistic career. After several years developing her skills in painting and textiles, Lana decided to study Fine Art at CIT Crawford College of Art & Design and graduated with a BA Honours in 2011. She is currently actively working as a painter being a member of Backwater Studios in Cork with a Bursary Award for 2011.
Lana's paintings and drawings have been exhibited in numerous group shows including in The Lavitt Gallery, Cork Vision Centre, Cork School of Music, Cork Public Museum, Artistic Alliance, Art Work Embassy: Art Trail 2011, RDS and Farmleigh Gallery in Dublin and are owned now by the OPW, CIT, and private collectors in Ireland, Latvia and Sweden.
Thursday 15 March – Thursday 12 April 2012
James Barry Exhibition Centre
CIT Bishopstown Campus
Cork
Admission / price: Free