LACUNA [ 03 ]
Friday 17 April – Saturday 9 May 2015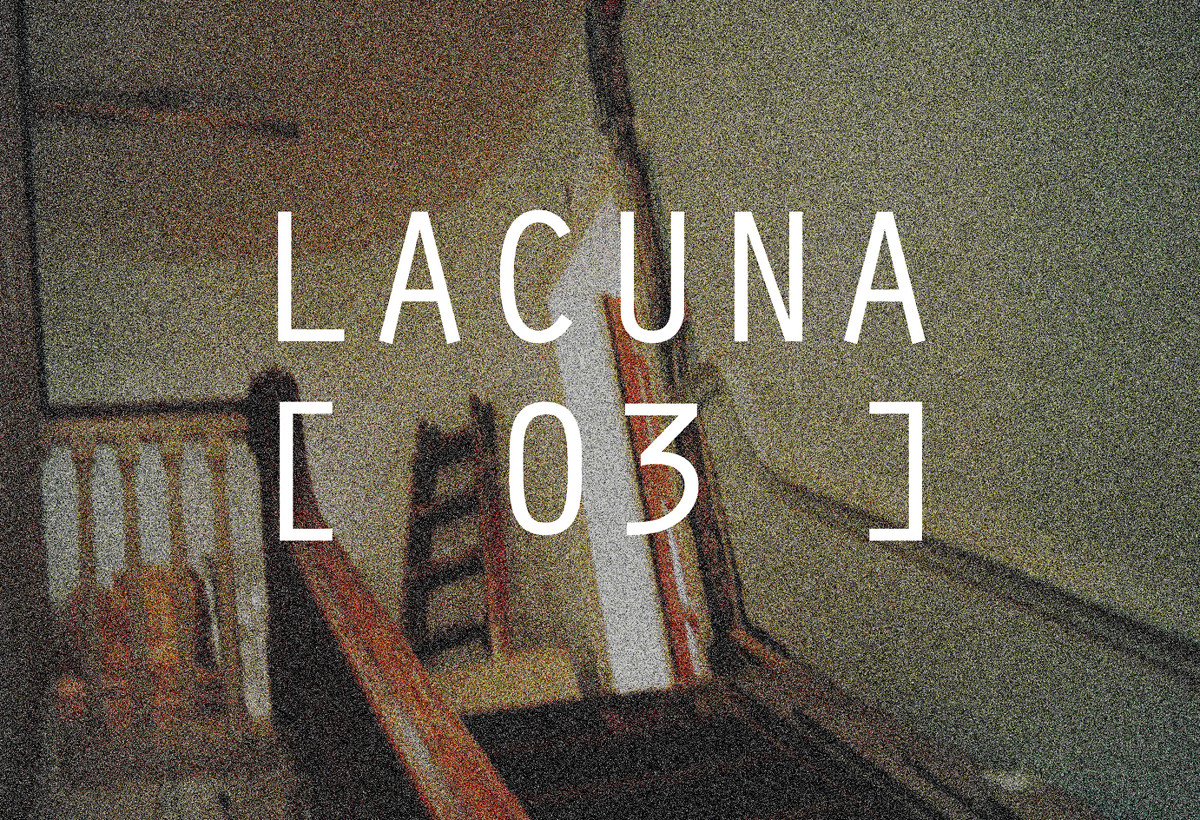 Opening Reception Thursday 16 April, 6 to 8pm • Curated by Sabina Mac Mahon and David Quinn
LACUNA [ ], the independent curatorial project at Taylor Galleries co-curated by David Quinn and Sabina Mac Mahon, returns for a third outing from 17 April to 9 May 2015. Situated across three of the exhibition spaces of the gallery at 16 Kildare Street, the occasional, on-going series of exhibitions runs alongside Taylor Galleries' main programme and embraces experimental and enquiring practices in image- and object-making. When an empty space is encountered it can evoke a desire to fill it with something; to make it complete. In addressing this compulsion LACUNA [ ] both asks and answers the question, 'With what?'.
Six artists have been invited to take part in the third iteration of the series, LACUNA [ 03 ]. Rather than asking them to respond to a theme, LACUNA [ 03 ] embraces the diversity of their current practices, processes and concerns, offering the artists a space in which to show new and recent work that encompasses sculpture, printmaking, installation, painting and mixed-media work.
Mark Cullen creates installations and artworks in various media that stem from his interest in science, space, technology, futurology, music and art, and how all of these work with the human imagination. He addresses the grey area where science and science fiction co-exist through sculpture, installation and image-making that engages a sense of where this trajectory may take us, and often uses motifs, lights, rhombic repetitions and mandalas in his practice. His explorations of ideas of place, site or space are designed to immerse viewers, and his large-scale environmental installations allow viewers to become participants in the work, not just observers of it.
Cliona Harmey makes work that is inspired by histories, accounts and artefacts of early technological inventions and communication technologies. Previous sculptural work has referenced the near obsolete apparatus of analogue photography as well as other forms of inscription and organisation (files, folders, lenses, mirrors, windows, screens), while more recently she has incorporated live data from transport and communications infrastructure into her practice. Ultimately, she attempts to turn technologies back on themselves and slow instantaneous technologies to a slower, more phenomenal and poetic, human pace.
Chloë Nagle's practice uses found materials and an array of disparate media to make personal "monuments" to anomalies encountered in an urban context. The "monuments" she produces refer to encountered marks, sounds, structures, remnants and miscellaneous idiosyncrasies to which she attributes unconscious significance. The process of making and replicating is intrinsic to the creation of these "monuments to nothings" which, through an alchemical method of assemblage, are imbued with a personal spirituality. The monuments seek to elevate the impoverished qualities of everyday "stuff" and refer to their potential sublimity.
Kyle McDonald makes small, abstract paintings. His work is characterised by a considered material inquiry which results in thoughtful, painterly works that explore the qualities of paint and re-assess the status of paintings as objects as well as artworks. The intimate scale of his paintings invites viewers to examine them at close quarters, encouraging them to form contemplative, introspective relationships with each individual work. He generally uses found materials – scraps of timber, plastic or fabric – instead of canvas and these worn surfaces imbue his paintings with a sense of history, as if they have lived other, previous lives before being hung on the gallery wall.
Lesley-Ann O'Connell creates paintings that are about colour, surface and space. She has an open and dynamic practice and doesn't follow a strict set of rules. Starting points are simple and tend to be close to home; however, once painting begins the original idea gets dragged through a bustling studio and can remerge in an unexpected way. This happens through a messy, inquisitive process whereby turpentine that has been muddily tinted from rinsing out brushes gets thrown over painted surfaces, and old palettes are scraped and printed over fresher colours. Embracing a variety of incidental and deliberate marks collected on her paintings over time has become an integral part of her practice.
Rachel-Rose O'Leary's practice is research driven and text-initiated. Her interests include panpsychism, speculative materialism, dark ecology and bleak theory. In the work presented in LACUNA [ 03 ] she attempts to enact aspects of eco-theory through the removal of plastic debris from a coastal site in Howth, wishing to engage methods of non-anthropocentric representation whilst confronting the various hypocrisies integral to ecological practice. The accompanying text piece is a sound recording from the same site that has been PGP encrypted. This, along with the compositional processes that have been inflicted on the plastics, is intended as a self-reflexive critique of opacity.
---
Mark Cullen established Pallas Projects/Studios with co-founding partner Brian Duggan in 1995 and is currently co- director of the organisation. He has curated numerous exhibitions, projects and events, both independently and through PP/S. In 2005 he completed an MA in Visual Arts Practices at IADT and since 2009 he has been a member of Difference Engine – an artist-led collaborative group that produces an evolving series of exhibitions. Residencies include the School of Physics, University College Dublin (2013) and El Levante in Rosario and CASLEO Observatory, Argentina (2007). Recent exhibitions include Cosmic Dust, VISUAL Carlow; Welcome Disturbances, The LAB, Dublin (2015); and Mandala – as within, so without, UCD Science Hub (2014). Mark Cullen lives and works in Dublin. www.markcullen.org
Cliona Harmey studied Fine Art (Sculpture) at the National College of Art & Design, Dublin, where she now works as Assistant Lecturer in the Fine Art (Media) Department. She has also received a HDip in Computer Science from University College Dublin and an MA in Visual Arts Practices from IADT. In early 2015 her work Dublin Ships, a major public art commission for Dublin City Council, was launched. Other recent exhibitions and projects include Phoenix Rising, Art and Civic Imagination, Dublin City Gallery The Hugh Lane (2015); Troposphere, Pallas Projects, Dublin; The Golden Mountain, Tulca, Galway (2013); We All Live on the Same Sea, Sirius Arts Centre, Cork (2014); Last, Douglas Hyde Gallery, Dublin; and Into The Light, The Model, Sligo (2012). Cliona Harmey lives and works in Dublin. www.clionaharmey.info
Kyle McDonald studied for a BA in Visual Arts Practice at IADT before completing his degree in Fine Art (Painting) at the National College of Art & Design, Dublin in 2014. Exhibitions include Four Floors Above, curated by Fiachra Ó Súilleabháin at 13 North Great Georges Street, Dublin (2013). Kyle McDonald lives and works in Dublin.
Chloë Nagle is currently a student of Fine Art (Print) and Visual Culture at the National College of Art & Design, Dublin. Recent group exhibitions include HALF, MART Gallery, Rathmines; South, South Studios, Dublin (2015); and End Year One, NCAD, Dublin (2014). Chloë Nagle lives and works in Dublin.
Lesley-Ann O'Connell graduated with a Masters in Fine Art from the National College of Art & Design, Dublin in 2014, where she also received her degree in 2008. The Wandering Image, a two-person exhibition of her work at NCAD Gallery, took place in 2009 and group exhibitions include Panorama, Pallas Projects, Dublin (2015); First Awake Moment, Pallas Projects, Dublin; Wet, Hive, Waterford (2013); Vis a Vis, Niland Gallery, Galway (2011), PrettyvacanT, Ilac Centre, Dublin (2010) and Graduates Show, Lemon Street Gallery, Dublin (2008). Her work is included in numerous private collections as well as the public collections of Impact, AXA Ireland and the OPW / State Art Collection. Lesley-Ann O'Connell lives and works in Meath.
Rachel-Rose O'Leary graduated from IADT with 1st Class Honours in Visual Arts Practice in 2014. Group exhibitions include The Centre for Dying on Stage #1, Project Arts Centre, Dublin; 474:document|work|space, The Drawing Project, Dún Laoghaire (2014); CAST, The Drawing Project, Dún Laoghaire; Finlande Mon Enfance, École nationale supérieure de beaux-arts de Lyon, France (2013); and Patterns, Back Loft Gallery, Dublin (2012). Her text piece 'List of bacteria that have been tested in outer space' was selected for publication by Colony Magazine in 2014. She is the founder of the Dublin Pataphysics Reading Group, held in various locations including Projects Arts Centre (2014) and the Spire, O'Connell Street (2015). In 2014 she received the VAI Award for Best Graduate, IADT. Rachel- Rose O'Leary lives and works in Dublin. www.rachelroseoleary.eu
Sabina Mac Mahon graduated from NCAD with a 1st Class joint honours (BA) in History of Art and Fine Art (Painting) in 2008 and is currently completing research for her dissertation on imaginary museums as part of an MA in Museum Studies at the University of Leicester. Solo exhibitions include An Ulaid – South Down Society of Modern Art, Belfast Exposed and QSS Gallery, Belfast (2015); A Story About the History of Dún Laoghaire: The Private Collection of Eileen Champion Poole, Dún Laoghaire-Rathdown County Hall (2013); Longevity, if not immortality, Garter Lane Arts Centre, Waterford (2012) and Droichead Arts Centre, Louth (2011); Soft murder; appropriate to a sad, frightened time, Ballina Arts Centre, Mayo (2011); and The Transport of the Holy House of Loreto, The Joinery, Dublin (2010). Recent group shows include Soundings, Municipal Gallery, dlr LexIcon, Dún Laoghaire (2014); False Memory Syndrome, Temple Bar Gallery + Studios, Dublin; and Handjob by Alan Phelan, Oonagh Young Gallery, Dublin (2013). She has completed residencies at Albert Cottages, Dublin City Council Arts Office (2014-15); DIT School of Art, Design & Printing (2013); The Guesthouse, Cork (2012) and Cow House Studios, Wexford (2011). Sabina Mac Mahon lives and works in Dublin. www.sabinamacmahon.com
David Quinn studied Visual Communications at DIT Mountjoy Square from 1989 to 1993 before embarking on a career as a visual artist. Solo exhibitions include Dunkelbunt, Taylor Galleries, Dublin (2014); pewter, Taylor Galleries, Dublin; d-esque, Fenderesky Gallery, Belfast (2012); murmur, Taylor Galleries, Dublin (2011); margin, Taylor Galleries, Dublin (2010); and new work, Taylor Galleries, Dublin (2006). Recent group shows include the 183rd Annual Exhibition, Royal Hibernian Academy, Dublin; Éigse Carlow Arts Festival; Gallery Friends, Lavit Gallery, Cork (2013); Proper Nouns and Adjectives, Fenderesky Gallery, Belfast; Marathon Irish, Dialogue, London; Engine Room Gallery, Belfast (2012); Fís, NOVA, Liverpool (2009, 2008). He has completed residencies at DIT's School of Art, Design & Printing (2012); Ballinglen Arts Foundation, Mayo (2006); and Roundstone Arts Week (2005). In 2006 he took part in The Arts Council's Art in Prisons Scheme at Mountjoy Prison and in 2014 he received a bursary award from dlr Arts. He received the Tony O'Malley Studio Residency Award 2015 and is currently preparing for his 6th solo exhibition with Taylor Galleries. Public collections include Bank of Ireland, Electric Ireland, OPW / State Art Collection, Eaton Corporation, AIB Corporate Banking and the Morrison Hotel, Dublin. David Quinn lives and works in Dublin. www.davidquinn.ie
For more information about LACUNA [ 03 ] please email lacuna.taylorgalleries@gmail.com or visit www.lacunae.info or www.taylorgalleries.ie.
Friday 17 April – Saturday 9 May 2015
16 Kildare Street, Dublin 2
Telephone: +353 1 676 6055
Opening hours / start times:
Monday 10:30 - 17:30
Tuesday 10:30 - 17:30
Wednesday 10:30 - 17:30
Thursday 10:30 - 17:30
Friday 10:30 - 17:30
Saturday 11:00 - 15:00
Admission / price: Free