LABOUR
Saturday 10 March 2012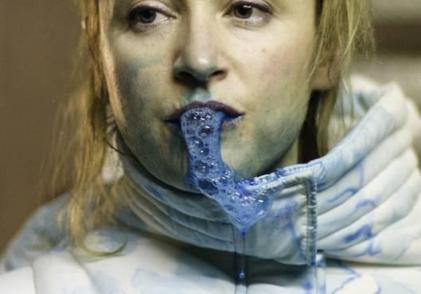 Performances from Irish female artists • Curated by Chrissie Cadman, Amanda Coogan and Helena Walsh
LABOUR, a live exhibition, features eleven leading female artists from the island of Ireland, offering audiences unprecedented access to a huge body of live performance work by some of the most radical and exciting women artists emerging from an Irish cultural context.
Anne Quail – Elvira Santamaria Torres – Amanda Coogan – Pauline Cummins – Ann Maria Healy – Chrissie Cadman – Frances Mezzeti – Áine O'Dwyer – Áine Phillips – Helena Walsh – Michelle Browne
Following an average working day, the artists will perform for an 8-hour duration on Saturday, 10th of March at The LAB Gallery. The site of The LAB Gallery, Foley street, in the historic Monto and around the corner from the Gloucester Street Magdalene Convent layers the composition of the eleven bodies of the artists with potent shadows. LABOUR explores the female body as a political site.
Live Performance from the visual arts in Ireland is currently a vibrant practice, grounded in responding with the physical body and psychological self. LABOUR is a group show providing multiple viewing experiences as individual works collide and speak to each other. The medium of live embodied practice can be a powerful tool for change. LABOUR is about transformations.
LABOUR is of great historical significance. Issues of labour and gender are particularly critical within an Irish context, and at the same time Irish women artists or women artists based in Ireland are creating some of the most exciting and challenging performance based work of our times. – Lois Keidan – the Live Art Development Agency
Audiences are welcome to come and go throughout the day.
Saturday 10 March 2012
Foley Street, Dublin 1
Telephone: +353 1 222 7850
Opening hours / start times:
Monday to Saturday 10am – 6pm. We are currently closed on Sundays.
Admission / price: Free