Krass Clement: The Light Gleams an Instant
Wednesday 15 November 2017 – Sunday 28 January 2018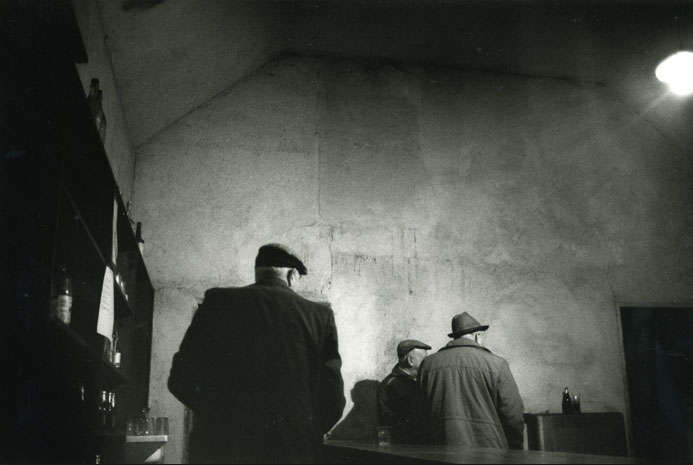 Gallery of Photography is delighted to present the first showing in Ireland of Krass Clement's seminal Drum series and the world premiere of the much anticipated Dublin series.
Launch events – Wednesday 15 November
Artist talk: Krass Clement in conversation with Anthony Haughey 5pm (booking required)
Gala Opening reception and official launch by Heather Humphreys T.D, Minister for Culture, Heritage and the Gaeltacht:  6 – 8pm
Outdoor cinema projection Meeting House Square, Temple Bar: 8 – 9pm
Danish artist Krass Clement's photographic work emerges from two traditions: Scandinavian melancholy and the 'flaneur' tradition from the Parisian school. Clement's work is concerned with reflecting interior states of mind rather than with documenting real life situations. His dark, stripped-back aesthetic combines with a stream of consciousness approach to evoke introspective, psychological landscapes that sit somewhere between fiction and reality.
Drum was photographed over a single evening in a small pub in Drum, County Monaghan. With only a few rolls of film (and a rumored five pints of Guinness), Clement created one of the most important contributions to the international canon of contemporary photo books. Through subtle shifts in focus and masterful filmic sequencing, the book comes to concentrate on one principal character in the shadowy pub: a hunched, weather-beaten man sitting alone with his drink. The work is a quiet meditation on community, the outsider, alienation and the terrors of being alone.
The exhibition also includes the world premiere of work made in Dublin in 1991. It continues Clement's concern with the exploration of place as a reflection of the inner psyche, presenting a view of Dublin at odds with itself. The lively theatre of street life contrasts with melancholic, empty streetscapes. Both bodies of work were made during a visit to Ireland by Clement as part of a residency at the Tyrone Guthrie Centre in Annamakerrig, County Monaghan.
A new book by Krass Clement, Dublin, has been published by RRB Photobooks to coincide with the exhibition. It is available in the Gallery Bookshop at a special exhibition price of €45.
Krass Clement (b 1946) lives and works in Copenhagen. A self-taught photographer, he graduated as a film director from the Danish Film School in 1973, though continued with photography which he had practiced since his early youth. His first book, Skygger af Øjeblikke (Shadows of Moments) appeared in 1978, and since then he has continued to create a strong personal body of work with the photobook as his favorite medium. His work is in many public and private collections, including The National Photomuseum of the Royal Library of Denmark; The Bibliothèque Nationale, Paris; and the Museum of Modern Art, New York.
---
Drum: Portrait of a Village
A programme of collateral events taking place in Drum, County Monaghan
Friday 17 November, 7pm
Krass Clement will re-visit the village of Drum, where a special projection installation of his work will be installed in Anderson's Bar where it was made over twenty-five years ago.
Saturday 18 November, 12 – 4pm
Talks and illustrated presentations looking at the representation of the village of Drum – past and present. This special pop-up event will feature local family photo archives and an installation of contemporary portraits of the people of Drum by Irish photographer Kevin Fox.
Exhibition and outreach programme in Drum, County Monaghan are kindly supported by  Monaghan County Creative Ireland Programme; The Department of Foreign Affairs and Trade; and the Department of Culture, Heritage and the Arts. Special thanks to the Danish Arts Foundation and the Embassy of Denmark
Image: © Krass Clement, 'Drum'
Wednesday 15 November 2017 – Sunday 28 January 2018
Meeting House Square
Temple Bar, Dublin 2
Telephone: +353 1 6714654
Opening hours / start times:
Tuesday - Saturday 11am - 5pm. Mondays by appointment for education, artists archiving and training. Closed Sundays
Admission / price: Free