Kim Haughton: In Plain Sight
Thursday 14 May – Sunday 31 May 2015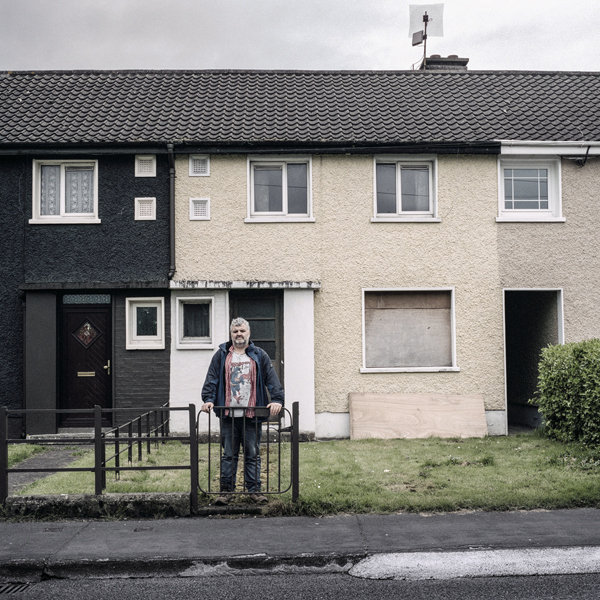 An installation about the legacy of child abuse in Ireland
Ordinary places. Crimes committed against children. Nobody saw anything.
In Plain Sight is a powerful and moving exhibition about the legacy of child abuse in Ireland. Made in collaboration with survivors, it is an important and timely challenge to the silence that still surrounds the issue.
The exhibition brings together landscape and portrait photography, family snapshots and audio recordings of survivors' testimonies. Here, in their own words, survivors recount their stories of love, loss, injustice and forgiveness. Some survivors are photographed revisiting the locations where the abuse took place. These seemingly benign landscapes depict the mundane places of any Irish childhood. Now, however, irrevocably transformed into crime scenes and places of terror, they confront the viewer, raising uncomfortable questions of complicity and guilt and evoke powerful emotions of compassion, admiration, anger and outrage.
The exhibition also highlights the heroic efforts by one Garda detective to secure prosecutions against rapists. Despite his and other courageous individuals' work, gross injustice remains. There has not been a single prosecution against those in overall authority whose actions – and inaction – shielded the rapists from justice. Moreover, the culture of secrecy and silence remains and looks set to continue into the future. This year, thousands of testimonies given by survivors to the Commission to Inquire into Child Abuse, the Residential Institutions Review Committee and Redress Board will be locked away in a vault. They will be preserved but they will not be unearthed again for seventy-five years.
Events: Thursday May 14th at 5pm. Kim Haughton will be joined by some of the survivors with whom she collaborated, to talk about the making of the work. A reception to launch the exhibition will follow at 6pm. Maureen O'Sullivan T.D. will officially open the exhibition.
Tuesday May 19th at 1pm "New Directions in Photojournalism & Visual Storytelling" Panel discussion with Kim Haughton, Jean Curran and Kate Horgan.
Admission to both events is free. Seating allocated on first come basis.
Acknowledgements: The artist and the Gallery of Photography would like to thank the Arts Council and the Press Photographers' Association of Ireland for their support for this exhibition. Sincere thanks also to retired Garda Detective Martin Ridge and above all to the individuals who shared their stories.
Image: Dave Dineen (The Family Home) © Kim Haughton
Thursday 14 May – Sunday 31 May 2015
Meeting House Square
Temple Bar, Dublin 2
Telephone: +353 1 6714654
Opening hours / start times:
Tuesday - Saturday 11am - 5pm. Mondays by appointment for education, artists archiving and training. Closed Sundays
Admission / price: Free