Kieran Crowley: Oh! The Drama!
Friday 12 September – Saturday 4 October 2014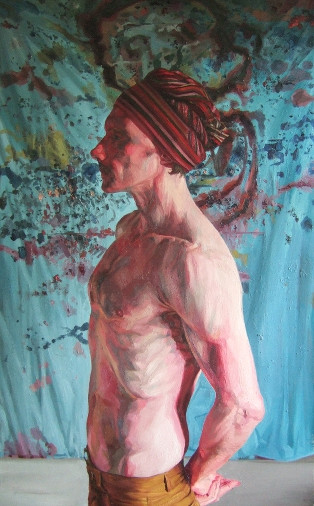 Opening Reception Thursday 11 September, 6 – 8pm
Solomon Fine Art is delighted to host 'Oh the Drama!', a solo exhibition of new paintings by Kieran Crowley.
Crowley's latest exhibition is characteristically figurative, featuring close-cropped nudes, intimate portraits and self-portraits, each celebrating his subject's unique personality and physicality. The majority of the work is bound together within a context of both drama & melodrama. Some of it is constituted, detailing the more difficult decisions people have to make, as well as the sometimes arduous consequences that follow. In some cases the works are grouped together in twos or threes, referencing a common style of narrative that makes the idea of melodrama so attractive to those who immerse themselves in it. Other pieces are intended to provide a casual commentary on the most inconsequential situations: plants that look emotional, heightened individuals being caught off-guard and 'unhappy' clothes.
Crowley graduated with a Diploma in Design Communications from Dun Laoghaire Institute of Art, Design and Technology in 2000 and initally worked in animated video, illustration and design in Ireland, the UK, Canada and the US before returning home to paint full-time. He was a finalist in the 2008 prestigious Davy Portrait Awards and won First Prize at the DLRCC Open Exhibition in 2012. Having previously exhibited in numerous group and solo shows in Dublin, Belfast and London, Crowley joined the Solomon stable in 2013. This is his first solo exhibition with the gallery.
For further information, please contact Tara Murphy at +353 86 8142380.
Friday 12 September – Saturday 4 October 2014
Balfe Street, Dublin 2
Telephone: +353 86 814 2380
Opening hours / start times:
Tuesday 10:00 - 17:30
Wednesday 10:00 - 17:30
Thursday 10:00 - 17:30
Friday 10:00 - 17:30
Saturday 11:00 - 16:00
Admission / price: Free