Kevin Lindsay: Prelude (A Little Site Music)
Monday 5 September – Saturday 22 October 2016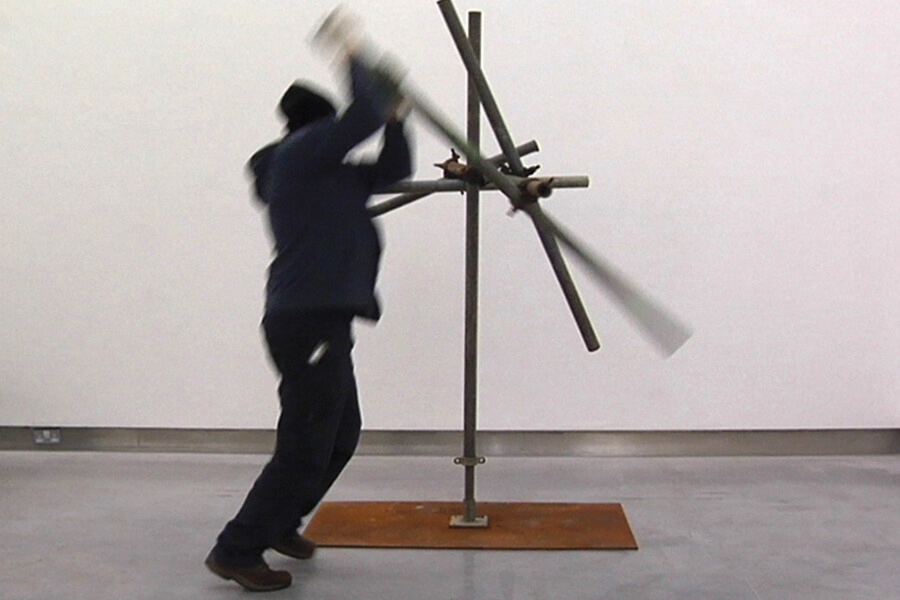 This is a sound, video and performative event, consisting of several filmed performances of augmented mundane tasks, which are normally carried out within the construction industry. Within such mundane practices is contained, a poetry and aesthetic of action and of sound. This is five minute looped and synced event is entitled 'Prelude' and as such could be, possibly a stand alone piece, or may become a movement within a larger work.
Kevin's practice is – at the most basic level – founded on the unit and the work predominantly sculptural. However photography, video, music and performance also play important roles within his practice. He has spent many years working in construction and this consequently influences the nature and the form his work takes.
Lindsay was the winner of the Fire Station Digital Media Award Residency 2015, and the winner of Solstice Arts Centre 'Surveyor' Exhibition in June 2016. His work has been included in Pallas Projects and NCAD Gallery Periodical Review #5. Previous exhibitions include The Clay Room Project in MART Gallery and Encapture in Hendrons Collider.
Lindsay was the winner of the 2015 RUA RED Winter Open Exhibition.
Kevin Lindsay: www.kevinlindsayart.com
Image: Scaff from Prelude (A Little Site Music) by Kevin Lindsay
Monday 5 September – Saturday 22 October 2016
South Dublin Arts Centre
Tallaght, Dublin 24
Telephone: +353 1 451 5860
Opening hours / start times:
Monday 10:00 - 18:00
Tuesday 10:00 - 18:00
Wednesday 10:00 - 18:00
Thursday 10:00 - 18:00
Friday 10:00 - 18:00
Saturday 10:00 - 18:00
Admission / price: Free