Kevin Callaghan: Quite Similar, but actually Very Different
Friday 1 November – Saturday 7 December 2019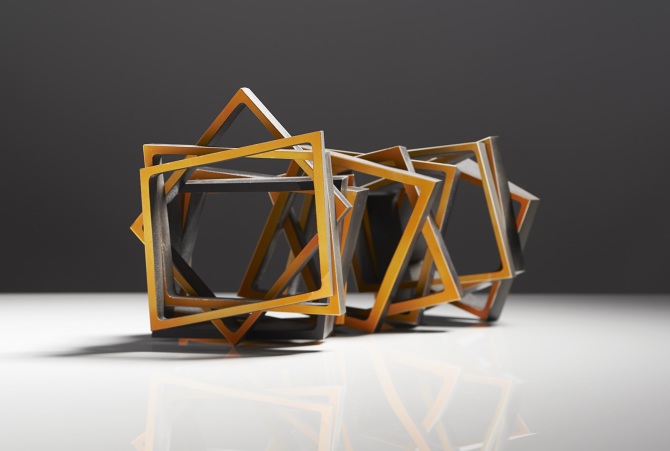 Donegal-born artist Kevin Callaghan uses simple universal mathematical structures as a point of departure. These are treated in contrasting colours in order to maximize optical dynamism and vibrancy. The geometric structures intertwine, appearing precarious and spontaneous, this dynamic state attempts to question notions of order and chaos.
Callaghan is searching for a means to portray the notion of 'travel' weather inter-dimensional or as a reality outside and unknown to us all. These visions of new perspectives of high-density reality or non-reality aim to penetrate a kind of outer space comprising a dream like world where reality meets conscious dreaming. In this forward thinking role ideas about Anticipatory Consciousness are examined and in particular how they connect to or are attached to objective reasoning, allowing questions of curiosity and wonder about the cognitive state to be explored.
Kevin Callaghan is an Irish born artist based in Glasgow. Callaghan has a BA from the Crawford College of Art, an MA from the Royal College of Art, and has completed additional courses in ceramic skills from the Design & Crafts Council of Ireland. Callaghan's artist residencies include the Experimental Sculpture Factory in Jingdezhen, China, and The National Sculpture Factory in Cork. Among his awards, Callaghan has received the Future Makers Award from the Design & Crafts Council of Ireland (2013), the Cork City National Sculpture Factory Ceramic Award (2010) and was shortlisted for the Young Masters Prize (2014).
Friday 1 November – Saturday 7 December 2019
Port Road, Letterkenny
Co. Donegal
Telephone: +353 74 912 9186
Opening hours / start times:
Monday closed • Tuesday 11:00 - 17:00 • Wednesday 11:00 - 17:00 • Thursday 11:00 - 20:00 • Friday 11:00 - 17:00 • Saturday 13:00 - 17:00 • Sunday closed Admission is free
Admission / price: Free