Kenneth O'Halloran: Modern Ruins and other stories
Friday 6 April – Sunday 20 May 2018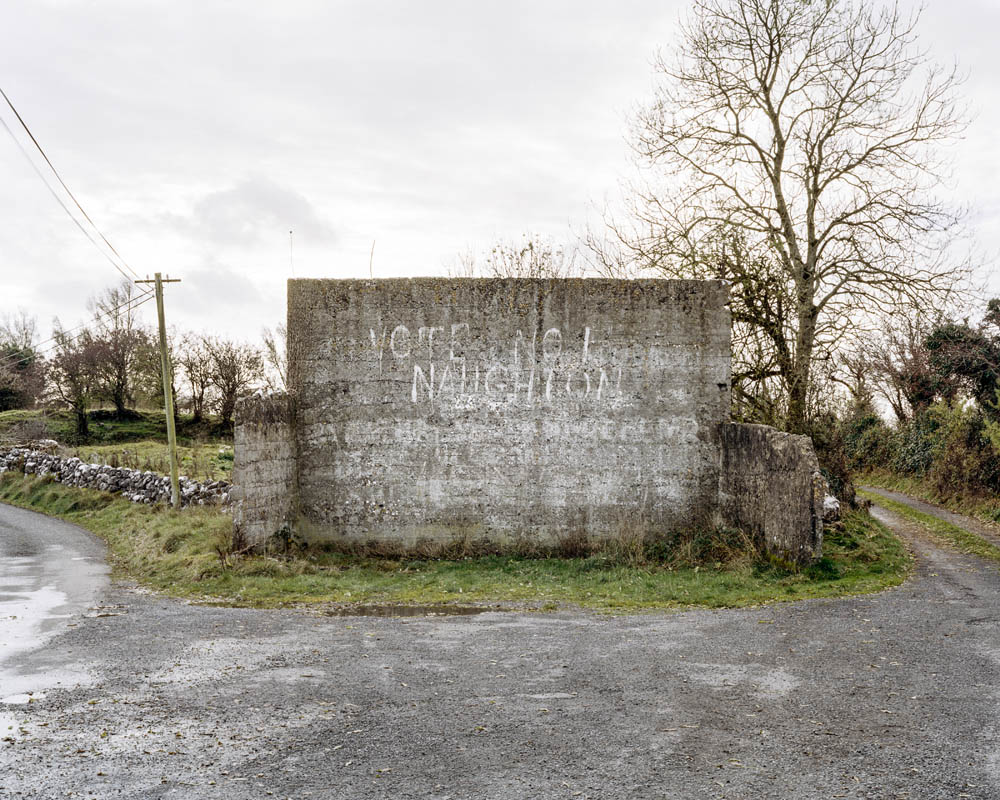 This new exhibition by multi award-winning photographer Kenneth O'Halloran shows him at the peak of his powers. It focuses on his colour work from Ireland, and centres on a large installation of his magisterial series 'The Handball Alley'.
These now silent structures attest to the passing of time and to the changing dynamics of rural communities. Like the dolmens that John Montague offered as a metaphor for the old people of his childhood, these modern ruins are liminal structures, open-air theatres where the ghosts of a lost civilisation linger.
Ruins of another era – the madness of the Celtic Tiger property boom – are explored in a further colour series, 'Tales from the Promised Land'. With grim humour, O'Halloran observes the excesses fuelled by cheap credit, and the desecration wrought on the landscape as a culture of greed masquerading as entrepreneurship became normalized.
Elegy and loss are not the over-riding mood of the exhibition. At its emotional core, O'Halloran's gently probing studies of his parents in his hometown of Corofin celebrate the real and lasting bonds of family and community. Centring on his father, the town's draper and undertaker, 'Bodies in Motion' is a personal and loving portrait of contemporary rural life.
Modern Ruins and other stories was produced by Gallery of Photography Ireland in partnership with glór, Ennis, where the exhibition received its premiere staging in February-March 2018.
Kenneth O'Halloran was born in County Clare and is now based in Dublin. A graduate of the Institute of Art, Design and Technology in Dun Laoghaire, he also holds a Masters in Fine Art Photography from The University of Ulster, Belfast.
O'Halloran's work has appeared in numerous international publications, including The New York Times Magazine, The Sunday Times Magazine, Stern, Le Monde, TIME, GEO, The Financial Times Magazine and Cosmopolitan Magazine. His work has been recognized by Royal Hibernian Academy, American Photography, Alliance Francaise, and the Taylor Wessing Portrait Prize. He is also a winner of a World Press Photo Award, the Terry O'Neill Photography Award. In 2017, he won the Syngenta Photography Award and was shortlisted for the Hennessy Portrait Prize in the same year.
He has exhibited at The National Portrait Gallery, London; The Irish Museum of Modern Art; The Photographers' Gallery, London; Sirius Arts Centre, Cobh; Void, Derry; The RHA, Dublin and The National Gallery of Ireland. See kennethohalloran.com
Image: The Handball Alley, Feevagh, County Roscommon © Kenneth O'Halloran
Friday 6 April – Sunday 20 May 2018
Meeting House Square
Temple Bar, Dublin 2
Telephone: +353 1 6714654
Opening hours / start times:
Tuesday - Saturday 11am - 5pm. Mondays by appointment for education, artists archiving and training. Closed Sundays
Admission / price: Free