Kenneth O'Halloran: Handball Alleys
Tuesday 19 April – Saturday 4 June 2022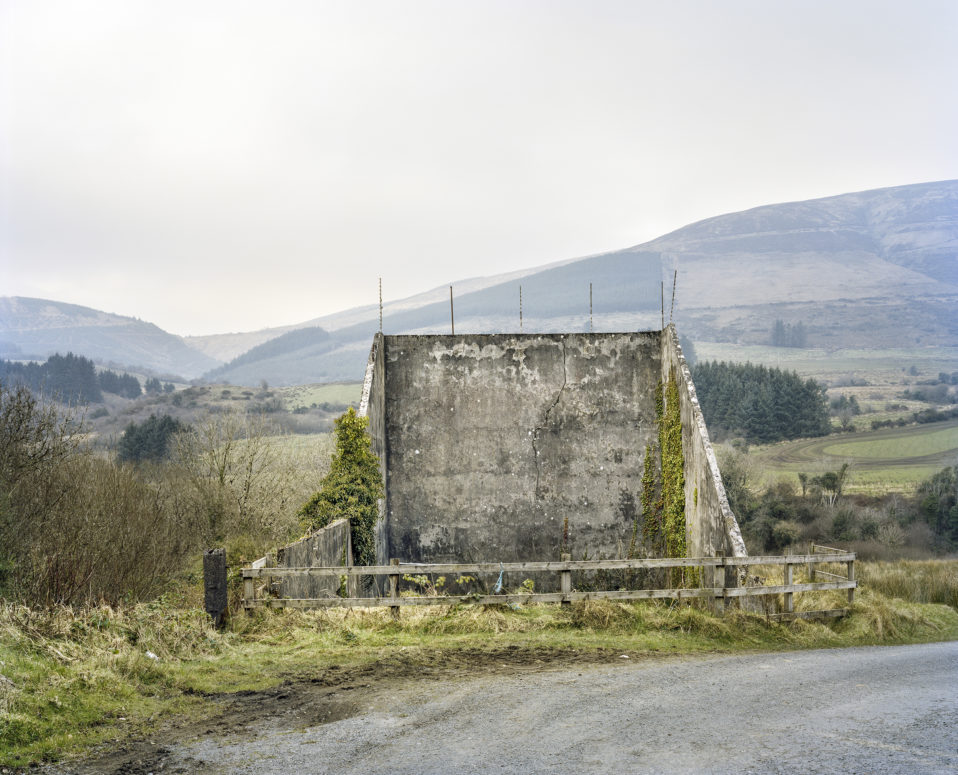 ――― In venue ―――
Kenneth O'Halloran's acclaimed 'Handball Alleys'  series is an extensive body of work documenting handball alleys throughout Ireland.  These abandoned ruins bear silent testimony to a feature of Ireland that has perished through time and modernisation. Their plain walls were once the thriving open-air theatres of their day. Handball alleys were familiar meeting points, where people played games long into long summer evenings, and others gathered for simple companionship and discourse. In rural Ireland in particular, handball captured the public imagination and societies grew around the games and the alleys which staged them. They often became prized places of refuge, offering an escape from ordinary, hard-working lives. They also served as an unofficial meeting point for lovers and revolutionaries.
"O'Halloran sought out handball alleys – not hard to do, as many are highly visible, and all are well known locally – turned up and took some photographs. Generally there is a certain formality to the images, in that they are straight-ahead, matter-of-fact views, with no pictorial trickery or fancy lighting. Which is the whole point. In fact the images are mostly mundane in that they record, without fuss, segments of the everyday environment so familiar that they rarely attract attention or comment. Yet, individually and cumulatively, they comprise one of the most significant artistic interpretations of the Irish landscape of our time."
Aidan Dunne, The Irish Times, 2018
Kenneth O'Halloran is a photographer based in Dublin. He was born in the West of Ireland and is a graduate of the Institute of Art, Design and Technology in Dun Laoghaire, Dublin. He holds a Masters in Fine Art Photography from the University of Ulster, Belfast. O'Halloran's work has appeared in magazines such as The New York Times Magazine, The Sunday Times Magazine, Stern, Le Monde, TIME, GEO, The Financial Times Magazine and Cosmopolitan Magazine.
His work has been recognized by Royal Hibernian Academy, American Photography, Alliance Francaise, and the Taylor Wessing Portrait Prize. He is also a winner of  a World Press Photo Award, the Terry O'Neill Photography Award and The Syngenta Photography Award. In 2017 he was shortlisted for the Hennessy Portrait Prize. He has exhibited at The National Portrait Gallery, London, The Irish Museum of Modern Art , The Photographers' Gallery, London, Sirius Arts Centre, Cork, Void Derry, The RHA, Dublin and The National Gallery of Ireland
Tuesday 19 April – Saturday 4 June 2022
Port Road, Letterkenny
Co. Donegal
Telephone: +353 74 912 9186
Opening hours / start times:
Monday closed • Tuesday 11:00 - 17:00 • Wednesday 11:00 - 17:00 • Thursday 11:00 - 20:00 • Friday 11:00 - 17:00 • Saturday 13:00 - 17:00 • Sunday closed Admission is free
Admission / price: Free