Kelly Ratchford and Jaki Coffey: Less Jam, More Havoc
Thursday 15 July – Sunday 15 August 2021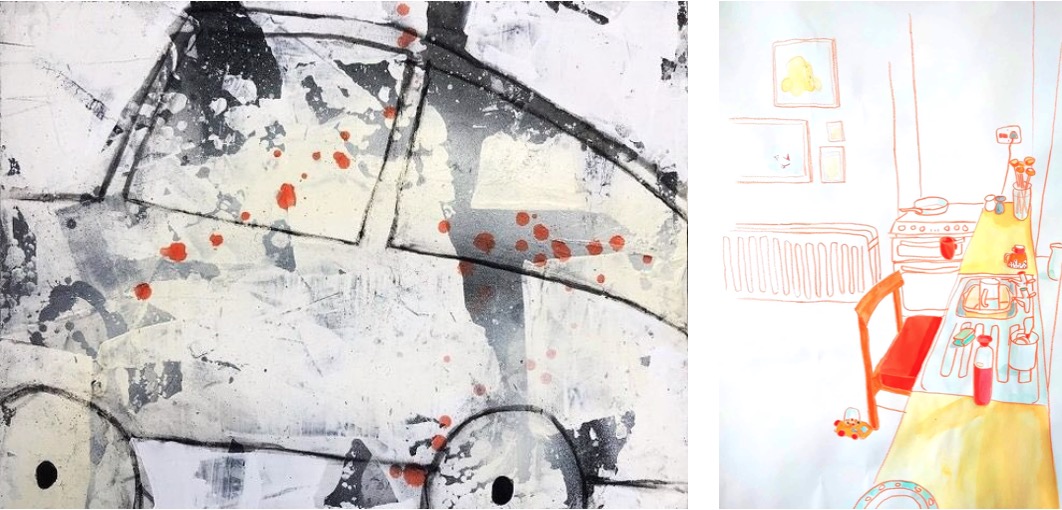 ――― Venue + online ―――
The Olivier Cornet Gallery is delighted to present this two-person exhibition featuring new work by Jaki Coffey and Olivier Cornet Gallery artist Kelly Ratchford.
Viewable in the Gallery and online here.
We've all been climbing the walls during these bizarre times. Sometimes walls can be useful collateral.
After a very successful run of 'Jam Havoc' in our 3D Virtual Space in March / April, Jaki Coffey and Kelly Ratchford are exhibiting new work for 'Less Jam, More Havoc' at the Olivier Cornet Gallery.
Jaki Coffey creates playful pieces that celebrate personal narratives with careful consideration to the materials used. The work in this exhibition is a record of the artist's daughter attacking glorious blocks of butter while quietly leaving her marks as ephemeral graffiti around the home.
Mark making is also a significant aspect to Kelly Ratchford's practice. Simple lines and sporadic blocks of colour offer a simplicity found in work made by children. The simplicity is working in conjunction with a complex layer of mistakes, spills and messes.
Both artists share a desire to incorporate humour and playfulness in their work. They take the work seriously but delight in the spontaneous, in the play.
During their earlier online exhibition, the artists enjoyed a question-and-answer talk with children and young people from different parts of the world. The artists have invited some of the participants to make and share something inspired by the earlier show. These masterpieces will also be exhibited in 'Less Jam, More Havoc'
Thursday 15 July – Sunday 15 August 2021
3 Great Denmark Street
(beside Belvedere College)
Dublin 1
Telephone: +353 87 2887261
Opening hours / start times:
Tues to Fri: 11am to 6pm (till 8pm on Thursdays) • Sat & Sun: 12 noon to 5pm • Closed on Mondays (or viewing by appointment only)
Admission / price: Free