Kathy Prendergast: Or
Friday 10 April – Saturday 13 June 2015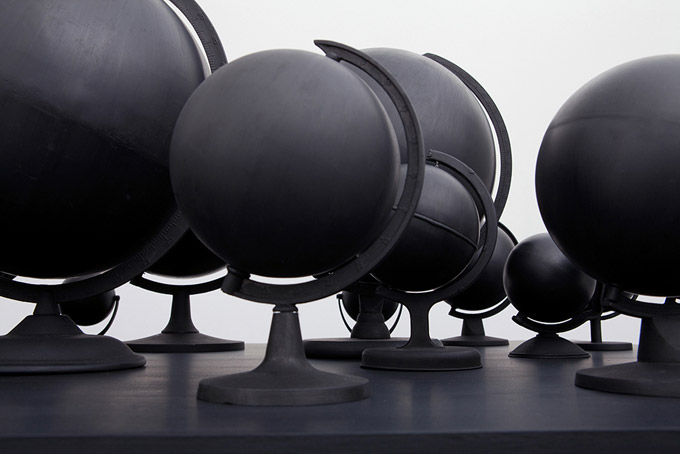 Crawford Art Gallery is delighted to present Kathy Prendergast Or, an exhibition of new and specially commisioned work.
This exhibition brings together recent work by Kathy Prendergast, a London-based Irish artist. Over more than three decades, Prendergast's work has consistently addressed themes relating to identity, landscape, mapping and power. Always rooted in the physical world – reinforced by her use of low-tech materials and by the way in which her work is often painstakingly hand-made – Prendergast creates work at the intersection between the material and the conceptual.
All of the work exhibited at the Crawford has been produced in the past two years, including a major new sculpture commission, Eclipse that will enter the Crawford Art Gallery's permanent collection. In response to her invitation to exhibit in Cork, Prendergast has created site-specific installations for the ornate Gibson display cabinet in the historic Gibson Galleries as well as for the large upstairs gallery space. Questions, Questions is a 20-metre-long installation for which Prendergast has used text as the core element in her work for the first time. Made up of more than 100 questions – many of them specially written in response to an invitation from the artist – this work presents a number of timely provocations that encourage the viewer to reconsider their place in society.
Invited curator Ingrid Swenson, Director of PEER, London, has commented: 'As the title of her exhibition suggests, Or is about thinking as well as looking. Prendergast's new works revisits and extends many of her longer term preoccupations, encouraging us to see the universal in the specific, and to reflect closely upon the everyday.'
Kathy Prendergast and curator Ingrid Swenson will be in conversation at 6pm, Thursday 23 April in the gallery, prior to the launch of the publication to accompany the exhibition. The publication features new texts by Tanya Harrod (independent design historian and author); and Ingrid Swenson and is published by Crawford Art Gallery, Cork.
For further information or images contact: dawnwilliams@crawfordartgallery.ie  / T: +353 (0)21 4807853
Public talk: 6 pm, Thursday 23, April 2015 with Kathy Prendergast and Ingrid Swenson, free admission
Kathy Prendergast (Dublin 1958) gained her BA at NCAD Dublin in 1980 and her MA at the Royal College of Art, London 1986.
Prendergast is perhaps best known for a series of drawings based on maps – most recently her Black Maps – that rework or reduce topographical or built areas to apparently abstract marks. Her work explores the delicacy and transience of life, employing diverse materials such as paper, cloth, human hair, rocks, or flowers cast into bronze.
Prendergast represented Ireland at the 1995 Venice Biennale where she was awarded the Premio 2000 Best Young Artist Award for the presentation of her City Drawings (ongoing since 1992). This series of over a hundred drawings, now in the collection of the Irish Museum of Modern Art, consists of A4 size drawings of the road and river networks of the world's capital cities. She has exhibited widely in venues including the Sydney Biennale, the ICA (London), Tate Britain (London),  The Drawing Center (New York), PEER (London), Douglas Hyde Gallery (Dublin) and Berardo Museum (Lisbon). She is represented in the collections of Tate, the Government Art Collection (of Great Britain), the collections of Arts Council England and the Arts Council of Ireland, the Albright-Knox Museum, New York, Irish Museum of Modern Art, Dublin and numerous private collections internationally. Kathy Prendergast is represented by the Kerlin Gallery, Dublin.
Image: © Kathy Prendergast, Collection Crawford Art Gallery; Photo © Katherine Fawssett
Friday 10 April – Saturday 13 June 2015
Emmet Place, Cork
Telephone: +353 21 4805042
Opening hours / start times:
Monday 10:00 - 17:00
Tuesday 10:00 - 17:00
Wednesday 10:00 - 17:00
Thursday 10:00 - 20:00
Friday 10:00 - 17:00
Saturday 10:00 - 17:00
Admission / price: Free