Kathy Prendergast
Saturday 29 May – Saturday 10 July 2021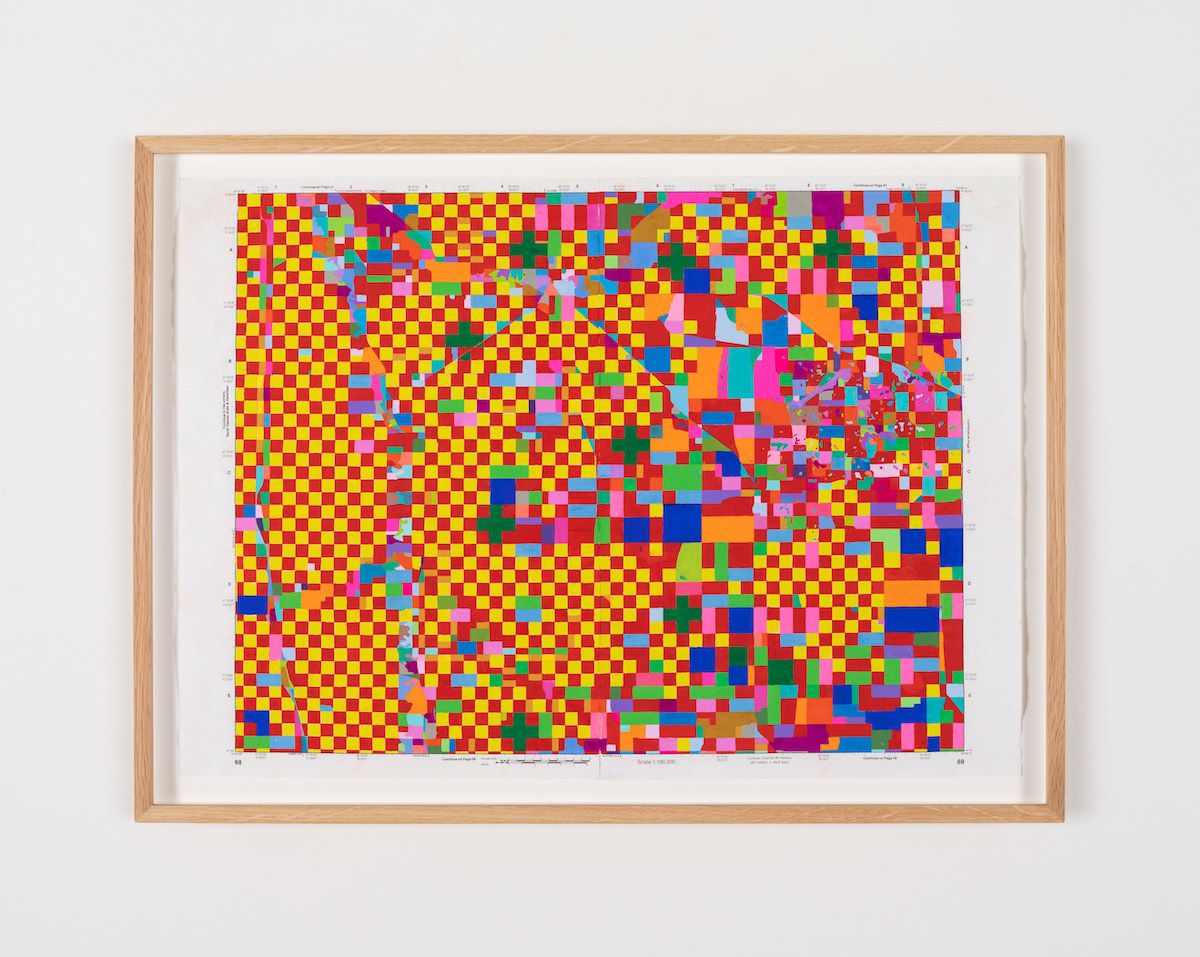 ――― Venue + online ―――
Throughout her career Kathy Prendergast has received international critical acclaim for her work with cartography, often returning to the Atlas of North America and in particular the state of Minnesota. The map of this state, commonly known as the 'land of 10,000 lakes' makes clear the problem of our need to place geometric structure and order on millions of years of organic natural history. A uniform grid of road networks contrasts sharply with a landscape formed by volcanic eruption, carved by glaciers and defined by irregular lakes and serpentine waterways.
In venue, and viewable online here.
Prendergast has painted directly on the map itself, filling in the space between the roads, redacting nature with exuberant colour. Prendergast transforms the map from a key to understanding how to navigate the Minnesota landscape to a kaleidoscopic abstraction celebrating the chaotic clash of two opposing orders.
Image: Kathy Prendergast, Road Trip 4, 2020, gouache on paper, 44.6 x 60.3 cm / 17.6 x 23.7 in framed
Saturday 29 May – Saturday 10 July 2021
Anne's Lane
South Anne Street, Dublin 2
Telephone: +3531 670 9093
Opening hours / start times:
Monday 10:00 - 17:45
Tuesday 10:00 - 17:45
Wednesday 10:00 - 17:45
Thursday 10:00 - 17:45
Friday 10:00 - 17:45
Saturday 11:00 - 16:30
Admission / price: Free