Katherine Sankey: Earthlab: living matters
Sunday 15 October – Sunday 12 November 2023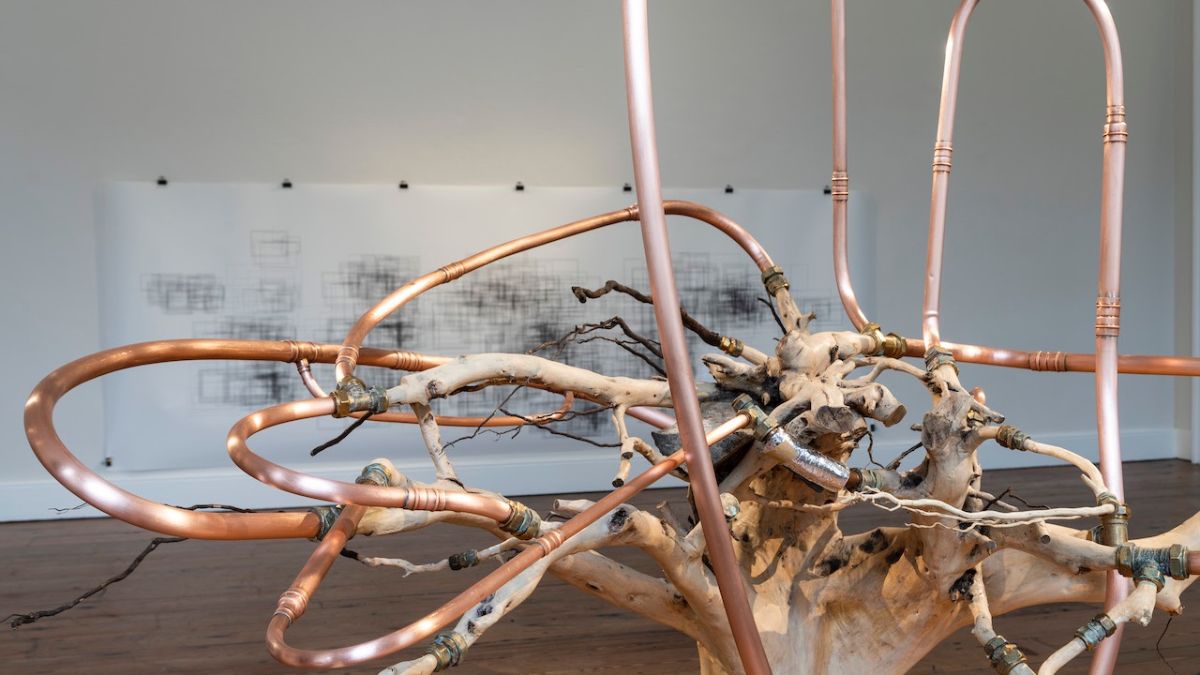 Katherine Sankey's material, hand-making art practice embodies the construction of semi-organic apparatuses that wrestle with the absurdity, humour and horror of our relationship with, and perception of our planetary host.
One of the premises of the EarthLab: living matters exhibition at the RHA Ashford Gallery derives from the feminist theorist and physicist Karen Barad who reminds us that all organic cells have been permeated by the radiation of the nuclear age.
The creation of the atom bomb fused particle physics, technology, biology, nature and the planet in a new way, to the experience of being human. Through her practice, Sankey seeks to explore Barad's position that '(m)atter fell from grace during the twentieth century [1] .
"After this point where humans penetrated every living cell on the planet, our relationship with the world and matter became fundamentally different."
As part of EarthLab: living matters, Sankey will present Coral-ations, a new suite of hand-made ceramic modules. Conceived on a different scale to the larger sculpture Sankey has become known for, Coral-ations links considerations of bio-mimesis to modular domestic forms. These intricate, delicate pieces are derived in part from research on the mineral structures built by coral polyps to house themselves. Sankey mimetically structures the clay body embedding domestic-modular elements. As with the world of coral, outside and inside are interwoven, much like our own, human bodies.
By contrast, Sankey's plumbed-wood sculpture uses living plant tissue and human supply lines.
"Here I engage in the geo-feminist conversation about what we gouge and suck out of the planet. My practice considers how the human extractive machine of supply and power connects physically and psychologically into the living sites of the Earth and ourselves."
[1] Karen Barad, No Small Matter mushroom clouds ecologies of nothingness and strange topologies of spacetimemattering. Essay published in 'Arts of Living on a Damaged Planet' Edited by Anna Tsing 2017.
Katherine Sankey (born in Paris, France) grew up between Sydney, Belfast and Paris and has been based in Dublin, Ireland since 1997. Her recent exhibitions include 'a_n_ _a_t_o_m_ _b_o_m_b_ _i_n_ _e_a_c_h_ _m_o_r_s_e_l_ _o_f_ _l_i_f_e_', The Lab, Dublin; 'SANKEY | WALKER' a solo/collaborative exhibition with Corban Walker at The Dock, Carrick-on Shannon; 'Hydrozomes' PALLAS P/S AIP, Dublin and 'C_o_n_t_a_i_n_m_e_n_t_ _- c_h_t_h_o_n_i_c_ _2_', RUA RED, Blanchardstown. Selected group exhibitions include 'Worlds of Their Own' PLATFORM 21, 4 person show at Draíocht, Blanchardstown – where she was AIR Artist in Residence; 'Woman in the Machine', Visual, Carlow; 'Palimpsest' with 5 Lamps Festival and at Kunsthal Charlottenborg, Copenhagen. In 2020 she was invited artist in 190th RHA Annual Exhibition and won the Solo Award in the RUA RED Winter Show. In 2019, TULCA – 'Tactical Magic', 189th RHA Annual and, 'CAST', 4 person show at Luan Gallery, Athlone, 2018.
Sankey was recipient of the Fire Station Artists' Studios Sculpture Award in 2020 and gave a Plinth Politics lecture at the RHA. In 2021 & 22 Sankey received the Arts Council of Ireland Bursary. Also in 2021, she received the Agility Award, the DCC Visual Art Bursary and her sculpture was acquired by the Arts Council of Ireland Collection. Sankey's artworks are in private collections in Ireland, Europe and Australia.
Image: Katherine Sankey, Host, 2023, Tree roots, chair, plumbing, metal screw-in pins, emergency thermal blanket, black theatre paint, electrical components and tape, old stomatoscope (dental mirror), Background: Land by Corban Walker, 400 x 250 x 200cm, Photography Paul McCarthy, Image courtesy of the artist.
Sunday 15 October – Sunday 12 November 2023
15 Ely Place, Dublin 2
Telephone: +353 1 661 2558
Opening hours / start times:
Monday 11:00 - 17:00
Tuesday 11:00 - 17:00
Wednesday 11:00 - 19:00
Thursday 11:00 - 19:00
Friday 11:00 - 19:00
Saturday 11:00 - 19:00
Sunday 14:00 - 17:00
Admission / price: Free