Karla Black
Friday 1 May – Sunday 26 July 2015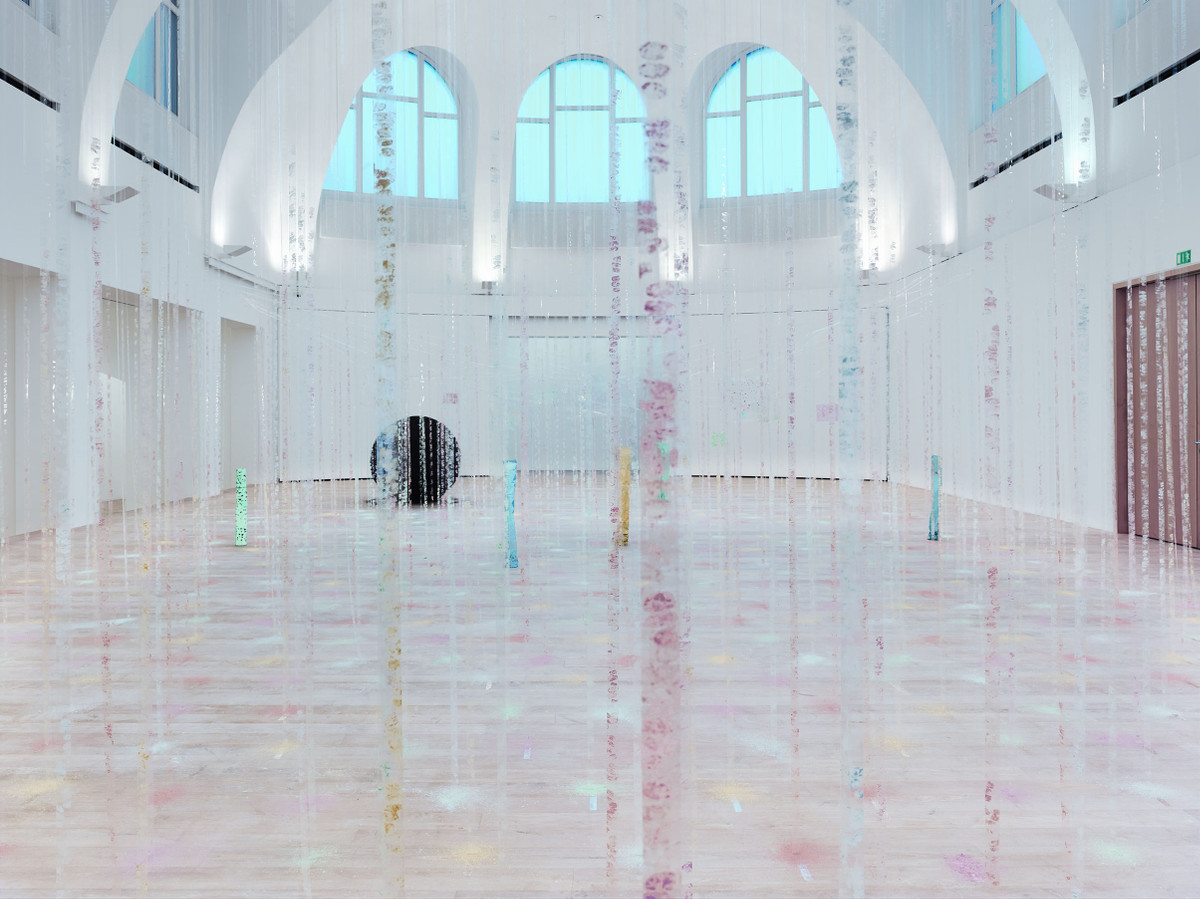 Karla Black is regarded as one of the pioneering contemporary artists of her generation. A Turner Prize nominee in 2011 she practices a kind of lyrical autonomous sculpture, influenced by psychoanalysis, feminism and its impact on visual art. Black's work draws from a multiplicity of artistic traditions from expressionist painting, land art, performance, to formalism.  Black questions the rigours of sculptural form and her large-scale sculptures incorporate modest everyday substances, along with very traditional art-making materials to create abstract formations.
Presenting seven new works, created especially for this exhibition at IMMA, Karla Black's extraordinary creative output is shown, revealing the artist's constant challenges to prevailing concepts of sculpture. Her interest in process has led her to expand the possibilities of any material she utilises; from polythene, chalk dust and powder to more atypical ones such as eye-shadow, nail varnish, Cif cream or toothpaste. Black chooses her media for their tactile aesthetic appeal: the familiarity of the texture of cellophane. Black's process is intensely physical and this energy is conveyed through her work. Her approach to sculpture is often described as holistic. A new site-specific sculpture revealing Black's preoccupation with trying to find ways to float material, form and colour at eye level, is shown. Comprised of 20 vertical supports, the plaster casts of thin tree trunks attached to the floor, tied with cellophane, and highlighted with hints of colour, this sculpture emphasises the free, experimental way she works.
Black has said of her work: "While there are ideas about psychological and emotional developmental processes held within the sculptures I make, the things themselves are actual physical explorations into thinking, feeling, communicating and relating".
Associated Talks and Events
There are a series of free talks to accompany this exhibition, with more to be announced.
Coffee with Karla Black, Thursday 30 April, 11.30am – 12.30noon
Join artist Karla Black for a coffee and the unique opportunity to hear the artist speak about her site-specific sculptures at IMMA. Conversation moderated by Rachael Thomas (Head of Exhibitions, IMMA).  Tea/Coffee will be served. Booked out.
About the Artist
Karla Black (b. 1972 Alexandria, Scotland) lives and works in Glasgow. She attended The Glasgow School of Art (1995–2000 and 2002–04), completing BA (Hons), MPhil (Art in Organisational Contexts), and MFA degrees. In 2011, Black represented Scotland at the 54th Venice Biennale (Karla Black. Scotland and Venice) and was nominated for the Turner Prize. Karla Black has recently made solo exhibitions at institutions including Kestnergesellschaft, Hannover, Germany (2014); Institute of Contemporary Art, Philadelphia, PA, USA, and Gemeentemuseum, The Hague, Netherlands (both 2013); Dallas Museum of Art, Dallas, TX, USA; Schinkel Pavillon, Berlin, Germany and Gallery of Modern Art, Glasgow (all 2012); Kunsthalle Nürnberg, Nuremberg, Germany (2010); Modern Art Oxford, Oxford; Kunstverein Hamburg, Hamburg, Germany and Migros Museum für Gegenwartskunst, Zurich, Switzerland (2009), among others. Her works are held within many prestigious collections worldwide including the Scottish National Gallery of Modern Art, Edinburgh; The Hammer Museum, LA; Migros Museum für Gegenwartskunst, Zurich; and Tate Gallery, London.
Artist Statement
The sculptures I make are either almost objects or only just objects. I skirt In between mediums, and the works are often nearly paintings, nearly installations, nearly performance art but always, in the end, very definitely sculptures.
Sculpture is most exciting to me when it stays close to the physical truth that the object is a fallacy.  I like to think about how everything in the physical world is either flying together or flying apart as in mass becomes energy becomes mass becomes energy again.  From our limited, human perception of time we can't actually see that happening but that doesn't change the fact that it is happening I like to retard the potential of the material within the sculpture, so that it retains its energy and its capacity for transformation.
I prioritise material experience over language as a way to learn about and understand the world.To me, for all its obvious accomplishments, language is an inadequate and primitive tool.
 (Karla Black, 2015)
Image: Karla Black: Practically in Shadow, 2013, Plaster powder, powder paint, florist foam, bath bombs, nail varnish, polythene, thread, cellophane, sellotape. Hanging element: 840 x 870 x 80 cm Floor element: 160 x 1200 x 670 cm. Overall dimensions variable. Installation view, Institute of Contemporary Art, University of Pennsylvania, 2013. Photo: Aaron Igler/ Greenhouse Media
Friday 1 May – Sunday 26 July 2015
Royal Hospital, Kilmainham
Dublin 8
Telephone: +353 1 612 9900
Opening hours / start times:
Tuesday 11:30 - 17:30
Wednesday 11:30 - 17:30
Thursday 11:30 - 17:30
Friday 11:30 - 17:30
Saturday 10:00 - 17:30
Sunday 12:00 - 17:30
Admission / price: Free
Bank Holidays open 12:00 – 17:30.