Joy Gerrard: shot crowd
Friday 20 January – Sunday 26 March 2017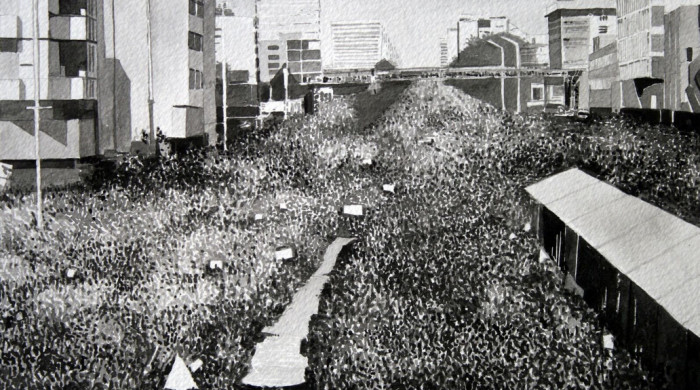 Drawing on over a decade of image-making and research on themes of protest and urban space, Irish artist Joy Gerrard archives and painstakingly remakes media-borne crowd images from around the world. This exhibition marks the latest development in this project, presenting an abstract film work alongside monochrome paintings and drawings of the Arab risings of 2011, anti-Trump demonstrations and 'Black Lives Matter' protests from 2016. Her crowds are viewed from above; suggesting the removal of media observation, while the fluidity and drama of their moment is expressed through precise, expressive mark making. The large paintings allow a shift in scale, disrupting the photographic schema of the smaller drawings and allowing greater freedom from the original mediation of the image. These are set alongside the film 'shot crowd', produced as a maquette in 2007 and remade in 2016. Here, Gerrard sets the historical specificity of her protest images against an abstract depiction of space and human movement. The perpetual flow of individual objects, apparently random and chaotic, is constrained and directed within a built environment.
The elemental simplicity of Gerrard's Japanese ink drawings and paintings belies a more complex meditation on the contemporary circulation of images, the precarious freedom of protest and the contemporary relation between populism and representative democracy. In her work, the figure of the crowd comes to suggest the expression of collective agency. But these crowds are persistently contained within historical architectures that at once give them form and constrain them. The ephemeral imagery of news media is thus figured against more fundamental and enduring human conditions, while the rescaling of images into dramatic, painterly forms disrupts their everyday meaning to provoke reflection on the place of art, witnessing and the politics of representation.
Joy Gerrard is an Irish-born artist based in London. She received an MA and MPhil from the Royal College of Art, London. Awards include Arts Council Bursary, 2016 and 2011, the Ortho Award for a mid career artist, in any medium from the RHA, 2015, and the Man Group Drawing prize, London in 2007. Gerrard is known for multimedia work that investigates different systems of relations between crowds, architecture and the built environment. Her practice spans from film work to large public sculptures. She has exhibited widely, recently at Peer, London, 2015 and in the MAC International in 2016. The second element of her work engages public space and built environments. She has produced fifteen major public installations since 2004. These include Elenchus/ Aporia, London School of Economics, 2009 and Assemble/Move/Map, Chelsea and Westminster Hospital, 2012.
Friday 20 January – Sunday 26 March 2017
15 Ely Place, Dublin 2
Telephone: +353 1 661 2558
Opening hours / start times:
Monday 11:00 - 17:00
Tuesday 11:00 - 17:00
Wednesday 11:00 - 19:00
Thursday 11:00 - 19:00
Friday 11:00 - 19:00
Saturday 11:00 - 19:00
Sunday 14:00 - 17:00
Admission / price: Free