Joseph Beuys: From the Secret Block to Rosc
Wednesday 14 July 2021 – Sunday 24 April 2022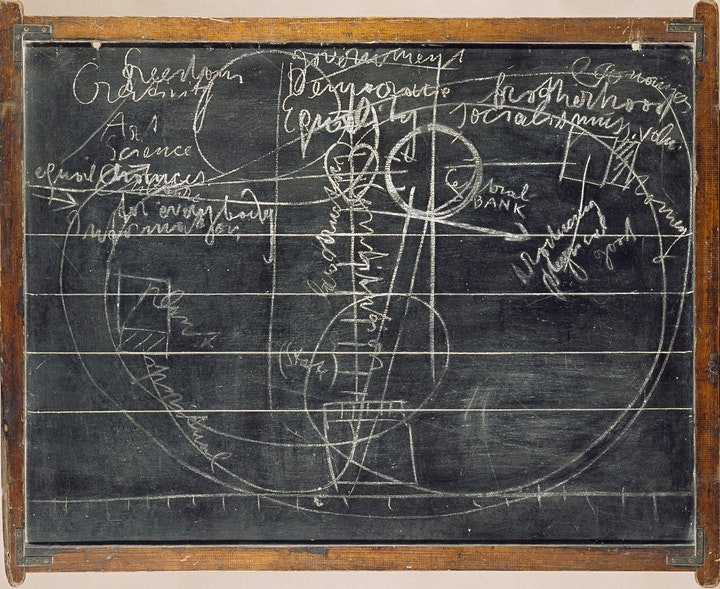 ――― In venue ―――
Hugh Lane Gallery will mark the centenary of the birth of Joseph Beuys (1921-1986) with a focused exhibition looking back on the artist's relationship to Ireland. The German artist was hugely influential on contemporary art in the second half of the twentieth century, though his teaching, his engagement with social and political concerns and his symbolic use of materials. He had a particular interest in the Celtic world and in Irish myth, literature and landscapes as sources for cultural renewal and healing.
At the centre of this exhibition are the three blackboards that Beuys created in the Hugh Lane Gallery in October 1974. Beuys wrote and drew on the blackboards while giving a lecture during the exhibition of his drawings, The Secret Block for a Secret Person in Ireland. The Secret Block exhibition also travelled to the Ulster Museum, Belfast, and Beuys gave similar lectures across the island of Ireland, provoking excitement, inspiration, denunciation and bewilderment in turn.
Alongside the blackboards, the 2021 exhibition at the Hugh Lane Gallery will feature photographs by Caroline Tisdall that further illuminate Beuys' visit to Ireland in 1974. Beuys remained an inspirational force in Ireland throughout the 1970s and 80s. His work was included in the 1977 Rosc exhibition at the Hugh Lane Gallery, and in Rosc '84 at the Guinness Visitor Centre. This exhibition will include archive material that reflects this ongoing relationship.
View a conversation with Professor Richard Demarco, exploring Beuys' legacy, on our YouTube channel.
Image: Joseph Beuys, The Blackboards, Dublin, 1974. Collection and image © Hugh Lane Gallery. © Estate of Joseph Beuys. Bildkunst Bonn/IVARO Dublin, 2021
Wednesday 14 July 2021 – Sunday 24 April 2022
Parnell Square North
Dublin 1
Telephone: + 353 1 222 5550
Opening hours / start times:
Tuesday 10.00 - 18:00
Wednesday 10.00 - 18:00
Thursday 10.00 - 18:00
Friday 10.00 - 17:00
Saturday 10.00 - 17:00
Sunday 11.00 - 17:00
Admission / price: Free