Jordi Forniés: Constellations
Sunday 22 May – Friday 10 June 2016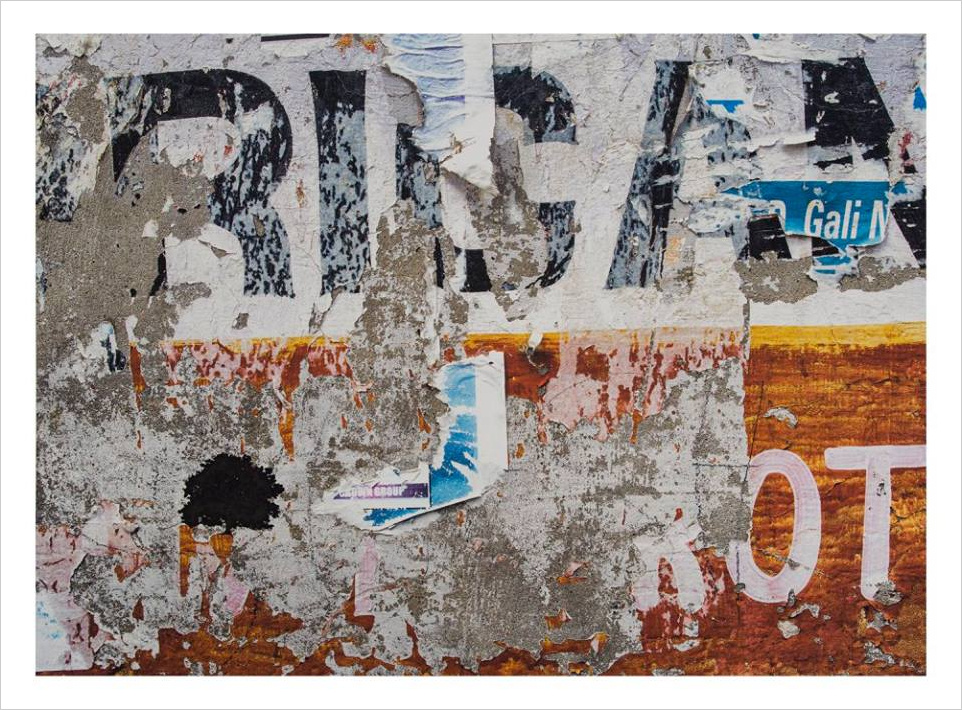 The Olivier Cornet Gallery is delighted to present Constellations, a series of digitally processed photographs of painted metal and wooden plates by gallery artist Jordi Forniés.
Very exciting times for the artist whose work has recently entered the Trinity College Art Collections and who has been studying for two MFAs: one in the area of unconventional materials used in painting (Sydney University), the other dealing with synesthetic relations between music and painting (LASALLE College of the Arts).
Constellations is a very special exhibition based on photographs taken between 2014 and 2015 in different cities of Asia.
Textures found as part of buildings and made naturally with materials like plaster, paint, bricks, stone, metal and paper…
Trees painted in the walls using B2 pencil.
All the photographs were taken with a Pentax 645z medium format camera using 55mm and 120mm lenses. Photographs were processed using Adobe Photoshop CS6, sized 100×75 cm, and print using mineral pigment print in cotton rag paper and over-painted with ink.
"Jordi Forniés' Constellations is an attempt for the artist to connect cities and experiences in a narrative of emotional exploration. It is a collection which acts as a metaphor within which the viewer is asked to place themselves. It's a guided tour, but the interpretations are meant to be singularly experienced.
Forniés uses the heart of each location -alley walls within intriguing neighbourhoods- as the landscape for his travels. Using the cracked, layered paint to create, on the micro level, individual realities, he places a miniature representation of himself, a tree, to occupy each world. These are very much self-portraits linked by memory and experience, yet they are also mirrors, allowing the viewer to transpose themselves into their own previous experiences and memories.
The journey we are taken on is as much a search for home as it is a search for love, for these states of being are organically intertwined. Forniés presents the viewer with a tour of Asian cities in which there seem to exist specific, ineffable absences. His is an often-plaintive examination of a world which seems uniquely and characteristically fractured, possibly not to feel whole again. The viewer is then taken on an international search for belonging.
The walls within the cities represent the deliberate hand of man, but they also show the delicate, erosive touches of nature. Here, the elements have also acted as artist, wearing away deliberate efforts to conceal and protect. The natural and inorganic mix transports us to a familiarly distant location. We remember these places innately as if from a collective memory.
We begin in Singapore, and we are immediately confronted by aseptic Asian modernity. However, Forniés finds the dirty dampness within the perfect city, a play of contrasts that is beautifully haunting. Our adventure begins. On to Delhi, the culturally vibrant pulsing heart of India. Here we are overwhelmed with frenetic friendliness. Tokyo returns us to order and a kind of elegant mystery. So much seems to exist within the subtext. So much is not said but felt. Bangkok brings a return to chaos, but here it's of a manageable sort. It feels authentically and intrinsically energetic and enthralling. Jakarta represents a hypnotic nadir. The artist here contemplates the grotesque sublimity of the modern megacity. The intimacy of Penang is where emotion explodes. The soul has been stirred again, after a period of dormancy. Possibility is alive. Finally, Seoul presents a youth and a technological future that have been embraced.
The geographical and emotional map has been crossed and crossed again. A constellation of experiences dots the landscape, transforming a map of Asia into a relative Bermuda's Triangle of search and discovery. There is an order to the chaos. There is a rebirth of hope from the initial confusion and despair."
– Eric Smith 
"…In his continuing search, Forniés decided to develop this reflection by widening the references to signs to submit them later to creative intervention, since, as Heidegger said, "In the work of art the truth of an entity has set itself to work" ( "Im Kunstwerk sei die Wahrheit ins Werk gesetzt"). The result is Constellations, the exhibition shown in Japan in late 2015 and later in Singapore. Intending to investigate the interventions between nature and humanity, the works in this series are made on photographs of found textures, which are also placed spatially through disclosing their precise coordinates, so that the final result represents not only plastic outcome of this process, but also the complete mapping of each of the of the elements that underlie the work: again stripping the dialogue between essentiality and its veilings."
– J. Óscar Carrascosa, 'JORDI FORNIÉS:DECLASSIFYING THE UNIVERSE', Chrom-art, April 2016. Full article here
A special public talk with the artist, who is currently based in Singapore, will take place at the gallery in June. Date to be confirmed.
Sunday 22 May – Friday 10 June 2016
3 Great Denmark Street
(beside Belvedere College)
Dublin 1
Telephone: +353 87 2887261
Opening hours / start times:
Tues to Fri: 11am to 6pm (till 8pm on Thursdays) • Sat & Sun: 12 noon to 5pm • Closed on Mondays (or viewing by appointment only)
Admission / price: Free