Jonathan Monk
Thursday 4 September – Sunday 12 October 2014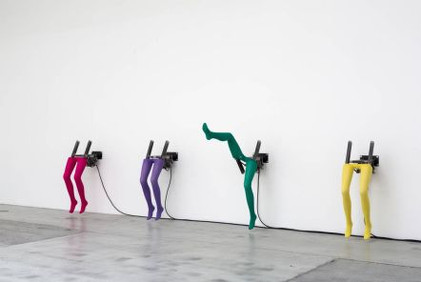 IMMA is pleased to present recent work by Jonathan Monk in its Project Spaces. The works presented at IMMA – All the Possible Combinations of Eight Legs Kicking (One at a Time) II, (2012-13), The Same Time In A Different Place (2012–14) and A Possible Version of Minimal Art: The Movie (2014) – feature the irreverent, witty humour for which the artist is best known. Incorporating movement, elements of performance as well as photographic imagery and everyday objects, while in keeping with his Minimal aesthetic, these works explore the nature of time, as Monk subtly questions our understanding of the passage of time.
In his work, Monk adopts the aesthetics and processes of seminal works of 1960s and 1970s Conceptual and Minimal art, which he humorously cites and reinterprets so as to call into question notions of originality and authorship. Monk introduces them into his own realm of experience and infuses the tradition with wit and autobiographical references.
Artist Biography:
Jonathan Monk was born in Leicester in 1969 and lives and works in Berlin. He has a BFA from Leicester Polytechnic (1988) and an MFA from Glasgow School of Art (1991). He has exhibited extensively throughout the world, notably with recent solo exhibitions at Centro de Arte Contemporáneo (CAC) Málaga, Spain and Kunstraum Dornbirn, Austria (both 2013); Artpace, San Antonio, TX, USA (2009); Palais de Tokyo and Musée d'Art Moderne, Paris (2008); Kunstverein Hannover, Germany (2006); Institute of Contemporary Art, London (2005); and Museum Kunstpalast, Düsseldorf, Germany (2003). His work has been included in many group exhibitions, including the 50th and 53rd Venice Biennales (2003, 2009), Berlin Biennale (2001) and Taipei Biennial (2000). He was awarded the Prix du Quartier des Bains in Geneva in 2012. His works exist in the permanent collections of MoMA (New York), Tate Modern (London), Guggenheim Museum (New York) and Moderna.
Artist Talk: Jonathan Monk
Wednesday 1 October, 1.00 pm
Jonathan Monk discusses his practice. Booking is essential. For free tickets and a full programme of talks, please click here
The exhibition is kindly supported by the Goethe Institut and the Institut fúr Auslandsbeziehungen.
Image: Jonathan Monk: All the Possible Combinations of Eight Legs Kicking (One at a Time) I, 2012-13, steel, engine, control unit, cables, fibreglass legs, tights. Dimensions variable. Image courtesy of the artist and Galleri Nicolai Wallner, Copenhagen. © Jonathan Monk.
Thursday 4 September – Sunday 12 October 2014
Royal Hospital, Kilmainham
Dublin 8
Telephone: +353 1 612 9900
Opening hours / start times:
Tuesday 11:30 - 17:30
Wednesday 11:30 - 17:30
Thursday 11:30 - 17:30
Friday 11:30 - 17:30
Saturday 10:00 - 17:30
Sunday 12:00 - 17:30
Admission / price: Free
Bank Holidays open 12:00 – 17:30.