Jonah King: Tongue the Sun 
from Tuesday 30 June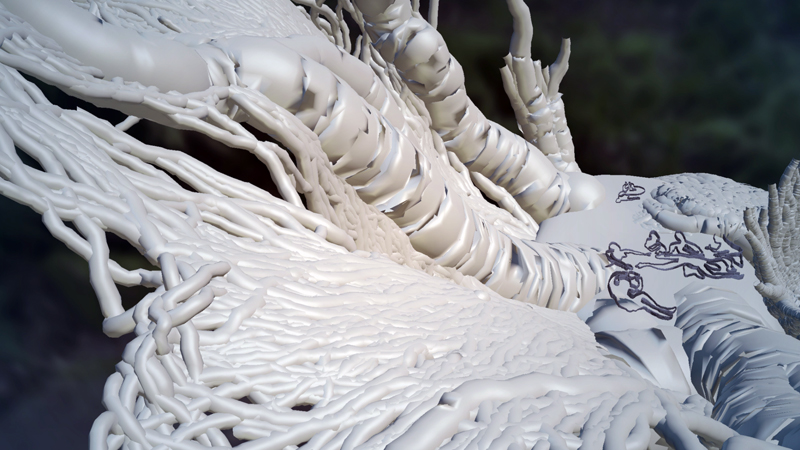 ――― Online only ―――
The NCAD Gallery is delighted to present the newly commissioned project, Tongue the Sun, Part I, by artist Jonah King. An online exhibition experience of new work focused on recontextualising representations of 'queer ecology'.
EVENT: Friday 17 July, 2020, 5PM GMT / 12PM EST
A reading from the essay, Unfathomable Intimacies by Jonah King, broadcast live on the NCAD Gallery YouTube channel – SUBSCRIBE Link.
The term 'queer ecology' refers to a loose, interdisciplinary constellation of practices that aim, in different ways, to disrupt prevailing heterosexist discursive and institutional articulations of sexuality and nature; reimagining evolutionary processes, ecological interactions, and environmental politics in relation to queer theory.
Tongue the Sun seeks to contextualise the materiality of our bodies in the present ecosystem. In this unprecedented moment, our biology, in all its fragility, has taken priority over global trade, party-politics, and identity divisions that characterise our time. This project focuses on reinterpreting how evolutionary forces undermine the stability of idenity classifications in modern life.
Tongue the Sun is made manifest as an online artwork and dynamic website exhibition platform, encompassing three pivotal outcomes: a streamed video artwork, an interactive digital sculpture, and text piece aligned with a series of live streamed discussions with the artist Jonah King and invited participants. The NCAD Gallery will promote the work linked from the website platform at tonguethesun.com. The longevity of the project artwork will live online at www.tonguethesun.com indefinitely.
Jonah King (b. 1985) is an Irish artist, filmmaker and writer exploring technology, intimacy and collectivity through multimedia projects, films, sculptures, and auto-theory essays. King has exhibited at the Irish Museum of Modern Art, The New York Jewish Museum, and Fotografiska Stockholm; received official selections at the Oberhausen Film Festival and London International Motion Pictures Awards. Recent solo exhibitions include Wonsook Kim University Galleries(Ilinois), Clima(Milan), Weekend(Seoul), and Meyohas(New York). In 2019, King co-produced their first theatre production at the Dublin Fringe Festival. King is currently working toward a solo exhibition at the NCAD Gallery, Dublin in 2020.
Jonah received a BFA Media from NCAD (Dublin), an MFA from Columbia University, and attended the Skowhegan School. King is a recipient of the Owen Walsh Award, Andrew Fisher Fellowship and is a Rema Hort Mann Nominee. Their work is represented in the Irish State Collection. Artist website. Tongue the Sun website
'Tongue The Sun, Part I', is part of, and a precursor to the expanded physical exhibition, Tongue the Sun at the NCAD Gallery, National College of Art and Design, Dublin (NCAD), curated by Anne Kelly, (originally planned for the exhibition dates of 18 June – 14 August 2020). The physical gallery iteration of Tongue The Sun is in planning for a future date at the NCAD Gallery to include new work. The Tongue The Sun, Part I, project is supported by the Arts Council of Ireland.
Image: Image courtesy of the artist Jonah King, NCAD Gallery 2020.
from Tuesday 30 June
100 Thomas Street
Dublin 8
Telephone: +353 1 6364200
Opening hours / start times:
1pm - 5pm, Monday – Friday
Admission / price: Free