John O'Connell: Dig
Friday 7 June – Saturday 6 July 2013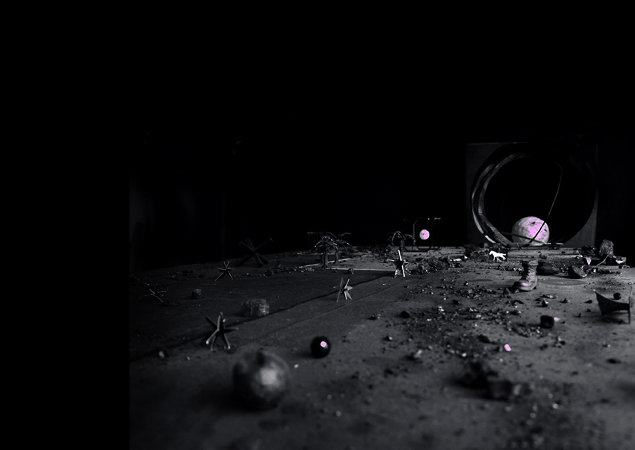 Opening Reception Friday 7 June
Galway Arts Centre is proud to present Dig, John O'Connell's first solo exhibition in Galway. The show comprises of new work which transforms the gallery space into an intimate and dreamlike environment.
John is a multimedia artist from Dublin whose practice extends far beyond the limits of any one discipline but encompasses a spectrum of processes. While drawing and installation are the root elements in his work each finished piece is the end result of a synthesis of sculpture, sound and space.
His installations evoke timeless vistas that are at once excavations from an extinct age and parched wastelands from a post-apocalyptic future. These terrains are ultimately vehicles for allegory and symbolism-landscapes that emerge from an imagination that always avows a fascination with the ruinous, the obsolete and the otherworldly.
Many of John's animations depart from his drawings and practice of miniature set building. He also composes and plays piano for the animations' melodic and haunting soundtracks. Straddling the line between real and fictional these animated works seem to be involved in their own imaginary journey, oblivious to the exterior world. They ultimately belong to the artist's poetic, whimsical, and lyrical universe.
John holds an MA from the Royal College of Art, London and a BA from the National College of Art, Dublin. He has been awarded several artists residencies, most recently was a year long fellowship in Location1 New York, SIM in Iceland, Stiftung Starke in Berlin and The Watermill with Robert Wilson in New York. John has been commissioned and supported by Wicklow County Council, Kildare County Council, and The Arts Council of Ireland; New Work Award 2007 and Visual Artists Bursary award in 2011.
Recent exhibitions include The Poetry Project, Kinsale Arts Festival (2013) Tentamen – 13 North Great Georges Street, Dublin (2012) Like a Shark in the Grass – Solo Show, Location1, New York (2011) Solo Show at The Dock, Carrigh on Shannon (2011)The Visitor, Riverbank Art Centre, Newbridge (2010) Nothing Matters When Your Dancing, Stiftung Starke, Berlin (2009) Futures 09, Royal Hiberniam Accademy, Dublin (2009) Big Pink, Goethe Instuite, Dublin (2009) and The Heart is a Lonely Hunter, Westgermany, Berlin (2009)
Further Info www.jroconnell.com
Friday 7 June – Saturday 6 July 2013
47 Dominick Street
Galway
Telephone: + 353 91 565 886
Opening hours / start times:
Monday 10:00 - 17:30
Tuesday 10:00 - 17:30
Wednesday 10:00 - 17:30
Thursday 10:00 - 17:30
Friday 10:00 - 17:00
Saturday 10:00 - 14:00
Admission / price: Free