John O'Connell: Big Pink
Friday 4 February – Saturday 2 April 2011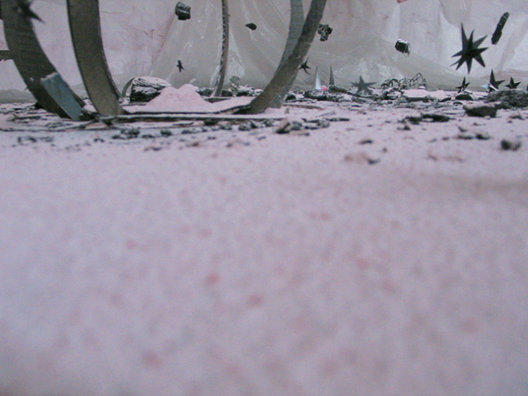 Supernatural. Bizarre. Imaginative. Pink.
All of the above are words that have been used to describe this film by John O'Connell in which ordinary and unfamiliar objects, together with a gorgeous piano soundtrack, combine to create a convincing, dream-like world.
John O'Connell is a sculptor who works in film, photography, drawing, assemblage and installation. John holds an MA from the Royal College of Art, London and a BA from the National College of Art and Design, Dublin. His recent projects include: The Visitor, Riverbank Arts Centre, Newbridge (2010); Material Worlds-Contemporary sculpture from Ireland and the UK, F.E. McWilliam Gallery, Northern Ireland (2010); Clear Skies Above, SIM House, Reykjavík, (2010); Nothing Matters When Your Dancing, Stiftung Starke, Berlin (2009); Futures 09, Royal Hibernian Academy, Dublin (2009); and The Heart is a Lonely Hunter, Berlin (2009). He is the 2010 recipient of the Arts Council's Location One Fellowship in New York City.
Friday 4 February – Saturday 2 April 2011
St. George's Terrace
Carrick-on-Shannon, Co. Leitrim
Telephone: +353 71 9650828
Admission / price: Free