John Noel Smith: Passage, Fold & Multipolar
Friday 18 June – Sunday 5 September 2021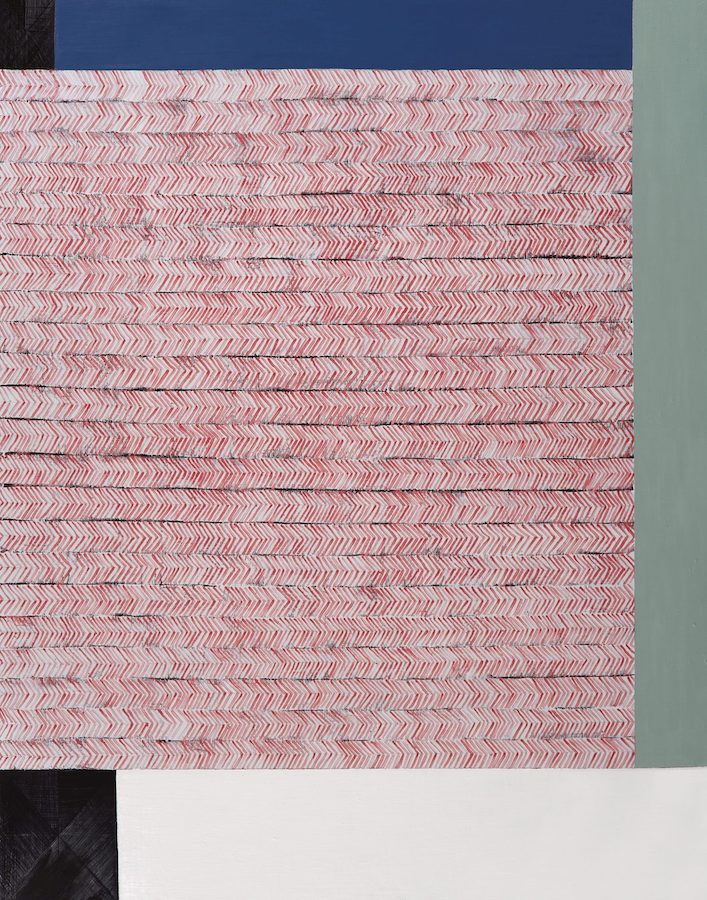 ――― In venue ―――
The Office of Public Works presents the exhibition Passage, Fold & Multipolar by John Noel Smith at Farmleigh Gallery. The show explores three major strands in Smith's recent body of work.
The Passage series, a new departure in his oeuvre, remains reflective and analytical, while celebrating the irregular and rhythmic patterns of life with a vibrant and optical three-dimensionality.
The triptych format is central to the Fold paintings. Here two serene, contemplative side panels flank a central middle panel or active field where forces such as gravitation, cohesion, order as well as cultural convention are examined, creating a multipolar continuum of interdependent information that forms a single, internal coherent structure.
The Multipolar series coordinates the cartography of the centre with that of the periphery, while incorporating contradiction into its essential structure, opening up a new field of vision.
For over the last 45 years, John Noel Smith has made paintings of a singular intensity; his powerful, abstract works combine dynamism with a subtle rendering of surface. Conflict and resolution are essential aspects of his work. Smith's paintings are in a perennial state of collapse and reorganisation. The artist states: "They (the paintings) are perhaps more about the moment of cohesion than the instant of fragmentation."
His works are not purely formal investigations, but rather a tapestry of connections and an exploration of culture, which informs the spirit of the age. His concern, however, is not to reflect this Zeitgeist, but to question its dominate characteristics to more fully capture its inner most essence. Importantly, it perceives formlessness in society as a condition to contest.
John Noel Smith, born 1952 in Dublin, he now lives and works in County Wexford. He is a member of Aosdána.
A major monograph with an introduction by Enrique Juncosa and an essay by Margarita Cappock entitled "John Noel Smith Didymus/Multipolar/ Passage" has recently been published by Gandon Editions Kinsale to coincide with the exhibition.
Friday 18 June – Sunday 5 September 2021
Farmleigh, Castleknock
Dublin 15
Telephone: +353 1 815 5900
Opening hours / start times:
Tuesday 10:00 - 17:00
Wednesday 10:00 - 17:00
Thursday 10:00 - 17:00
Friday 10:00 - 17:00
Saturday 10:00 - 17:00
Sunday 10:00 - 17:00
Admission / price: Free
Also open on bank-holiday Mondays. May be closed when Farmleigh House is being used for state visits.
Last admittance to the Farmleigh Estate is 5pm. Gates close at 6.00pm.
www.facebook.com/farmleighgallery