John Kelly: A Group Show
Saturday 23 July – Wednesday 31 August 2016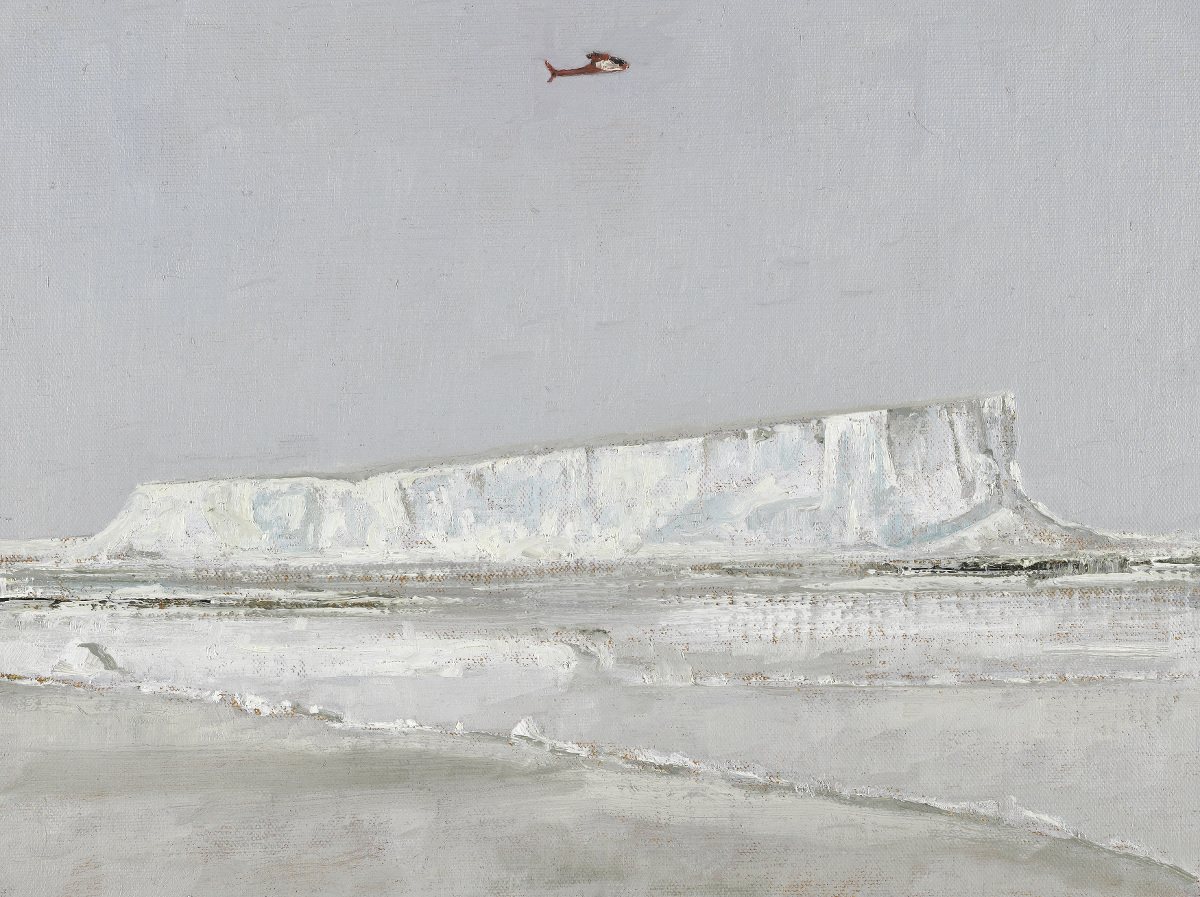 Uillinn: West Cork Arts Centre is delighted to present a solo exhibition of painting, sculpture and print by Irish / English / Australian artist, John Kelly. Comprising distinct elements of Kelly's practice, the exhibition will be located across both galleries and will also link to spaces outside Uillinn.
The first floor Gallery II will host the large group of paintings he produced during his residency in Antarctica and on board the icebreaker Aurora Australis on its trip to Antarctica in the winter of 2013. This series of paintings is a unique contemporary portrait of Antarctica as a transcendent yet evolving environment. Compositions of icebergs and cold blue floes represent 'plein air' painting in extremis. Kelly's technical strengths are echoed, inescapably, by the currency of climate change. The singularity of this shrinking landscape makes these pictures a compelling testimony. His experience was eloquently described in a series of blogs he wrote for The Guardian. A catalogue, Beyond Woop Woop, containing images, photos, essays and Kelly's Guardian blogs accompanies the Antarctic works.
At the entrance to Gallery II, a group of Kelly's subversive models of art institutions and galleries will occupy the space, suspended from the ceiling or resting on the floor and requiring negotiation of the threshold to enter the gallery. Incorporating easels, brushes, wooden paint boxes and portfolio tubes, as well as CCTV cameras relaying footage back to monitors fixed to their walls, these models also resemble space probes, surveillance equipment or robotic insects.
The ground floor James O'Driscoll Gallery will host a series of new and recent Irish landscape paintings, focused on the land and sea around Reen in west Cork where John Kelly has lived for almost fourteen years. These striking paintings were painted from various viewpoints overlooking the Atlantic.
A new suite of etchings from the Moo Brew Series will also be shown. Commissioned by David Walsh of the Museum of Old and New Art (MONA) Hobart, Australia to create work for his Moo Brew beer labels. Kelly referenced the logo of the Australia Council for the Arts, who themselves had advocated a "branding the Arts" strategy. In what was a successful anti-branding branding campaign (Kelly's artistic expression of dissent to the branding strategy being pursued) the award winning labels have become iconic Australian beer labels. They incorporate the image of a kangaroo and the sun with a pastiche of Sidney Nolan's 'Moon Boy', a precursor to his Ned Kelly series.
Situated outside the gallery will be a number of Kelly's large Corten steel sculptures echoing Uillinn's Corten cladding and sculptural form, and En Plein Air In Plain Sight, an outdoor iceberg installation in Glandore Harbour curated by Seol Park, SPARK+ and supported by Ludgate, Skibbereen. A first for west Cork, this installation is conceived to coincide with Kelly's Antarctic paintings at Uillinn and the artist's participation in Skibbereen Arts Festival. The outdoor installation will be virtual, produced through AR (Augmented Reality) technology and visible only through visitors' smart phones via a free easily downloadable app (iOS/Android). The installation furthers the themes of humorous displacement and monumentality that surface often in John Kelly's work. Augmenting the actual, real-world view of the coast at any given time of day, with the ever-changing colour of the West Cork sky as its backdrop, the installation brings additional meaning to engaging with art 'en plein air'.
Also during Skibbereen Arts Festival, John and his wife Christina will welcome visitors to their home in Reen where they are developing a sculpture park to place John's large sculptural works on their land. This will be a unique opportunity to see work in this spectacular setting, including the iconic Cow Up a Tree, a version of which once graced the Champs Elysées in Paris and a large scale model of the Tate Gallery in London as well as other bronze and Corten steel sculptures and recent earth and stone works.
Also as part of Skibbereen Arts Festival, experimental music group Quiet Music Ensemble will perform composer and sound artist Karen Power's Instruments of Ice in Gallery II amongst John Kelly's Antarctic paintings on Friday 29 July at 3.00pm. This work was written especially for them in response to the composer's recordings while on residency in the Arctic and premiered last year in Berlin.
Accompanying the exhibition at Uillinn will be a catalogue produced and edited by Peter FitzGerald, former editor of Circa Art Magazine and co-founder of Dnote.
Exhibition Preview on Friday 22 July at 7.00pm with music from Fintan McKahey.

Artist's Gallery Talk on Tuesday 26 July at 1.15pm.

Tour to John Kelly's Sculpture Park on Thursday 28 July. Bus leaving Uillinn, Skibbereen at 2.30pm. Places limited. Tickets €12 (includes bus and refreshments). Booking Uillinn: West Cork Arts Centre 028 22090.

Music Performance: Instruments of Ice by Karen Power and the Quiet Music Ensemble on Friday 29 July at 3.00pm. Booking Uillinn: West Cork Arts Centre 028 22090.
---
John Kelly was born in 1965 in Bristol, UK. His Irish father and English mother emigrated to Australia the same year. He studied at the Slade School of Art, London. His work has been exhibited on the Champs Elysées, Les Champs de la Sculpture II, Monte Carlo, in La Parade des Animaux, MAMAC France, The Hague, Glastonbury, Crawford Gallery Cork, and Melbourne Docklands. Kelly's work is held in many museums and galleries in Australia and the Guangdong Museum in China. As a painter, sculptor and printmaker Kelly engages across mediums and also writes, having written for Art Monthly (Australia & UK) and Circa magazine (Ireland). Just recently, Kelly has been shortlisted for the prestigious Australian Fleurieu Art Prize, a non-acquisitive prize, for twenty of the Antarctica paintings.
For booking and further details see www.westcorkartscentre.com and www.skibbereenartsfestival.com, telephone 028 22090 or call in to Uillinn.
Image:
John Kelly: Helicopter Recee, 3/11/2013, oil on canvas board, 24.3 x 40.4cm
Saturday 23 July – Wednesday 31 August 2016
Skibbereen, Co Cork
Telephone: +353 28 22090
Opening hours / start times:
Monday to Saturday, 10am to 4:45pm
Admission / price: Free