John Fitzsimons: Time and Space
Monday 7 September – Wednesday 7 October 2020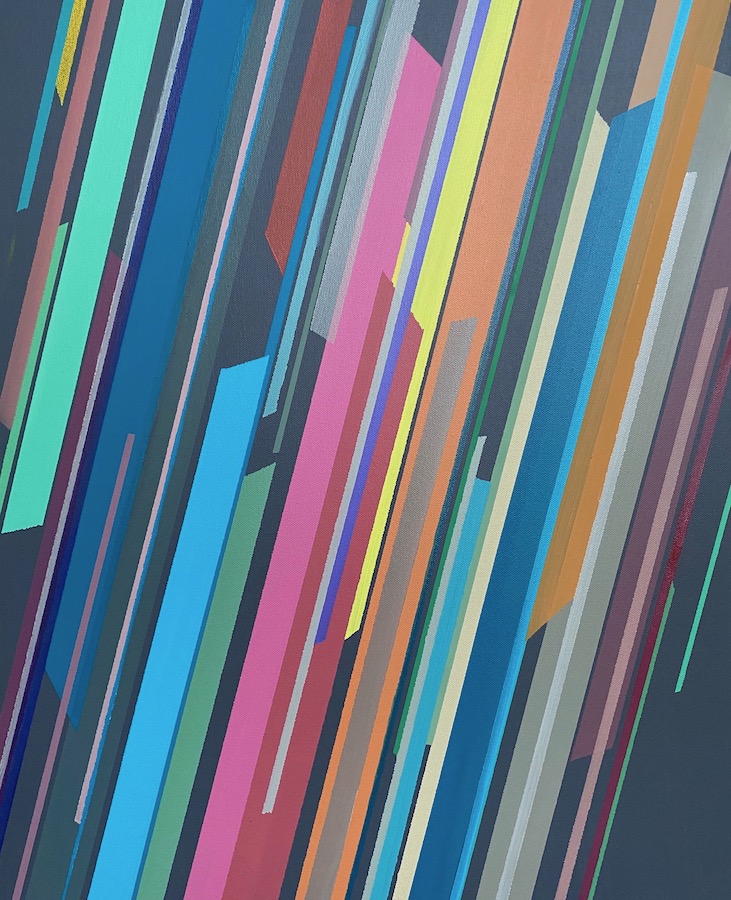 Availability of the show: Tuesdays to Sundays at the gallery but by appointment only until further notice. Also available online in our 3D Virtual Space.
The Olivier Cornet Gallery is delighted to present the artist's 5th solo show with us.
'Time and Space' is an exhibition of new paintings [on deep-based canvas and plywood] by John Fitzsimons. The works in this exhibition use the infinite possibilities of colour, line and shape to explore the endlessness and expansiveness of time.
At the heart of this exhibition, Fitzsimons presents a new series of paintings formed using quadrilateral motifs. Each painting presents four, four-sided shapes side by side, each softly modified through form and colour – the tilt of a line from left to right, the deepening of a hue. These works are generated within a series of set rules devised by the artist – the ends of each quadrilateral can be either perpendicular or slope left or right – but even when working within this fixed set of parameters, the number of possible paintings this format could generate grows exponentially when adding variable factors such as colour. Those manifested thus represent only a select few of the possibilities – just as we are inhabiting just a minute section of the infinite cosmic sprawl of time, and perhaps occupy just one of many possible parallel universes.
Across other works in the exhibition, Fitzsimons deepens this exploration into the cosmic realm, further fragmenting his angular geometric forms to create layered, optically complex paintings. Rectangles and rhomboids softly glimmer in and out of focus in an array of muted hues in one work, evoking the flickering of a light. Other paintings feel more radical, more charged, in their depiction of spacetime: light speed is rendered as linear shapes zooming upwards, while wiry trapezoid forms seem to radiate outwards from their angular source in another painting, crystallising the notion of multiple universes operating in tandem.
Devised in electric colour palettes, the works vary from rhythmic and modular, to pulsating with a newfound sense of dynamism. The paint itself is applied in thin layers, minimising the artists' hand, and creating a smoother, more hard-edged spirit. That said, a newfound depth has been created in some of the works, which use glazing techniques to achieve a rich, velvety texture. The dynamic potential of the paintings is further heightened by the application of paint to the sides of the canvases, adding a three-dimensionality and sculptural quality to the works.
Monday 7 September – Wednesday 7 October 2020
3 Great Denmark Street
(beside Belvedere College)
Dublin 1
Telephone: +353 87 2887261
Opening hours / start times:
Tues to Fri: 11am to 6pm (till 8pm on Thursdays) • Sat & Sun: 12 noon to 5pm • Closed on Mondays (or viewing by appointment only)
Admission / price: Free