John Doherty: New Paintings
Saturday 7 May – Saturday 21 May 2011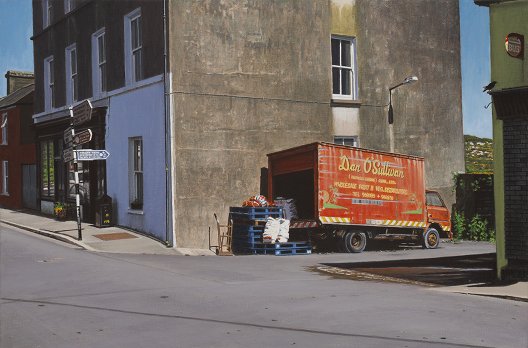 The exhibition New Paintings by John Doherty will open at Taylor Galleries on Kildare Street in Dublin 2 on Friday 6 May 2011 from 6 to 8pm and will run until Saturday 21 May 2011.
In New Paintings, his first solo show with Taylor Galleries since 2007, John Doherty presents a series of new works on canvas and smaller works on card that see him return to subjects that have become familiar leitmotifs in his work – forlorn shop fronts, rusting petrol pumps, lighthouses and colourful boats abandoned in shipyards. These meticulously rendered paintings explore the human stories that exist behind the façades of places and things inhabited and used by many different hands over the years, and the wry wit of their titles hints towards a personification of their subjects that is at once amusing and unsettling.
John Doherty's realism is immediately attractive for the apparent normalness of the images, the comforting familiarity of a quiet street in an out-of-the-way country town, old petrol pumps and garages that are a necessity of life, boats and lighthouses seen on bright days without any hint of storm. The colours are clear and cheerful, the subjects – even when shabby – are attractive and human. That's as it is on the surface, and it takes the artist to unveil the layers beneath…
– Hilary Pile
John Doherty was born in Kilkenny in 1949 and studied architecture at Bolton Street College of Technology, Dublin before moving to Sydney and deciding to pursue a career as a visual artist. He has exhibited his work widely in Ireland and Australia and his paintings feature in the public collections of the National Gallery of Victoria, Melbourne; the Institute of Modern Art, Chicago; the Irish National Stud, Kildare; and Artbank in Sydney.
Saturday 7 May – Saturday 21 May 2011
16 Kildare Street, Dublin 2
Telephone: +353 1 676 6055
Opening hours / start times:
Monday 10:30 - 17:30
Tuesday 10:30 - 17:30
Wednesday 10:30 - 17:30
Thursday 10:30 - 17:30
Friday 10:30 - 17:30
Saturday 11:00 - 15:00
Admission / price: Free