John Doherty: Enduring Aspirations
Friday 3 May – Saturday 25 May 2019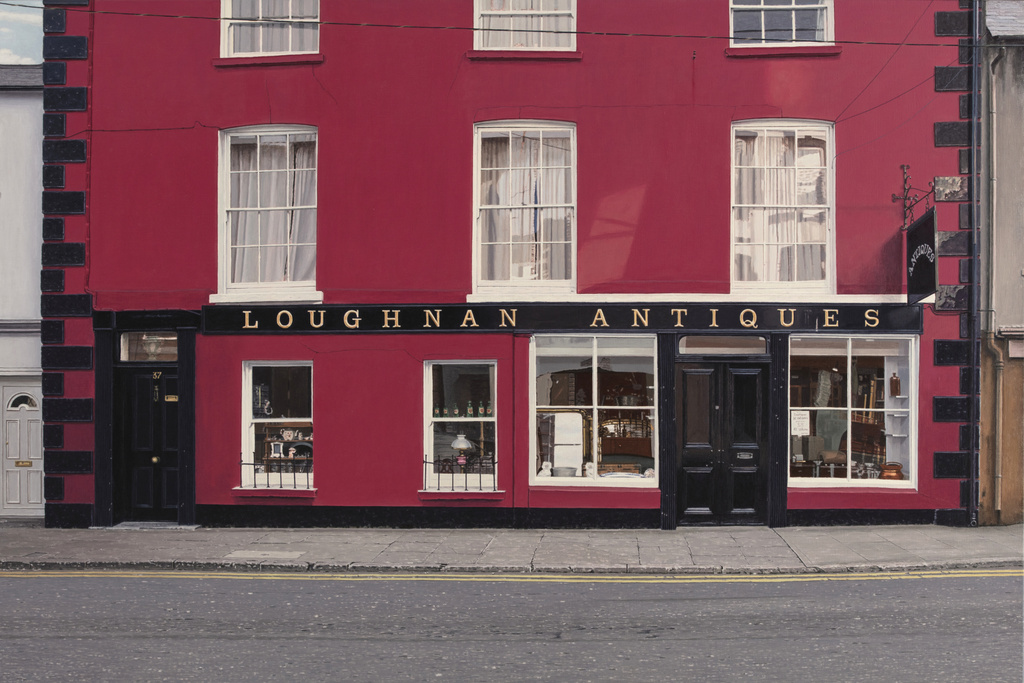 Taylor Galleries is very pleased to present an exhibition of new paintings by John Doherty.
John Doherty's work is preoccupied with the effect that the passage of time has on the surface of things, and he mines a familiar series of motifs as his subject matter: quaintly old-fashioned shops in small country towns, decommissioned petrol pumps, roadside garages, public houses that have long since called last orders, and unoccupied urban dwellings succumbing to dereliction and decay.
He is well known for his finely detailed studies of the minutiae of life in an Ireland that is slowly fading from view, slipping from the present into past tense. In Enduring Aspirations, Doherty brings together a series of recent works that comprise an almost forensic study of our built environment and vernacular Irish architecture from the late nineteenth and early twentieth centuries. Rendered in meticulous detail in acrylic on linen and canvas, several subjects appear twice, in near-identical paintings. Rendered in both large and small formats, the variations in scale and proportion between these images alternatively reveal and obscure objects that lie at the extremities of the picture plane, reflecting the shifting lens through which our collective past is viewed.
Born in Kilkenny in 1949, John Doherty studied architecture at Bolton Street College of Technology, Dublin (now TU Dublin) from 1968 to 1973 before moving to Sydney and beginning his career as an artist. For many years he divided his time between Australia and Ireland but he now lives and works in West Cork. Doherty completed a residency at the National College of Art, Papua New Guinea in 1979, and since then he has exhibited his work extensively in both solo and group exhibitions in Ireland and Australia. His work is represented in numerous private collections in Ireland, Australia, America and Europe, and also features in corporate and public collections including the National Gallery of Victoria, Melbourne; Institute of Modern Art, Chicago; KPMG; Irish National Stud; AIB Dublin and London; and Artbank, Sydney.
Image: John Doherty: Mint Condition (Loughran Antiques, Youghal, Co. Cork), 2018 – 19, acrylic on canvas, 102 x 152 cm
Friday 3 May – Saturday 25 May 2019
16 Kildare Street, Dublin 2
Telephone: +353 1 676 6055
Opening hours / start times:
Monday 10:30 - 17:30
Tuesday 10:30 - 17:30
Wednesday 10:30 - 17:30
Thursday 10:30 - 17:30
Friday 10:30 - 17:30
Saturday 11:00 - 15:00
Admission / price: Free