John Doherty: Contours
Friday 17 April – Saturday 9 May 2015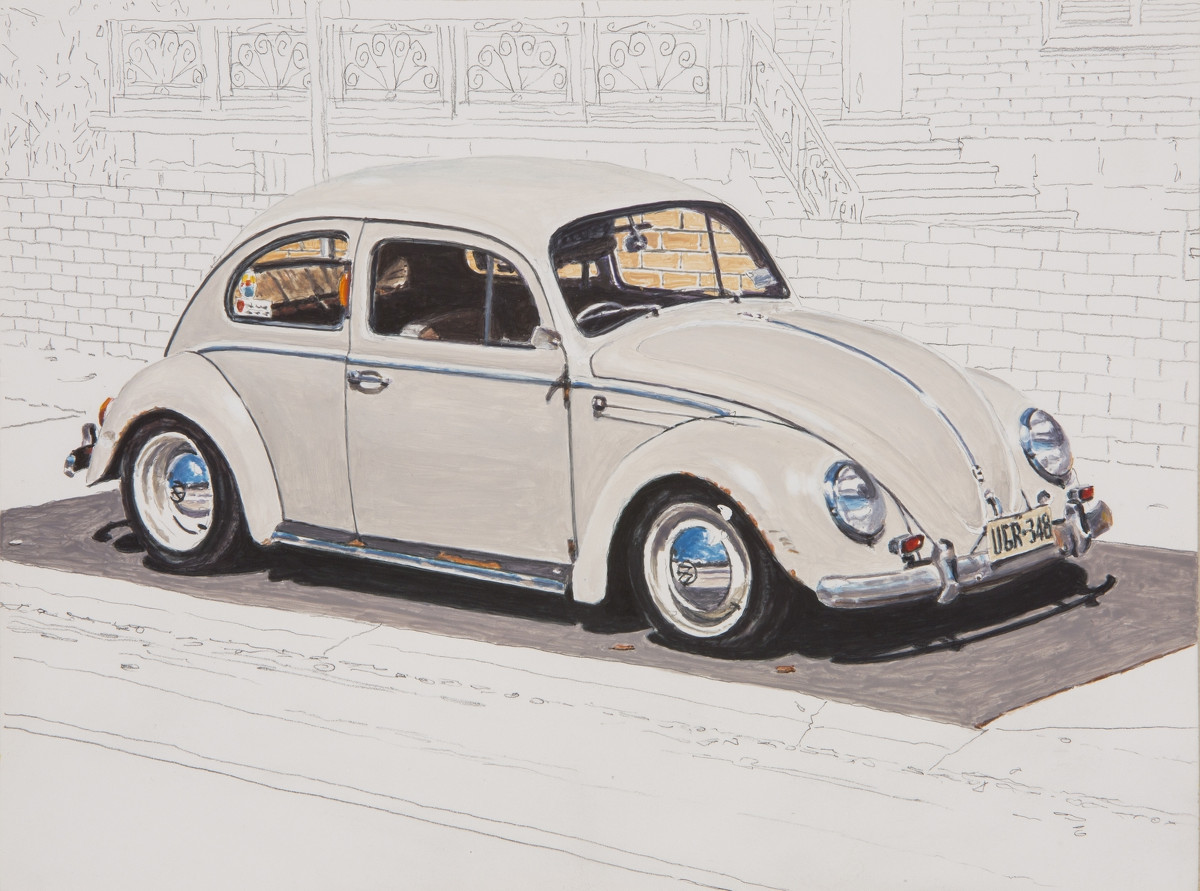 Opening Reception Thursday 16 April, 6 to 8pm
Taylor Galleries is proud to present Contours, an exhibition of recent work by John Doherty. The show opens at the gallery with a private view on Thursday 16 April 2015 from 6 to 8pm and continues from 17 April to 9 May 2015.
Contours features 12 new paintings that, like much of Doherty's work, relate to various modes of transport – in this case motor transport, and more particularly, classic cars. While abandoned petrol pumps and disused garages from by-gone days have featured frequently in his paintings over the past twenty years, this new body of work isolates and focuses on the vehicles themselves. Most are fairly well maintained, with gleaming chrome curving gracefully around the bodywork of VW Beetles and Kombis, an early Passat, Morris Minors and an old Opel Record. Painstakingly executed to produce the exacting realism for which Doherty is best known, the paintings celebrate the form and function of these finely designed vehicles and preserve them for posterity in acrylic on board and canvas.
Born in Kilkenny in 1949, John Doherty studied architecture at Bolton Street College of Technology, Dublin from 1968 to 1973 before moving to Sydney and deciding to pursue a career as an artist. For many years he divided his time between Australia and Ireland but now spends much of his time in West Cork. He completed a residency at the National College of Art in Papua New Guinea in 1979 and since then he has shown his work widely in solo and group exhibitions in both Ireland and Australia. Most recently he was invited to participate in Disconnect, a three-person show with Bernadette Cotter and Sue Crellin McCarthy at Uillinn: West Cork Arts Centre that continues until 2 May 2015. His work is represented in private collections in Ireland, Australia, America and Europe, and also features in the public collections of the National Gallery of Victoria, Melbourne; Institute of Modern Art, Chicago; Irish National Stud; AIB Dublin and London; and Artbank, Sydney.
Image: John Doherty, Beetle II, 2014, acrylic and pencil on gesso board, 23.5 x 17.5 cm
Friday 17 April – Saturday 9 May 2015
16 Kildare Street, Dublin 2
Telephone: +353 1 676 6055
Opening hours / start times:
Monday 10:30 - 17:30
Tuesday 10:30 - 17:30
Wednesday 10:30 - 17:30
Thursday 10:30 - 17:30
Friday 10:30 - 17:30
Saturday 11:00 - 15:00
Admission / price: Free