John Cronin: Augmented Reality
Thursday 19 May – Sunday 19 June 2011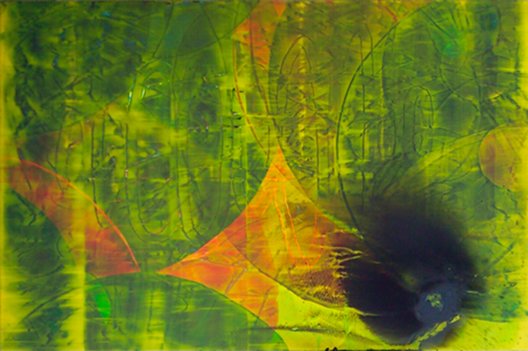 Opening Reception, Thursday, May 19, 6-8pm
Green On Red Gallery is delighted to announce the forthcoming exhibition of new paintings by John Cronin running from May 19 – June 18, 2011.
Cronin is one of a small number of artists in Ireland who continues make both large monumental oil paintings as well as smaller works. The exhibition Augmented Reality will host a number of such mural-scaled paintings on aluminium and for the first time in over a decade the artist includes oil on canvas work.
The techniques Cronin employs to execute these richly layered works continue to vary and evolve, just as his preoccupation with the fierce technological and scientific change of the early 21st Century deepens. While Cronin has never been one to shy away from bold, highly charged, intensely colourful compositions that can violently grab the viewers' attention, the themes of art in the age of artificial intelligence and questions about the nature of time, space, even matter itself, come increasingly centre-stage. In one way, the language of abstraction is best suited to address these imponderables. As the boundaries between what is real and what is virtual, what is measurable and what is not, what is physical and what is immaterial are more and more unsure, Cronin's application of paint on expansive planes of metal or canvas seem to map out similar tense dramas. Colours and gestures jostle and interact before our eyes in an open-ended chemistry. As the artist states in reference to one of the current theories on our reality:
That all the information sucked into black holes is not destroyed but stored and projected back out to create our universe, our reality. It may be that we are part of a cosmic hologram.
The mind boggles at such incomprehensible models just as our sense of time and space is tested by the theory of Cosmic Microwave Radiation. As Donald Kuspit put it in his essay on Cronin's Palinode series, " for all their physicality, Cronin's paintings are covertly sublime: they suggest romantic yearning for the unrepresentable".
However, there is no getting away from the seductiveness and exuberance of these paintings. They are a jolt to the system and some of the most energetic and satisfying artworks being made today. Jane Humphries writes in the Irish Arts Review (Spring, 2009) of the artist's last exhibition in Green On Red Gallery:
Cronin's new works… are gloriously defiant, as his exuberant kaleidoscopes of retinal assaulting colour push the parameters to the edge, creating on one level pure sensory pleasure and on another an intelligent reinterpretation of abstraction, providing a ' sufficient ' case that, despite our media saturated age painting still has a lot to say.
In a reference, perhaps, to the artist's very early works from the Manumit (1992) and Surd (1994) series shooting abstract forms appear within the frame, albeit barely separable from the intense action of the rest of the painting. In Augmented Reality (2011) 4' x 18' one such sulphur yellow gaseous form emerges from the darkness after a long passage of radical changes in colour from blue-black to furnace red to turquoise – which according to one source " makes up the dominant proportion of space in the universe " – and back to blue-black. Is it a life-cycle? One is reminded of Paul Cezanne's comment that " nature is not on the surface, it is in the depth. Colour is the expression of the deep on the surface. It rises up from the roots of this world. It is its life."
In this show, we swing from moments of burning intensity to a sublime calm.
Thursday 19 May – Sunday 19 June 2011
Spencer Dock
Park Lane, Dublin 1
Telephone: +353 1 671 3414
Opening hours / start times:
Wednesday 10:00 - 18:00
Thursday 10:00 - 18:00
Friday 10:00 - 18:00
Saturday 11:00 - 15:00
Admission / price: Free