John Behan RHA: Seven Ages of Man
Friday 26 October – Saturday 17 November 2018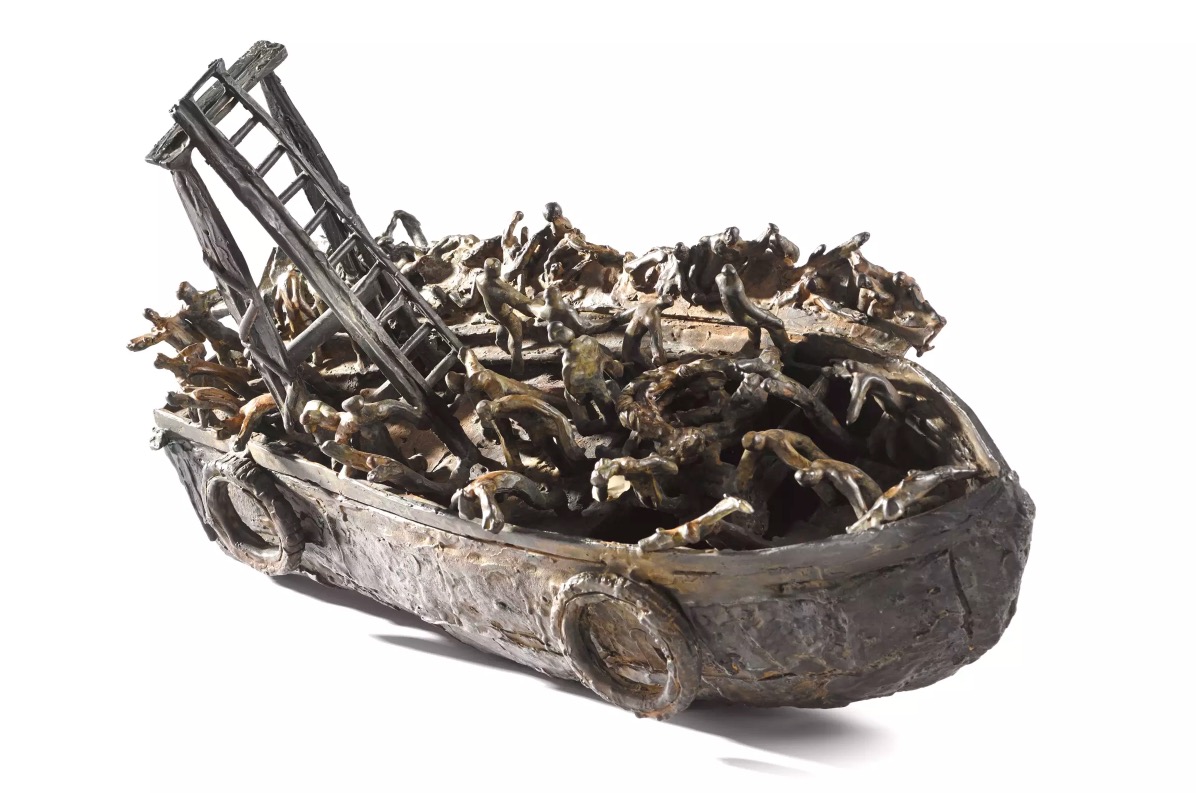 Solomon Fine Art is delighted to celebrate Ireland's finest sculptor John Behan's 80th birthday with an exhibition of new bronzes and drawings.  A major catalogue will be published to mark the occasion with accompanying text from renowned playwright Thomas Kilroy.
Behan's work has always dealt with displacement of people and emigration.  This year, horrified by the ongoing situation in Syria and seeing thousands of desperate refugees make the dangerous passage across the Mediterranean to Europe, Behan decided to travel to Greece to volunteer with Project Elea in the Eleonas Refugee Camp in Athens.  In June, to mark World Refugee Day, the Irish Embassy in Greece invited John to speak about migration as a theme in his work and he subsequently delivered an art workshop with teenage refugees in collaboration with the Athens School of Fine Art and the Greek Ministry of Culture. The forthcoming exhibition here at the Solomon will include new works made in response to these experiences.
Behan's work is highly expressive; his pieces are marked by an initially perceived roughness that quickly melts into a surprising delicacy of form. Crafted in a myriad of different coloured patinas surface, each piece is as individual and captivating as the next, reflecting often-difficult themes of Irish history, emigration and identity in a remarkably subtle way.
John Behan RHA is firmly established as a sculptor of international stature and can be credited with playing a major part in the development of sculpture in Ireland over the last fifty years. Born in Dublin in 1938, he began an apprenticeship in metalwork and welding before moving on to formal training at the National College of Art and Design in Dublin, Ealing Art College in London and the Royal Academy School in Oslo.  He has been awarded many honours over the years and became a member of the Royal Hibernian Academy in 1990, having been an Associate of the Academy since 1973. He is also a member of Aosdána and was conferred an honorary Doctor of Literature by NUI Galway in 2000.
He is known for his remarkable and numerous public sculptures, such as the monumental 'National Famine Memorial' in County Mayo and the life-size 'Arrival' ship sited outside the United Nations building in New York – a gift to the UN from the Irish Government in 2000. His work is included in many private collections including that of Mary McAleese, Mary Robinson, Queen Beatrix of the Netherlands and Bill & Hillary Clinton, also Dublin City Gallery, The Hugh Lane, the Crawford Municipal Gallery and the National Gallery of Ireland.
Image: John Behan RHA: Migrant Boat, bronze, unique, 34 x 43 x 38cm
Friday 26 October – Saturday 17 November 2018
Balfe Street, Dublin 2
Telephone: +353 86 814 2380
Opening hours / start times:
Tuesday 10:00 - 17:30
Wednesday 10:00 - 17:30
Thursday 10:00 - 17:30
Friday 10:00 - 17:30
Saturday 11:00 - 16:00
Admission / price: Free