John Behan RHA: Famine
Friday 7 November – Saturday 29 November 2014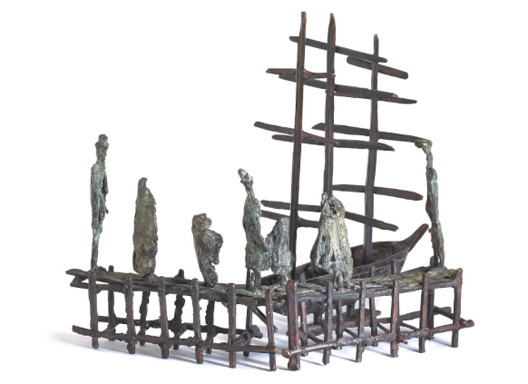 Solomon Fine Art is delighted to be hosting an exhibition of work by Ireland's foremost sculptor in bronze John Behan RHA. Behan's latest works focus on one of his most enduring themes, Famine Ships and works relating to the Great Famine.
This latest body of work is what the artist calls, 'a review of where I stand' – a kind of summation of attitude and experience. With his long running series of Famine Ships, from the huge National Famine Memorial in County Mayo (26 x 20ft) or Arrival (21 x 24ft) sited at the United Nations building in New York, to the smaller 'table' sculptures, Behan has consistently explored the relationship between our famine history and our present selves.
His sculpture continues to be characteristically fresh and unique. The shape of the ships, the articulation of the bodies and their distorted expression varies from one work to the next, as does their patination. Some of these individual pieces have a ghost-like quality, others a solidity and sense of urgency; his shipwreck moves into the realm of drama and his elongated figures, either moving or posed, are full of pathos.
John Behan RHA is firmly established as a sculptor of international stature and can be credited with playing a major part in the development of sculpture in Ireland over the last fifty years. Born in Dublin in 1938, he began an apprenticeship in metalwork and welding before moving on to formal training at the National College of Art and Design in Dublin, Ealing Art College in London and the Royal Academy School in Oslo. He has been awarded many honours over the years and became a member of the Royal Hibernian Academy in 1990, having been an Associate of the Academy since 1973. He is also a member of Aosdána and was conferred an honorary Doctor of Literature by NUI Galway in 2000.
As well as his remarkable and numerous public sculptures, his work is included in the private collections of Mary McAleese, Mary Robinson, Queen Beatrix of the Netherlands and Bill and Hillary Clinton, also Dublin City Gallery, The Hugh Lane, the Crawford Municipal Gallery and the National Gallery of Ireland.
Friday 7 November – Saturday 29 November 2014
Balfe Street, Dublin 2
Telephone: +353 86 814 2380
Opening hours / start times:
Tuesday 10:00 - 17:30
Wednesday 10:00 - 17:30
Thursday 10:00 - 17:30
Friday 10:00 - 17:30
Saturday 11:00 - 16:00
Admission / price: Free