Joe Scullion: As It Goes
Thursday 4 October – Saturday 27 October 2018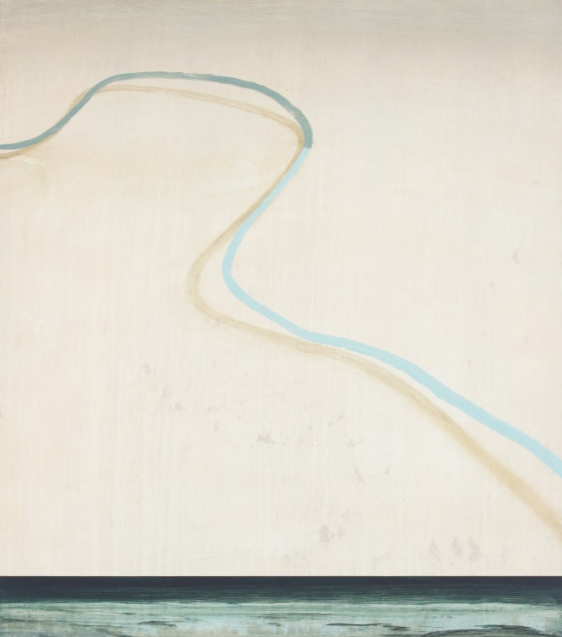 In As it Goes, interiors and exteriors merge, voids and forms are interchangeable and within the pictorial plane, perceptual slippages occur. Spatial boundaries assert and digress continually, creating an assemblage of fragmentary gestures that affirm a cohesive whole. These paintings celebrate dream logic and the capacity of images to describe the subconscious, intangible and metaphysical experience.
Within his practice, Scullion endeavours to make a painting without deciding what the completion of that painting might entail or how the final image will announce itself. Instead he allows the paintings to settle for periods of time after working on them, acknowledging specific chance elements that have come to exist within the paintings, independent of his own intentionality. His deferential attitude toward the use of paint as a medium allows each work to develop its own character, with flourishes, nuances and details that are particular to each composition, affording them a certain capriciousness. They are believable and convincing whilst being simultaneously nonsensical, in this way they retain their humour and lightness. Scullion is interested in the idea of nonsense, how we order truth and illusion, and the visual criteria for both. He is interested in the creation of images with such verisimilitude as to produce a trompe l'oeil. Scullion's paintings are willfully disorientating and incorporate fictional architecture and landscape. There are aspects of the image that we trust, but simultaneously know to be illogical.
The Italian artist and writer Giorgio de Chirico's paintings often feature distorted perspective and shadows, undermining pictorial space and time. He parodies renaissance paintings and elaborates on their singular perspective, creating instead, numerous perspectives or visual escape routes. His works, particularly his Pittura metafisica or metaphysical paintings describe an atmosphere. De Chirico used the German word, Stimmung to define this tone or atmosphere and though the word does not translate to English, it refers to an atmosphere of the soul, or a projection of the soul onto the landscape.
De Chirico's metaphysical paintings consider the romantic ideal that the psyche finds expression in the landscape and in some regards de Chirico's paintings ascribe to the Romantic sensibility of the poet, mystic, and philosopher of German Romanticism, Novalis, in his assertion that poetry heals the wounds inflicted by reason. It is a similar repudiation of logic that informs Scullion's paintings in that they eschew reason and instead focus on the capacity of the language of paint to disclose its own poetic truth.
Joe Scullion (b.1989) graduated from Fine Art painting in NCAD in 2013. He lives and works in Dublin. Recent solo exhibitions include: Settle, Rua Red, Dublin (2014) and Waiting to Materialise, Talbot Gallery, Dublin (2014). Recent group exhibitions include, Island Life, Kevin Kavanagh, Dublin (2018), Ozymandias with Tadhg McSweeney and Ulrich Vogl, Kevin Kavanagh, Dublin (2016), Centre with Sinéad Onóra Kennedy, Pallas Projects, Dublin (2015) and ELEfANTS, The Joinery, Dublin (2014). Residencies include two residencies at Listhus, Iceland, 2014-15 and 2016. Awards include: the Arts Council Bursary (2018), the Arts Council Travel and Training Award (2014) and the RDS Taylor Award (2013). Scullion's work is held in numerous public and private collections including the OPW and Lismore Castle Arts collections.
Thursday 4 October – Saturday 27 October 2018
Chancery Lane
Dublin 8
Telephone: +353 1 475 9514
Opening hours / start times:
Tuesday to Saturday 11am – 5pm
Admission / price: Free