Joanna Kidney: Wunderkammer
Friday 5 June – Saturday 18 July 2015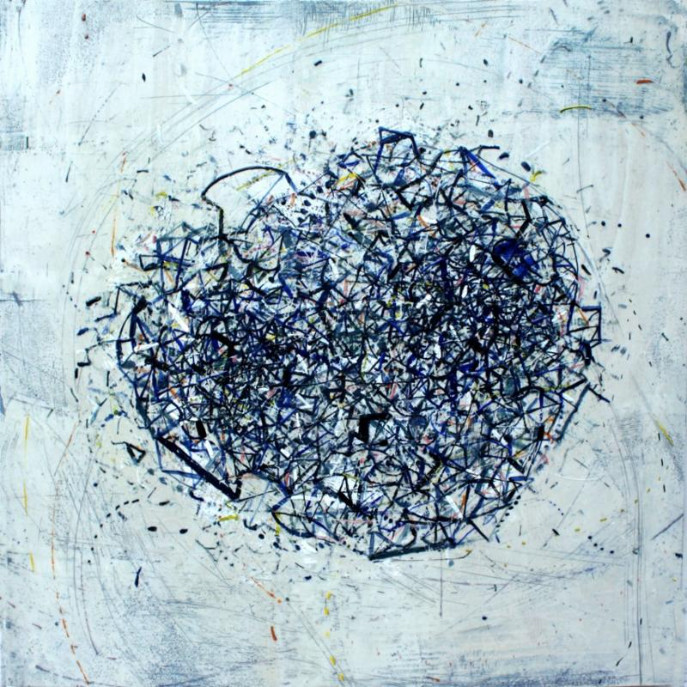 Wunderkammer were collections of rare, valuable, historically important or unusual objects which generally were compiled by a single person, normally a scholar or nobleman, for study and/or entertainment. Exotic natural objects, art, treasures and diverse items of clothing or tools from distant lands and cultures were all sought for the Wunderkammer. Renaissance Wunderkammer were private spaces, created and formed from a deeply held belief that all things were linked to one another through either visible or invisible similarities.  
Joanna Kidney's fist solo exhibition at Mermaid Arts Centre, Wunderkammer presents new works including a series of drawings and encaustic paintings, a stitched sculptural drawing and her own cabinet of curiosity. Her wunderkammer acts as the storage place of her ideas and the materials from which these spring. Take for example a coral shell found years ago the patterned surface of which remains central to her thinking. Her intuitive practice of drawing and redrawing speaks of worlds from a microscopic to a cosmic scale and visualises the unseen interconnectivity and complexity within these worlds.
"…'drawing is not a window onto the world, but a device for understanding our place in the universe'. It is precisely in this way that Joanna Kidney's art proceeds. Her methodologies demonstrate a contemporary experimental approach to drawing, using a diverse range of materials and methods in an exploration of drawing as a medium, but always doing so in relation to thinking through our existence within a scene – our interrelationship with the physical world around us, the connectivity between all things and matter – as we might imagine exists between the tiniest cells in the human body to the electrons and neutrons making up the farthest of stars."
Cliodhna Shaffrey
 The exhibition will be accompanied by a catalogue with a text written by Cliodhna Shaffrey (Temple Bar Gallery + Studios Director).  
Image: Joanna Kidney: Plot V, 2014, encaustic on panel, 61cm x 61cm
Friday 5 June – Saturday 18 July 2015
Main Street, Bray
Co. Wicklow
Telephone: +353 1 2724030
Opening hours / start times:
Monday – Saturday, 11am – 5pm
Admission / price: Free