Joanna Kidney: We are Hurtling into the Future
Friday 9 December 2016 – Saturday 14 January 2017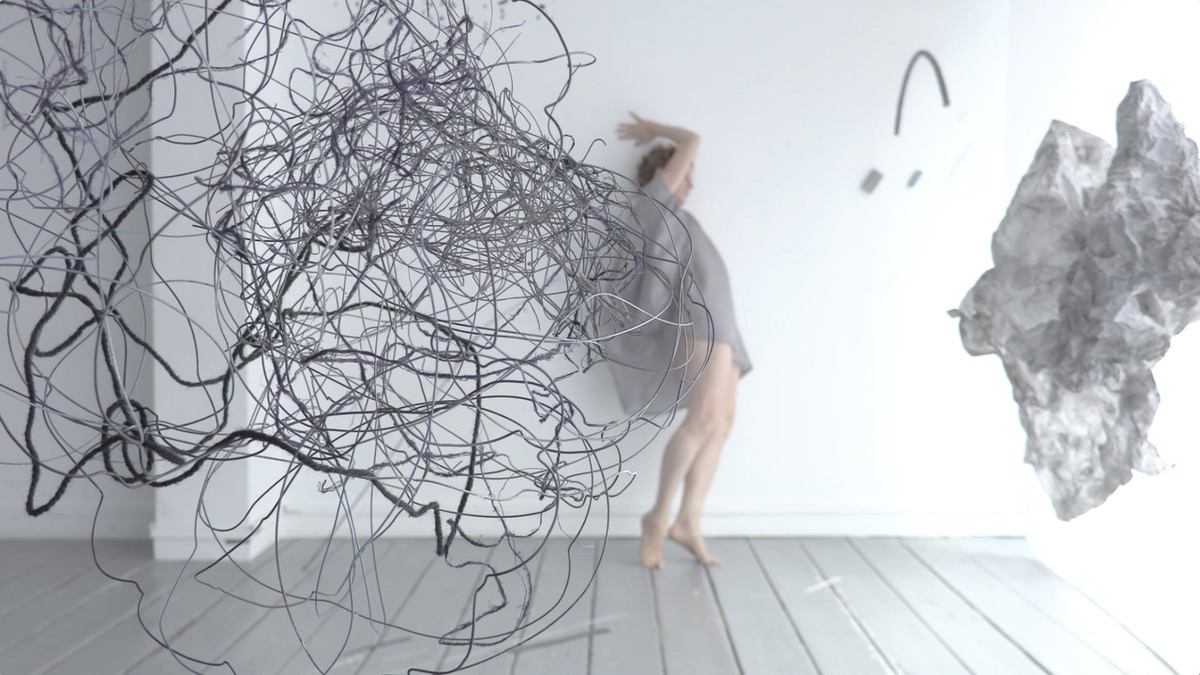 Galway Arts Centre is delighted to announce a solo exhibition by artist Joanna Kidney.
Encaustic Painting Workshop, Catalogue Launch and talk with Joanna Kidney and Maeve Mulrennan, Head of Visual Arts, Galway Arts Centre,  January 14 2017
Joanna Kidney's work utilizes the medium of drawing and the potential of diverse materials to reflect on the human relationship with the vast universe. This exhibition of new work reflects on ideas of time and motion…the experience of being human with a living body on this earth, moving through the measure of time. Through encaustic paintings and a site specific monumental spatial drawing, the work explores repetition, rhythm and structure versus randomness and chance.
Skimming Stones, a collaborative video work by artists Joanna Kidney and Liadain Herriott, will be presented for the first time as part of the exhibition. Examining the relationship between drawing and dance, it focuses on ideas of repetition, fragmentation and quality of movement and line.
As part of this exhibition, Joanna Kidney will teach a class in encaustic painting on Saturday 14th January from 10am to 3pm in Galway Arts Centre. Encaustic painting is an ancient, immediate and tactile painting process using molten pigmented beeswax. The workshop will take an experimental approach to exploring the qualities of encaustic painting (texture, transparency/opacity, incising and impressing, building up/breaking down layers). Joanna most recently taught this technique to Fine Art students during a residency at Brigham Young University, Utah. Each participant of the workshop will create an encaustic painting. People can sign up online on www.galwayartscentre.ie The cost is €45 which includes all materials.
On the same day, Joanna Kidney and Maeve Mulrennan will give a walk-through talk about the exhibition. Taking place at 4pm, the talk will then be followed by the launch of the catalogue for this exhibition, which will include installation images of the Galway Arts Centre Show and a two commisioned texts by Maeve Mulrennan and writer Finnbar Howell. This talk is free and no booking is necessary.
Joanna Kidney was born in Dublin and lives in Co. Wicklow. She has a Degree in Visual Communications from DIT. She is a founding member of Outpost Studios, Bray, Co. Wicklow (2015); a featured artist on The Drawing Suite and a member of the artists' collective The Tellurometer Project. Solo exhibitions include Wunderkammer in Mermaid Arts Centre, Wicklow (2015) and Dig, undig, redig in RHA Atrium Gallery, Dublin (2013).
The exhibition is supported by Wicklow County Council.
Image: Joanna Kidney and Liadain Herriott: Skimming Stones, video still by Lanka Haouche Perren
Friday 9 December 2016 – Saturday 14 January 2017
47 Dominick Street
Galway
Telephone: + 353 91 565 886
Opening hours / start times:
Monday 10:00 - 17:30
Tuesday 10:00 - 17:30
Wednesday 10:00 - 17:30
Thursday 10:00 - 17:30
Friday 10:00 - 17:00
Saturday 10:00 - 14:00
Admission / price: Free