Jo Kelley: Adventures in WA
Friday 26 July – Friday 23 August 2019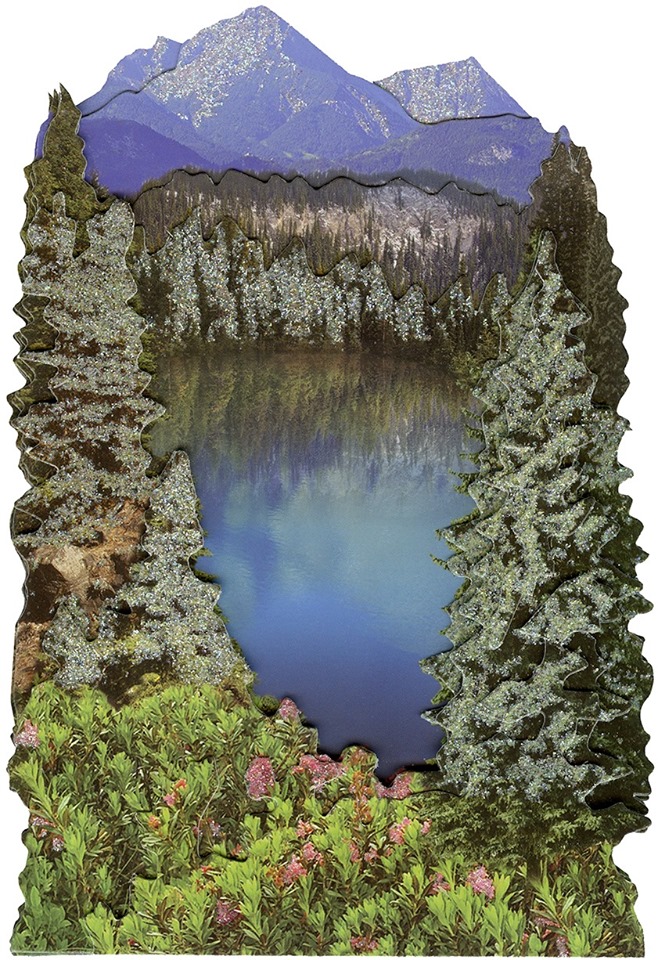 Lunchtime talk Thursday 8 August 1pm: Jo Kelley in conversation with James McCann on the subject of Allegory and Melancholia
Adventures in WA is an exhibition by Jo Kelley mapping the narrative of time spent in Washington State. Kelley's visual vocabulary encompasses the use of the vernacular, aspects of collection and taxonomy, often combined to convey a suggestion of mythology and fairy tale.
Seattle is known as the Emerald City, and for a long time Jo Kelley assumed this was a reference to the Wizard of Oz. Was it a description of the tech industries being both magical and fraudulent, much like the Wizard? There is a surreal edge to the suburbs and towns in the Seattle/Tacoma catchment area, where it is not unusual to spot deer, eagles, coyotes, racoons, jays, hummingbirds, and other wildlife, living alongside the manicured gardens. The artist was later disappointed to learn that Seattle was in fact known as the Emerald Citybecause of the forests in and around it, accurate if a bit prosaic.
The definition of adventure can include the words such as, 'exciting, daring, and risky.' A more accurate definition in the context of this artwork might be, 'an unexpected or very unusual experience.' Kelley negotiates the adventures of the quotidian, in which experiences can be domestic and subscribed, and the unexpected and unusual are unwelcome guests around the corner.
The doll figures featured in the exhibition are constructed from various people and objects, they are often static, caught in a narrative that is partly explained. Rilke described the doll as one of the first realisations that there are no reassuring answers: 'The doll was the first to make us aware of that silence larger than life which later breathed on us again and again out of space whenever we came at any point to the border of our existence. ' Rainer Maria Rilke, 'Dolls. On the Wax Dolls of Lotte Pritzel' in Die Weissen Blätter 1914.
Jo Kelley studied at St. Martins School of Art, London (1975-1978) and Goldsmiths College, London (1978-1979). She has exhibited widely, more recent exhibitions have included: Wom@rts, Creative Europe touring exhibition 2019, Hope, Glór, Co, Clare, 2016, Tweetbox, at IMPACT 9 International Printmaking Symposium Hangzhou, China, 2015 and other venues; National Print Exhibition, Bankside Gallery, London, 2014; Deception and Sacrifice-the Lion, Bear and Fox, Southern Graphic Conference International, San Francisco, 2014; Play/Space, Wandesford Quay Gallery, Cork, 2012; Ireland: Alphabet Series, which has toured to the Irish Arts Center, New York, 2011; National Print Museum, Dublin, 2012 & Cork County Library Headquarters, 2012; Artifice, Backwater Artists Group, 2011.  Her work is included in the following collections; Arts Council Northern Ireland; University College Cork; Crawford Art Gallery Cork and in private collections.
Image: Tourist souvenir from Washington State. Property of the artist, 2019
Friday 26 July – Friday 23 August 2019
Backwater Artists Group
Wandesford Quay, Cork
Telephone: +353 21 4961002
Opening hours / start times:
During exhibitions: Tuesday to Friday 10am – 1pm, 2pm – 5pm
Admission / price: Free