Jim Collins: Irish Encounters
Monday 13 June – Saturday 9 July 2011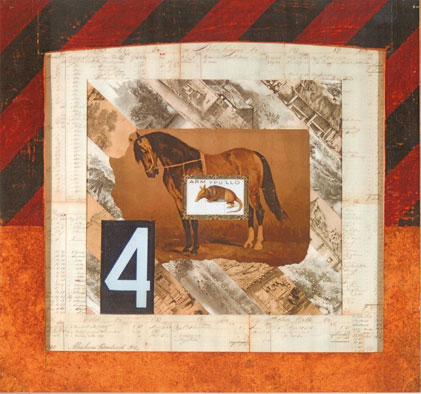 Presented by Alternative Entertainments
Irish Encounters is an exhibition by American artist Jim Collins, best known for his large-scale public art sculptures. These small pieces – mixed media with assemblage frames – are challenging in that the art is not finalized until the viewer completes it. Because the work is made of many parts on different layers each viewer will see different parts one at a time, and in turn will assign a value to each part of the work as it relates to the whole.
Collins carefully constructs evocative box collages from found objects and recycled materials to suggest arresting, delightful, unexpected narratives. A passionate collector, Collins draws from an ever-evolving stockpile of vintage resources to create his works. Some pay tribute to mythology, others comment on societal ills and many become pure flights of fancy. All deliver a cornucopia of visual delights that suggest open-ended imagination of theatre as well as the rich tradition of storytelling in the American South.
Jim Collins is primarily a sculptor working in a figurative manner, best exemplified by his long running series THE WATCHER. His sculpture style has been characterized by the use of silhouette figures constructed of stainless steel, aluminum and other metals.
Jim has completed two major sculpture commissions in Ireland in recent years in Limerick and Louth. This current exhibition is a continuation of an Irish tour that has visited Kilkenny, Dundalk and Limerick since June 2010.
Part of the AltEnts Children's Arts Festival 2011
Monday 13 June – Saturday 9 July 2011
South Dublin Arts Centre
Tallaght, Dublin 24
Telephone: +353 1 451 5860
Opening hours / start times:
Monday 10:00 - 18:00
Tuesday 10:00 - 18:00
Wednesday 10:00 - 18:00
Thursday 10:00 - 18:00
Friday 10:00 - 18:00
Saturday 10:00 - 18:00
Admission / price: Free