Jill Quigley: Builds
Saturday 25 June – Saturday 3 September 2022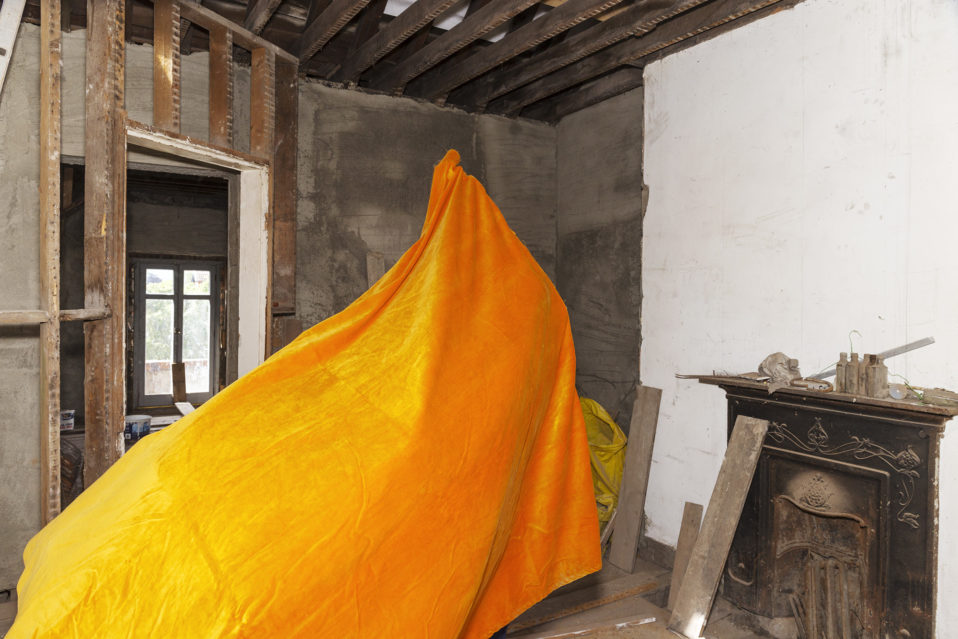 Jill Quigley is an artist from Donegal. Working with photography and installation, she is interested in the desire to inhabit and imprint upon architectural space. In 2014 she completed an MFA in Photography at the University of Ulster, having previously studied Art History at Trinity College Dublin. Recently she has participated in group exhibitions in the UK, Ireland, Portugal and the USA. She has held solo exhibitions at Belfast Exposed and at Seen Fifteen in London. Her work has won the Jill Todd Award and the ESPY Student Prize and has been nominated for the Magnum Graduate Photographers Award, the Prix Pictet and the Unseen Dummy Book Award.
Repaints
In a project looking at basic mark-marking in architectural space, photographic material of interior walls being painted is taped to a wall and painted with similar techniques and tools. The photographic documents of these actions record the basic gestures of applying paint to walls as subject and process, both merging as the wall is increasingly disrupted by the gestures of painting over time.
Velvet & No. 9
This installation is focused on a series of photographs recording an interaction with a Dublin house undergoing renovation. As the site is in a state of deconstruction it encourages the imagining of how it could become a place of domestic comfort and self-expression. Velvet curtains are used to refer to this possible future domesticity and inhabitation and are combined with construction materials to create objects which relate to the house but have their own presence in the gallery space.
Saturday 25 June – Saturday 3 September 2022
Port Road, Letterkenny
Co. Donegal
Telephone: +353 74 912 9186
Opening hours / start times:
Monday closed • Tuesday 11:00 - 17:00 • Wednesday 11:00 - 17:00 • Thursday 11:00 - 20:00 • Friday 11:00 - 17:00 • Saturday 13:00 - 17:00 • Sunday closed Admission is free
Admission / price: Free